Posted on
Tue, Feb 5, 2013 : 10:44 p.m.
Chelsea wins overtime shootout over Skyline and more Tuesday night results
By Kyle Austin
This file will be updated throughout the night
AnnArbor.com Washtenaw County Scoreboard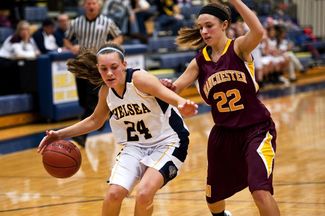 Joseph Tobianski | AnnArbor.com file
Chelsea 70, Skyline 66
Story | Boxscore
Chelsea (10-5, 7-2 SEC White) played strong to start the game, jumping out to a 58-48 lead, led by Riley Singleton's 20 points, 13 rebounds, and eight blocks, and Grace Sauers's 18 points and five assists.
"It was the first time we've seen overtime this year," Chelsea coach Todd Blomquist said. "We were certainly happy to come away with a win."
Mea Morris scored a game-high 25 points for Skyline (6-10, 1-8 SEC Red), 16 of which came after her twin sister, Mia Morris, got taken away in an ambulance after a hard collision late in the third quarter.
The fourth quarter started slugging for Skyline, but after taking a quick timeout, it refocused its energy and got back out to outscore Chelsea 21-13, scoring the last 10 points of the game.
"(Mea) Morris is usually one of our leading scorers, but not like tonight," Ann Arbor Skyline coach Keith Wade said. "When her sister went away, she went crazy. I think she felt like she had to play for both of them."
Mia Morris scored 13 points before her injury, and Anita Vandermuelen scored 12 points, with 12 rebounds and four steals for Skyline.
Ypsilanti 45, Pioneer 35
Story | Boxscore
Ypsilanti (10-5, 5-4 SEC White) came out of halftime with a strong quarter, outscoring Pioneer 15-8, led by Jasmine Jones with a game-high 17 points.
Desiree Cougill led Pioneer (8-7, 3-6 SEC Red) with 13 points and 10 rebounds, and Brianna Worthing added 11 points.
Pioneer started the game strong, with a one-point lead after the first quarter.
"In general we just missed a lot of layups and putbacks," Pioneer coach Crystal Westfield said. "I think when we picked up our defensive pressure in the second half, it helped our offense."
Saline 51, Lincoln 48
Story | Boxscore
Down by two points with 35 seconds left, Amanda Zylstra buried a 3-pointer from the left wing to give Saline control. Lincoln's Arie Cargor drove with seven seconds left in the game, and pulled up for a potential game-winning jumper at the free-throw line that rimmed out.
"Zylstra's 3-pointer, and two clutch stops at the end, are what did it for us," Saline coach Jeff Waltz said.
Dominique Foley brought Ypsilanti Lincoln back from a 10-point deficit late in the game with eight unanswered points personally, and scored 19 points on the night. Cargor had 15 points for Lincoln (11-5, 5-4 SEC Witte)
Senior Caitlin Ellis had 19 points and 19 rebounds for Saline (10-6, 6-3 SEC Red).
"Ellis has been on fire lately," Waltz said. "She's doing the dirty work, getting the put backs and coming out like an animal. I don't know where we'd be without her."
Romulus Summit Academy 29, Willow Run 23
Story | Boxscore
After scoring six first-half points, Ypsilanti Willow Run senior captain Samaria Gibbs left the game in the second half with a head contusion, and the Flyers could not overcome an eight-point fourth quarter deficit.
"The loss of Gibbs really changed the game," Willow Run coach Cliff Russell said. "We don't make excuses, we had opportunities to win either way, but losing Gibbs affected our ability to play a better game.
Willow Run's Julia Holston (6-8, 3-2 MMAC North) led the Flyers with 10 points.
Macomb Lutheran North 42, Father Gabriel Richard 33
Story | Boxscore
Greenhills 50, Taylor Baptist Park 42
Story | Boxscore
Up 45-28 to end the third quarter, Greenhills held off a surging Taylor Baptist Park to grab the win. Jackie Oestreich led Greenhills (9-6, 7-2 MIAC) with 22 points, 23 rebounds, three steals and three blocks.
"We played great the first three quarters, but I thought we had a sloppy fourth and didn't close the game strong," said Greenhills coach Rachel Cortis, whose team improved to 9-6 overall. "Jackie, she's been working on taking her shot straight up and not leaning into pressure. Whenever she missed a shot tonight, she was able to grab it and go straight up with it."
Adrian Madison 59, Whitmore Lake 20
Story | Boxscore
Whitmore Lake's (2-13, 2-13 Tri-County) Alyssa Milliman and Abby Salata each scored a team-high four points.
"Bussing had a great game," Whitmore Lake coach Jen Taylor said. "She's tough inside and my forwards couldn't defend her well. She got the ball inside easily."
Saline Washtenaw Christian 48, Detroit Henry Ford 21
Story | Boxscore
AnnArbor.com Coverage
Huron 49, Dexter 37
Story | Boxscore | Photo Gallery | Micah Robinson's smooth move
Game of the Week
Voting is open until noon Saturday in this week's Game of the Week poll.