Chelsea, Ypsilanti, Manchester wrestlers advance to individual state semifinals
Posted on Fri, Mar 1, 2013 : 6:24 p.m.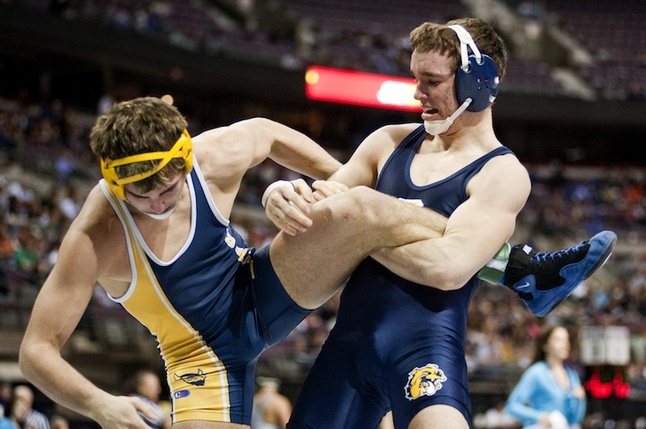 Joseph Tobianski | AnnArbor.com
Related:
Six Washtenaw County wrestlers fight back through consolations brackets to earn All-State disinction
AUBURN HILLS -- The last time Chelsea High School wrestler Michael Hovater was in the state quarterfinals, he had the unenviable task of facing an undefeated, four-time state champion.
Taylor Massa is now a starter for the University of Michigan wrestling team , but a year ago -- as he did to every opponent he faced last season -- he made quick work of Hovater, pinning him in the first period.
On Friday, Hovater finally got the opportunity to redeem himself, and this time it was Hovater with the unblemished record, and Hovater who did the pinning.
Hovater scored a second period pin over Gaylord's Tristan Gregory to advance to the semifinal round of the Division 2 MHSAA Individual Wrestling Finals at the Palace of Auburn Hills. He will vie for a spot in the finals of the 189 pound weight class on Friday night.
"It feels great. A lot better than last year," Hovater said with a smile in reference to the match with Massa.
Both of Hovater's wins so far in the tournament -- the first coming on Thursday -- have come by way of pin. He said he hopes to continue that trend Friday night and beyond.
"That's the goal…I mean I'm not going to not pin him if I can pin him," joked Hovater.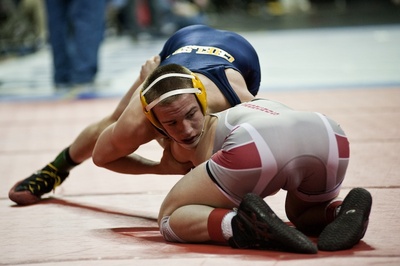 Joseph Tobianski | AnnArbor.com
Hovater will be joined by teammate
Steve Bleise
(135) and Ypsilanti's
Kyle Abdellatif
(125) in the Division 2 semifinals, while Manchester's
Eric Coval
will compete in the Division 3 semifinals at 145 pounds.
Like Hovater, Bleise improved on his undefeated record with a 6-3 win over Mason Cleaver of Holly in the quarterfinals. Chelsea coach Kerry Kargel and current Central Michigan wrestler Dakota Cooley are the only two Chelsea wrestlers to ever have undefeated, state championship seasons in program history and they did it 41 years apart.
Hovater and Bleise hope to double that total this weekend.
"Both of them have been here last year so it's not anything uncommon for them," Kargel said.
All semifinalists are guaranteed all-state medals -- awarded to the top eight -- as the the worst they could possibly finish in their 16-person weight classes is sixth place.
"I think they're more relaxed now. I think they were more tense coming into (the quarterfinals), because the goal is always to get 'em into the top eight and work their way up," Kargel said. "There shouldn't be as much tension now and I think they'll wrestle better. More relaxed."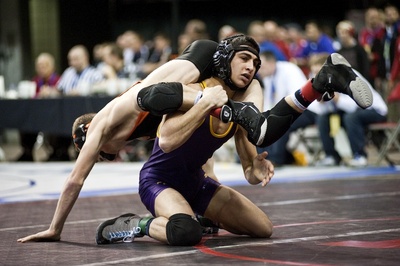 Joseph Tobianski | AnnArbor.com
Abdellatif secured his spot in the semifinals with a 9-6 win over Ryan Flynn of Middleville Thorneapple Kellogg. Abdellatif staved off a late third-period comeback by Flynn, who trailed by five at one point, but was within one with under a minute to go.
"He wrestled great. He wrestled tough," Ypsilanti coach Claudell Ruffin said. "If he keeps his composure hopefully he can get to the finals."
Coval hung on for a one-point win in the most dramatic of the quarterfinal matches. Manchester coach Steve Vlcek is happy to see Coval wrestling to his ability.
"He is starting to believe finally he belongs here," Vlcek said. "He's always had the talent, now he's starting to believe which is nice to see."
Friday's semifinal round begins at 7 p.m. with wrestling beginning at the heavyweight division. All matches will be live-streamed at MHSAA.tv.
Peter Cunningham covers sports for AnnArbor.com. He can be reached at petercunningham@annarbor.com. Follow him on Twitter @petcunningham.