state finals preview:

Chelsea's August Pappas aiming for Division 2 title at cross country finals

Posted on Fri, Nov 5, 2010 : 8 a.m.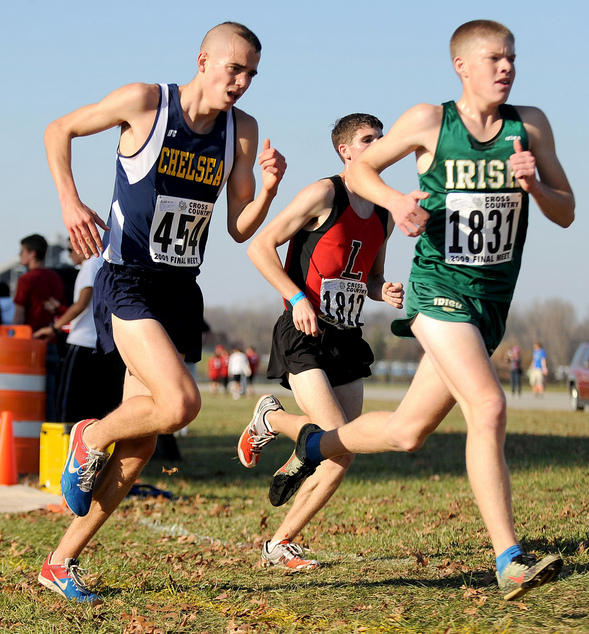 AnnArbor.com file photo
During his freshman year, Chelsea's August Pappas ran in the MHSAA cross country state championships at Michigan International Speedway, and for reasons unbeknownst to him, everyone on the team decided to shave their hair into arrows pointing forward.
Now a senior, Pappas is still unsure why the tradition started, but when he shows up to the MIS on Saturday, gone will be the dreadlocks that have sat atop his head all year and all that will be left is an arrow pointing forward.
If the race goes as planned for Pappas, nobody will stand between that arrow and the finish line in Saturday's Division 2 race.
"My coach and I have a very specific plan as to how I'm going to run the race. I'm very confident in our plan," said Pappas. "I don't want to be a jerk or anything, but I don't want to say it specifically."
Though Pappas is keeping his strategy close to the vest, what's no secret is the legitimacy of his lofty goal. Pappas finished seventh at the 2008 state finals, fourth in 2009 and at this year's Portage Invitational - with a field comprised of the state's top competition - Pappas took first place in the Division 2 race.
"I'd say there's about five guys who have a shot (at first) and August has just a good a chance as any of them," said Chelsea coach Eric Swager naming Mattawan's Alex Standiford, Byron Center's Jeff Satler, Fremont's Nick Butcher and Cedar Springs' Connor Mora along with Pappas' as the primary contenders for the state title.
"August is a guy who has put in the work, logging over 1,000 miles this summer… I'm not going to bet against him," Swagger said.
Pappas won't be alone at the meet. Along with teammate Bryce Bradley - who has a legitimate shot at a top-10 finish - Chelsea will compete as a team after a surprising third place finish at regionals.
"I love having my team there, I think that's a huge mental boost," Pappas said.
In discussing his excitement about his team's unexpected success - even Swager admitted he didn't think the Bulldogs would qualify for the state meet going into regionals - Pappas tipped his hand a bit about his plan for Saturday, embodying the same type late surge approach.
"I'm designed to run my second part of the race harder than my first. I don't plan on pushing the pace, but I'll be ready to throw down in the second half."
STATE FINALS PREVIEW
The boys and girls cross country state championship will take place at MIS on Saturday. Following is the outlook for Washtenaw County teams and individuals competing:
DIVISION 1
Boys Race (10 a.m.) Local teams: Dexter, Saline, Huron, Pioneer Outlook: In its first year in Division 1, Dexter - runners up in Division 2 last year - is already making waves. Dexter may not have a contender for the individual title, but if its top five finishers can finish in a pack like they have all year -Dexter's top-five finished within 22 seconds of each other at in taking places 1,3, 4, 5 and 6 at regionals - the Dreadnaughts could challenge for the team trophy.
Girls Race (3 p.m.) Local teams: Pioneer, Dexter, Saline. Individual qualifiers: Annie-Norah Beveridge (Huron), Alexandra Cell (Huron), Karyn Rapundalo (Huron), Lauren Halpern (Skyline), Emily Czinski (Lincoln) and Marina Geider (Lincoln). Outlook: Saline doesn't look to have the necessary depth to repeat as state champions, but a top-five finish is in the realm of possibility. Individually Huron's Annie-Norah Beveridge and Saline's Alyssa Cummings lead a pack of All-State contenders.
DIVISION 2
Boys Race (1:30 p.m.) Local teams: Chelsea Individual qualifiers: Ike Fink (Milan) Outlook: Chelsea's surprise qualification is a boost to practical All-State locks August Pappas and Bryce Bradley. Said coach Eric Swager after his team qualified, "A month ago, I thought that a state finals berth was ludicrous. Now, I am once again amazed at how well we here at Chelsea close out the season."
Girls Race (2:30 p.m.) Local teams: Chelsea and Milan Outlook: Though neither team will be in the running for top prize Chelsea's Danielle Dahl has a shot at capping off her season with an All-State performance.
DIVISION 3
Boys Race (10:30 a.m.) Local teams: Whitmore Lake Outlook: Expectations were high for Whitmore Lake coming into the year, with a "state championship or bust" approach after returning five-of-seven runners from last year's seventh place team. Though Ronnie Milbocker has emerged as an All-State contender, the Trojans haven't progressed quite as much as planned.
Girls Race (11:30 a.m.) Local Teams/Individuals: None
DIVISION 4
Boys Race (1:30 p.m.) Individual qualifiers: Andrew Garton (Greenhills) Outlook: If the Greenhills soccer team won its Division 4 state semifinal match on Wednesday night (results not available at deadline), Garton will not compete in order to play in the soccer state finals.
Girls Race (10 a.m.) Local Teams: Greenhills Outlook: Making the state finals is a nice bonus for a young - five-of-seven runners Saturday will be underclassmen - Greenhills team, but the Gryphons' qualifying times are among the slowest in the entire field.