Posted on
Sun, Mar 21, 2010 : 5:02 a.m.
Chelsea's Dakota Cooley is Washtenaw County Wrestler of the Year
By Pete Cunningham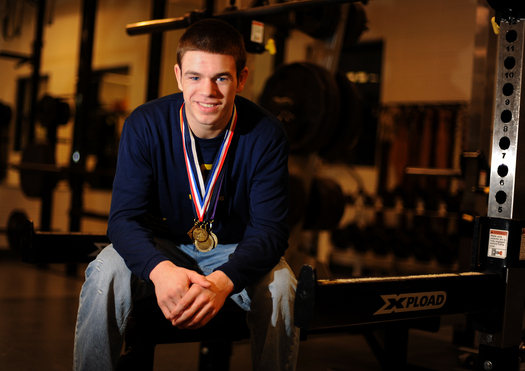 Sunday. Universally regarded as a day of rest. The one day out of the week when almost everybody kicks it down a notch. Takes a break. Relaxes.
For the past two years, that's been far from true for Chelsea High School senior Dakota Cooley.
Every Sunday morning for the past two wrestling seasons, after every single tournament, Cooley has woken up bright and early and made the hour-long drive to St. Johns High School.
The purpose of the trip: A practice that was the high school wrestling equivalent of the Justice League of America.
Among the stable of impressive practice partners were two-time state champions Josh Houldsworth of Holly and Taylor Massa of St. Johns. The practices were long. They were intense. And they were the last thing Cooley ever wanted to do on a Sunday. He never missed a single one.
"I never wanted to go, but I thought I had to. I knew it'd be worth it in the end," Cooley says. "It sucked, especially after a tournament where you might have had a hard match or all 6-minute matches and you're sore. You definitely don't want to go up there."
After the final whistle blew following Cooley's 140-pound victory in the Division 2 state championship match, the early Sunday wakeup calls were all suddenly worth every minute of missed sleep. With his 60-0 record, the AnnArbor.com Wrestler of the Year had become the first undefeated state champion at Chelsea since his coach, Kerry Kargel, did it in 1969.
The grand stage that is the floor of The Palace of Auburn Hills is a customary spot for grand celebration. After reaching the mountaintop, wrestlers have been known to bust out back flips. Others jump hysterically into the outstretched arms of coaches. Some simply break down in tears.
Not Cooley. He had his hand raised, just as he had in his other 59 matches this season, and jogged off the mat seemingly void of emotion.
No back flip. Not so much as a fist pump or smile.
"I've never really celebrated a win ever," says Cooley. An understandable disposition for someone who has opted not to celebrate 204 times over the past four years. "I expected it to happen. I thought it should happen. So once it happened, I was just relieved it was over with."
The tears? Leave those to mom.
"It was like relief, happiness and excitement all rolled into one," says Karen Cooley, who says she absolutely suffered through Dakota's last three matches, which he won by a combined four points. "(The semifinal) was probably the one that just about killed me. The one after that, it easily could have."
The suffering was intensified by Dakota's previous two trips to The Palace.
As a sophomore, Cooley built a seemingly insurmountable five-point lead in a state semifinal before falling in overtime. The heartbreak continued in a semifinal his junior year. Clinging to 1-0 lead with eight seconds remaining, Cooley once again found himself on the wrong end of a comeback effort.
Finally a state champion, he says it felt like a huge weight was off of his shoulders.
"It was basically just a 'Thank God' after that final whistle," Cooley says.
Not quite as nervous as Karen, Jerry Cooley and about 30 friends and relatives watched with excitement and quickly turned a section of The Palace into a Cooley fan club.
"They didn't tell me they were coming," says Dakota, who was surprised to see his uncles and cousins among the people who came to see him wrestle his final high school match. "Before my match they were down on the railing hitting the railing and saying, 'Let's go Dakota,' and then I noticed I was like, 'Wow.'"
"It was incredible. I didn't realize how many people were there until I went out in the hall afterward," says Jerry Cooley, who got Dakota involved in wrestling back when he was just 7 years old.
Though he exposed him to the sport from a young age, Jerry was always wary of how physically and emotionally draining the sport could be, and made sure to never impose the sport on his son.
He didn't need to.
"He saw success right away and he started asking me 'dad, we gotta find more practices' so I was like, ok, we can find more practices," Jerry recalls.
Pretty soon, Dakota will head to Central Michigan University to wrestle for former national coach of the year and 10-time Mid-American Conference coach of the year Tom Borelli.
Consistently ranked among the nation's top programs, CMU recently won its ninth consecutive MAC championship and qualified all 10 individuals for the NCAA individual championships in the process.
"I honestly think (Borrelli) is the best coach in the country. He comes to a school like Central Michigan, where nothing is supposed to be great, but he's turned them into a great team," Cooley says. "He takes kids that maybe don't win a state championship in high school and maybe don't achieve what they wanted, but he turns them into all Americans somehow."
A day after graduation, he'll move up to Mount Pleasant to get a jumpstart on training at Central Michigan University.
"I think getting a summer head start is great, I think its going to benefit me a ton. I think it'll be awesome," says Cooley.
He's going to try and get a little extra practice in. Imagine that.
Pete Cunningham covers sports for AnnArbor.com. Contact him at 734-623-2561 or petercunningham@annarbor.com.