Posted on
Sat, Mar 2, 2013 : 10:56 p.m.
Chelsea's Steve Bleise takes second place to highlight area wrestlers in state finals at The Palace of Auburn Hills
By MLive Media Group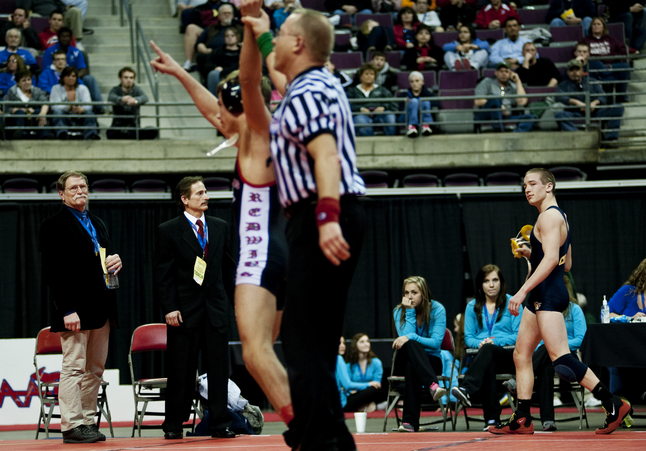 Daniel Brenner | AnnArbor.com
Patrick Nothaft for AnnArbor.com
AUBURN HILLS -- Chelsea's Steve Bleise defied his own expectations at the 2013 Division 2 individual state finals, as the junior took the mat on Saturday with a chance for the 135-pound title.
"Coming in, I didn't think I was going to make the finals," Bleise said. "I just planned to show up and wrestle as well as I could. Whatever happened, I was going to be fine."
When he qualified for the state tournament in 2012, Bleise competed at 119, where he finished fourth.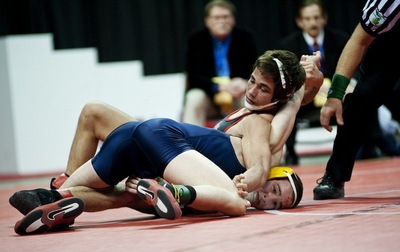 Daniel Brenner | AnnArbor.com
A summer growth spurt forced Bleise to adjust to the 135-pound weight class this season, and he still recorded a 45-0 record before suffering a first-round pin to St. Johns' Logan Massa in the title bout.
"Now that I made the finals, I'm disappointed in how I did," he said. "(Massa) came out ready, and I wasn't as prepared as I should've been."
With an experience of a state finals match in hand, Bleise has one goal for 2014.
"I've only got one more shot, so I'm going to work every day this summer and be as prepared as I possibly can," he said. "I'll know exactly what to expect in the finals next year, and I'll be stronger, quicker, and faster than I was this year."
Chelsea teammate Mike Hovater took third at 189 pounds after defeating Flint Kearsley's Robert James in the consolation final. Holding a 42-0 record , Hovater suffered his first defeat in the semifinals to state runner-up Garett Stehley of Lowell, who he defeated in a 2012 match.
"You can't help but think that it could've been me in the title round," said Hovater, who placed fifth at 171 in 2012. "Maybe I would've matched up better than Stehley against (St. Johns' 189 champion) Payne Hayden."
Also in Division 2, Ypsilanti's Kyle Abdellatif finished fourth at 125 after losing a 1-0 decision to Eaton Rapids' Jaedin Sklapsky in the consolation bracket. The junior, who recorded his 150th win this season, credited his brother Zaid, an Ypsilanti senior state-qualifying heavyweight, for getting him interested in wrestling.
Daniel Brenner | AnnArbor.com
"We started wrestling in sixth grade," the younger Abdellatif said. "He's bigger than me, so we don't wrestle each other much anymore, but I wouldn't have gotten into wrestling if not for him."
Zaid went 1-2 on the weekend, falling just short of the medal rounds.
Dexter's Zeke Breuninger took eighth at 112 after losing both of his matches on Saturday.
In Division 3, Manchester junior Eric Coval finished fourth at 145, with a 5-0 loss to Yale's R.J. Smith ending his tournament run. After reaching the semifinals, Coval fell behind 4-0 to Lake Odessa Lakewood's Jordan Bennett and lost a 10-4 decision.
"I knew I needed to get the first takedown, but I came out a little flat in the semifinals, and Bennett got a quick four points," said Coval, who finished with a 47-9 record. "My goal was to finish in the Top 5, so I'm happy overall."
Manchester teammate Ben Heuser was seventh at 135.
In Division 1, Ann Arbor Pioneer's Billy Cobb-Gulley took fourth at 103, and teammate Jahi Hilliard was seventh at 215. Saline also had two medalists in Taylor Ticknor, who was sixth at 112, and Nate O'Sullivan, who was sixth at 135.
Patrick Nothaft is a journalist for MLive Media Group. He can be reached at pnothaft@mlive.com.