Posted on
Fri, Mar 23, 2012 : 2:35 p.m.
Club Wolverine swimmer Zac Cain on rare pediatric colon cancer: 'I'll make sure it doesn't ruin my life'
By Pete Cunningham
Zac Cain is accustomed to rising well before the sun. A swimmer, Cain is usually is in the pool for early-morning practice, while his classmates rest comfortably in bed.
But 3 a.m. is early even for Cain. On this day, it's not the lukewarm water of the pool at the Howell Aquatics Center that awaited him. It's Wednesday, March 7, two days before the Division 1 MHSAA boys state championships, but Cain isn't training for the race he's waited his entire life to swim.
Cain is up bright and early for his first day of chemotherapy.
There was no state championship for Cain this year. Instead of battling competitors in the neighboring lanes, Cain is battling colorectal cancer.
Photo by Carrie Horstmann
In one month, his focus shifted from swimming the race of his life to fighting for his life.
Zac Cain is 17 years old.
The pediatric oncology unit on the seventh floor of C.S. Mott's Children Hospital has a disturbing dichotomy. Stuffed animals, toys and a pool table sit in a recreation room. IVs, heart monitors and children fighting terminal diseases are just around the corner.
A young boy, not yet 5 years old, wears a respiratory mask and chases his sister. The squeaking of their shoes reverberates down the long empty hall along with their laughter.
In a room with lights turned low and the heat turned high, Cain sits in his bed. His stomach is slightly upset after his first day of chemo. His mother, Jill, turns the thermostat up slightly as his father, Al, sits bedside.
In late January, Zac had intermittent stomach pain. He missed school one day with what he and everyone else dismissed as a 24-hour flu. Days later, on Feb. 2, he won all four races he entered in his team's dual meet against Pinckney. He set two Pinckney pool records and a Howell varsity record in the process.
Zac was fine.
That weekend, the stomach pain returned and Zac was exhausted. Jill decided it was time for Zac to go to the hospital. As a battery of tests continued to come back negative, doctors started preparing Al and Jill for an increasingly dire diagnosis.
"They kept telling us it was a benign tumor, or maybe Crohn's (disease)," Al recalled. "They never even considered it being cancerous because they said it just doesn't happen to healthy 17-year-olds."
Al's voice is soft yet unwavering as he speaks at his son's bedside. Given the choice, you know he'd trade places with his son.
"Even the doctors couldn't believe it," Al said.
According to Dr. Emily Mueller — a pediatric, hematology-oncology fellow at Mott's — there are only 100 cases per year in the United States of colorectal cancer similar to Zac's in patients younger than 21. In most of those cases, however, the cancer is associated with long-standing bowel disease, ulcers, Crohn's disease or inherited abnormalities, none of which Zac has.
"In patients younger than 21 who have colon cancer, they're most commonly associated with underlying conditions, but Zachary doesn't have any of them," Mueller said.
March is National Colorectal Cancer Awareness month, prompting the Centers for Disease Control and Prevention to release public service announcement encouraging people older than 50 to get screened for the disease. More than 50,000 Americans die from it every year, and 60 percent of those deaths could be prevented if everyone 50 years or older was screened, according to the CDCP.
The PSAs are intended for senior citizens. Not seniors in high school.
The reason screenings are encouraged is that the earlier the cancer is caught, the more effective treatment will be. While logic might suggest a young, healthy patient is better equipped to fight the cancer, there are mitigating factors that work against the younger patient. The cancer is young, strong and aggressive, as well, and in most cases, such as Zac's, it isn't discovered until the later stages.
Zac's was discovered in Stage IIIC. The stomach pain he was experiencing was, according to Mueller, "intestinal contents flowing into the abdominal cavity."
But Mueller said "there's no reason to think intermittent stomach pain would be colon cancer."
Jill describes the moment she learned of the diagnosis as an "out-of-body experience." Zac leaned over to his family after the initial shock and said three words.
"I got this."
Zac is accustomed to going long lengths to achieve his goals. Howell isn't a swimming powerhouse. Coaches would have one practice plan for the team and another one for Zac.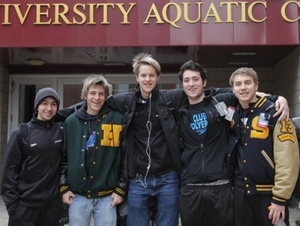 Photo courtesy of Jill Cain
Determined to better his craft, with the eventual goal of swimming in college, Zac would swim in the offseason with Club Wolverine in Ann Arbor. There he joined some of the best swimmers in the state, including Saline's Josh Ehrman, Adam Whitener and David Boland, Dexter's Jonathan Zofchak and others.
Club Wolverine coach Kelton Graham, Huron High School's former head coach, said Zac was never as physically gifted as some of his Club Wolverine teammates, but he made up for it in heart. Zac's best race, the 500-yard freestyle, is one of the more dreaded races in high school swimming.
Technique only gets you so far in that race. The rest is pure will.
"He was a grinder," Graham said while poolside at the state championships at Eastern Michigan University. Graham said when Zac swam the 500, it was as though he were fighting the water. "There was nothing pretty about it."
Pretty, no. Effective yes. Zac placed fifth in the state as a sophomore and junior. His goal for this year was a top-two finish, conceding that if Club Wolverine teammate and close friend Ehrman swam the race, he would win.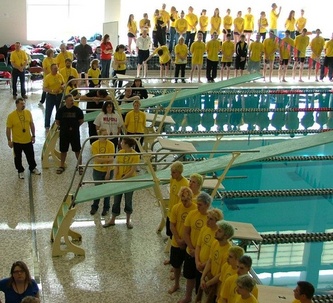 Photo courtesy of Jill Cain
Ehrman didn't swim in the 500 at the state finals, but was part of two championship relay teams, won the 100 breaststroke and was second in the 200 individual medley.
After each race, he'd get out of the pool and put on a bright yellow T-shirt. It didn't have the Saline logo on the front. It was a LiveStrong shirt that he wore in support of his friend.
It was the same shirt that every swimmer from every team wore at the Kensington Lakes Activities Association conference championships weeks before.
"He's a tough kid, and he's a fighter," Ehrman said. "I'm just hoping the best for him."
Pioneer's Seiji Osawa won the 500 and, according to Graham, "Zac woulda given Seiji a run."
Osawa agreed.
"He definitely would have been up there with me," Osawa said. "At states, I always knew he was going to be there, pushing me."
Zac had close to three quarters of his colon removed and, according to Mueller, all signs of the cancer are gone with it. He's lost 20 pounds. He was already skinny, but now he's spreading just 141 pounds across his 6-foot frame.
Zac will undergo six months of chemotherapy, and he acknowledges the fight he's in for. His spirits are high regardless. He joked that losing his hair in chemo will be just like shaving his head for the state finals every year.
"It's pretty rough. I've kind of blocked it out of my mind though," Zac said softly, sitting in his hospital bed. "I'm used to handling pain.
"(In the 500), you just keep going, keep going, keep going. I guess that's like this. It just keeps coming at you, you gotta fight it."
Statistics for survival rates aren't favorable, but the information is limited for cases specifically such as Zac's. Just one patient changes the survival rate by an entire percent in the younger-than-21 group, and even moreso in cases such as Zac's.
One thing is certain. The cancer is strong, but Mueller said it can be beat.
"He still has a good fighting chance to beat this cancer and live a long successful life as a swimmer," she said.
Perhaps it's in poor taste to compare sports to life. But for Zac, they've always been one in the same.
To take away swimming is to take away Zac's life.
Cancer has taken Zac's life once; he's determined not to let it happen again. Zac has returned to school, only taking the advanced classes he'll need for college, where he still hopes to swim.
He'll take his girlfriend, Amanda Goerge, to prom later this spring and throw his cap at graduation. He said when he gets healthy — not if, when — he'll do everything he can to get back in the pool.
"I'm not giving up," he said. "It is what it is and it happened, but I'll make sure it doesn't ruin my life."
Pete Cunningham can be reached at petercunningham@annarbor.com or by phone at 734-623-2561. Follow him on Twitter @petcunningham.