Posted on
Wed, Mar 27, 2013 : 5:30 a.m.
Skyline and Lincoln hosting fundraiser races, Big Ten award winners and more community briefs
By Pete Cunningham
There will be opportunities for those looking to get in shape to simultaneously compete and contribute toward high school programs in the Washtenaw County area on back-to-back weekends in April.
Skyline High School will host the Sky Tri Triathlon on Sunday, April 21, to benefit the boys and girls high school swimming programs, and Lincoln High School will host the Lincoln RailSprinter 5K Run/Walk the following Saturday, April 27.
Joseph Tobianski | AnnArbor.com file photo
The Sky Tri Triathlon features an 400 yard swim at the Skyline High School pool, a 12.4 mile bike ride along Huron River Drive and a 5K (3.1 mile) run. There is also an option to do a half course or participate as three-person team with each person completing one leg of the course.
For registration information call Epic Races at 734-678-5045 or visit EpicRaces.com. The race begins at 8 a.m.
Anyone who registers before April 1 can attend either a free beginner triathlon with USAT certified coach Eva Solomon -- or a free swim lesson with Michigan High School swimming coach of the year Maureen Isaac. Both of these will take place on April 13th, 10 a.m., at Skyline.
The Lincoln RailSprinter 5K Run/Walk course starts at Lincoln High School and meanders through the main campus of Lincoln Consolidated Schools. In addition to the 5K, there is a one mile fun run option.
For registration information visit the Lincoln Community Education website. Proceeds from the event will go toward campus beautification projects.
Saline athletic director Rob White honored
Saline High School athletic director Rob White was recently awarded the Region 6 Athletic Director of the Year by the Michigan Interscholastic Athletic Administrators Association. The award is given to athletic directors who have been in their position for at least five years and "demonstrate contributions to local, conference and/or regional interscholastic athletics."
White has been at Saline Area Schools for 12 years and athletic director for seven.
For an article in the Saline Post, White deflected credit for the honor.
"I think this reward is a direct reflection of the quality of our coaches, our student athletes and the community for their dedication to interscholastic athletics," White told the Post. "It's an honor just to lead this athletic department and get to work every day with an incredible group of dedicated professionals."
Michigan softball, gymnastics win Big Ten Awards
Both the Michigan men's gymnastics and the softball team's were awarded Big Ten athlete of the week honors this week.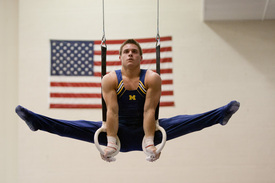 Shortstop
Sierra Romero
earned the honor for the softball team and was also named freshman of the week after reaching base on all 12 of her plate appearances over the weekend against Purdue and batting 1.000 with seven hits. Romero hit three home runs and drove in seven runs on the weekend with No. 14 Michigan sweeping the series to improve to 3-0 on the year.
Junior Sam Mikulak was named Big Ten male gymnast of the week after after scoring two event titles on vault and high bar in U-M's victories over No. 15 University Illinois at Chicago and SUNY-Brockport over the weekend. It's the fourth such award of the 2012 Olympian's career.
Milan and Arbor Prep move to Class B
The Michigan High School Athletic Association released its changes in classifications for schools based on enrollment last week and Milan High School and Arbor Preparatory Academy are on the move.
Milan will move down from Class A to Class B and Arbor Prep will move up from Class C to Class B. It's the second move in recent years for both schools. Milan moved up from Class B to Class A before the 2011-12 academic year and before this year Arbor Prep moved up from Class D.
Arbor Prep is a second-year charter school and started with just freshman and sophomore students in its first year. The 2012-13 year was its first year with a junior class and next year will be its with a full building complete with a senior class.
Have a local sports brief to tell us about? Contact us at sports@annarbor.com.
Pete Cunningham covers sports for AnnArbor.com. Contact him at petercunningham@annarbor.com. Follow him on Twitter @petcunningham.