Posted on
Thu, Nov 3, 2011 : 5:56 a.m.
Chelsea and Adrian playoff rematch nothing new to the conference rivals
By Pete Cunningham
Chelsea High School football coach Brad Bush isn't thrilled about a rematch with Southeastern Conference White Division rival Adrian on Friday. Adrian coach Phil Jacobs can't wait for the second round Division 3 playoff matchup.
Chelsea won 37-13 the last time the teams played and is playing at home on Friday.
What am I missing here?
It's not that Bush doesn't believe his team can beat the Maples again. He's just aware of the dangers of putting too much stock in a regular season win.
ADRIAN (6-4) at CHELSEA (8-2)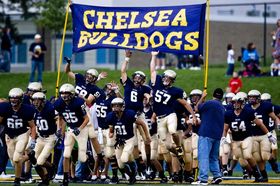 What:
Division 3 district final
.
When: Friday, 7 p.m.
Where: Chelsea High School
How they got here: Adrian beat Carleton Airport, 28-21; Chelsea beat Riverview, 49-14.
Winner plays: Mason (9-1) vs. Battle Creek Harper Creek (10-0) winner.
Last meeting: Chelsea won, 38-13.
All-time series: Chelsea leads, 8-6.
"It's hard, because sometimes fans and everybody doesn't realize how different a team can be in six weeks," Bush said.
Bush included his own players in that statement. He said getting players amped up for an opponent they beat handily can be a challenge.
In that regard, though, having Adrian as an opponent is an advantage. Every time the two teams play in the regular season, the SEC White Division title hangs in the balance, and Friday will be the third time they've met in the postseason in the past five years.
"I don't think it's easy, but I think our guys respect Adrian enough to know that that win really doesn't mean anything," Bush said. "I think (Adrian's) real dangerous, especially on offense, they're really good."
Jacobs said his team is anxious for redemption after playing, "as bad a game as we possibly could the first time around."
That game included less than 200 yards passing and one of only two regular season interceptions from Adrian quarterback Sebastian Johnson, who threw for 1,970 yards and 19 touchdowns in 6.5 games (shoulder injury) for the Maples (6-4) this season. It also helps that Johnson's favorite target, Tyler Frank (52 catches, 713 yards, 4 TDs) is now at full speed.
After being banged up al year, Frank, according to Jacobs, is "100 percent."
In Frank, Gage Lolley and Nick Amador. Adrian has a receiving corps that Temperance Bedford coach Jeff Wood compared to Skyline's fantastic trio of Jordan Woods, Theron Wilson and Jack Clark.
I won't go that far, but there's no question they're a prolific group bound to give any secondary trouble.
"For them to have a guy like Tyler Frank healthy, their best player -- who didn't practice and hadn't played, when we first played them -- is huge," Bush said.
A big factor in the game could be turnovers. Johnson got away with three interceptions against Carleton Airport last week.
Turn the ball over at that rate against Chelsea, and you might as well start practicing your jump shot. The Bulldogs are +19 in turnover margin in their wins this season. Conversely, Chelsea is -5 in its two losses.
Just as Bush is telling his players this week, forget the score from the last time these teams played and forget that Adrian only made the playoffs as a 5-4 at-large bid team. This, in every sense, has developed into a rivalry game, and none of that will matter when the teams kickoff at Jerry Niehaus Field on Friday.
"It's going to be electric," Jacobs said.
Pete's pick: Chelsea 24-21.
PETE'S PLAYOFF PICKS
Last week's random "Beat Pete" winner is George Lesko of Tecumseh. Though I'm sure no one who knows George and I will believe this was random because he's a dear family friend and a former wrestling coach of mine, I can assure you the drawing was all above board.
If you don't believe me, consider the prize: A Domino's Pizza gift card. I would never voluntarily offer pizza into the household of a young Tecumseh High School wrestler trying to make weight for the upcoming season as George's youngest son, Anthony, is.
Sorry Anthony. Your dad won fair and square. Go Indians!
Though the "Beat Pete" contest is officially over for the football season, you can still weigh in by participating in the interactive polls for the remaining games. Good luck!
TEMPERANCE BEDFORD (7-3) AT PIONEER (8-2)
What: Division 1 district final.
When: Friday, 7 p.m.
Where: Pioneer High School.
How they got here: Pioneer beat Monroe, 28-6; Bedford beat Brighton, 28-20.
Winner Plays: Canton (8-2) vs. Detroit Catholic Central (9-1) winner.
Last meeting: Pioneer won, 38-14.
All-time series: Pioneer leads, 13-2.
Quick analysis: Bedford's four/five-headed rushing attack led by Aaron Czesak (198 carries, 1,162 yards, 16 touchdowns), is no match for Pioneer's beast of a running back, Drake Johnson. Johnson had 395 yards and five touchdowns on just 22 carries the last time the teams played. Look for a lot of the same on Friday.
Pete's pick: Pioneer, 28-14.

FATHER GABRIEL RICHARD (8-2) AT ALMONT (9-1)
What: Division 5 district final.
When: Friday, 7 p.m.
Where: Almont High School.
How they got here: Father Gabriel Richard beat Capac, 35-0; Almont beat Clawson, 54-15.
Winner plays: Jackson Lumen Christi (7-3) vs. Dundee (8-2) winner.
Last meeting/All-time series: N/A.
Quick analysis: Gabriel Richard's Saturday game last week afforded coach Brian Lemons the opportunity to drive to Almont and personally scout the Raiders. Almont led 37-0 and had amassed 310 yards rushing by halftime, allowing Lemons to come to this stunning conclusion, "They're big, and they run a lot." Thanks, doctor.
Pete's pick: Gabriel Richard, 30-28.
Pete Cunningham covers sports for AnnArbor.com. He can be reached at petercunningham@annarbor.com or by phone at 734-623-2561. Follow him on Twitter @petcunningham.