Posted on
Sat, Feb 9, 2013 : 12:51 a.m.
Huron introduces new football coach Craig Jobe at halftime of basketball game vs. Pioneer
By Kyle Austin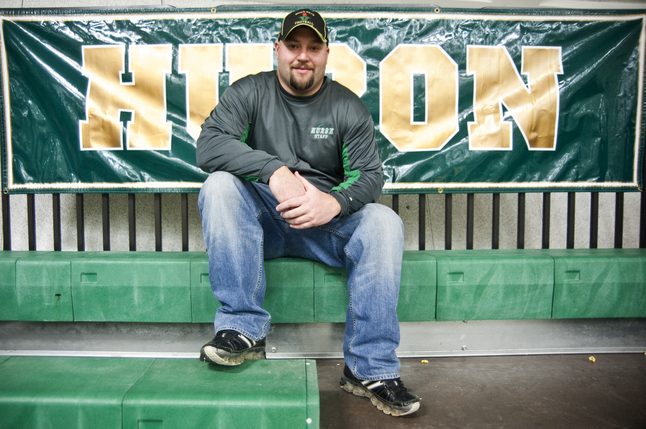 Joseph Tobianski | AnnArbor.com
The excitement was palpable at Huron High School's Riverdome on Friday as Craig Jobe was introduced as Huron's new football coach during halftime of the Huron-Pioneer boys basketball game.
For Jobe, a teacher at Huron, the next step is to bring that excitement to the football field.
"Being in the building, I see these kids every day, I talk to them every day," Jobe said. "It's exciting to get to work with them and try to turn it around a little bit and bring some excitement for the school."
Jobe has been the defensive coordinator at both Pioneer and Skyline since wrapping up his playing career at Wayne State as a defensive lineman in 2002.
He takes over a program with just one win over its last two seasons, including a winless 2012 that ended just about a badly as imaginable after a brawl broke out following a Week 8 loss to Pioneer. Huron played its final game with barely enough to play with low numbers exacerbated by player suspensions as a result of the fight.
That means the work will start next week in building toward the 2013 season.
And the first order of business, he said, will be to get his team in the weight room.
"We're going to get in the weight room, try to get bigger, faster, stronger in order to compete with some of the SEC Red teams," Jobe said. "We're excited to get started. We've got a lot of potential we just need to get to work."
Jobe is the second football coach hired in Ann Arbor this week, after Pioneer announced Jari Brown as its new coach Wednesday night. Both the Pioneer and Huron coaching jobs became available after Paul Test and Cory Gildersleeve both resigned in the months following brawl between the two teams.
Jobe said he plans to call the plays on the Huron defense and coach the team's defensive line. But before he knows what sorts of schemes his team will run, he needs to fill out his staff.
Yet he is comfortable saying one thing at least.
"We're going to be an exciting football team," Jobe said.
Kyle Austin covers sports for AnnArbor.com. He can be reached at kyleaustin@annarbor.com.