Posted on
Fri, Nov 2, 2012 : 5:42 a.m.
Dexter, Saline, Pioneer boys Saline girls contenders for cross country state titles
By Matt Durr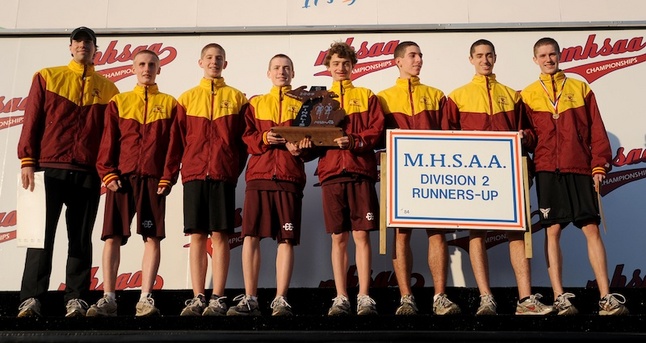 AnnArbor.com file photo
Winners of four consecutive district and regional championships, the
Dexter High School
boys cross country team has only one thing left to accomplish: winning a state championship.
Dexter won five straight Division 2 titles form 2002-2006 and finished runner up in 2007 and 2009. In its first year in Division 1 in 2010 Dexter finished runner up and last year was sixth.
This year's senior group became the fourth group in program history to win district and regional championship all four years.
A pair of those seniors, Matt Greve and Joe Wendorf finished first and thirdrd overall in the regional final, giving head coach Takashi Gould a reason to believe his team can get over the hump on Saturday at the MHSAA Cross Country State Championships at Michigan International Speedway in Brooklyn.
"It's obviously a big deal, but one that the boys knew going into this season was something that was very realistic and we had to make sure everyone was accountable and did their jobs," Gould said in an email. "Like the past years, we're just building momentum and confidence going into the big meets (SEC, Regionals, State) and control what we can."
Dexter has experience on its side with four of its five scorers from last year's meet (Matt Greve, Alexey Vermeulen, Joe Wendorf and Mike Hauke) competing on Saturday.
Some of Dexter's top competition will come from teams its very familiar with: Saline and Pioneer. Saline finished fourth in the state last year and has three of its top seven returning to the meet. Pioneer, which finished eighth in 2011, has five of its seven runners from last year's meet competing on Saturday.
Saline and Pioneer finished first and second at their regional at Lake Erie Metropark last weekend.
On the girls side, Saline is also poised to claim a state championship after taking the top-seven individual spots in last week's regional.
After finishing as the runner-up last year to Grosse Point South, the Hornets have the potential to claim the program's second-ever championship. Saline won in 2009.
Elianna Shwayder, Gloria Park and Abby Rentschler paced the Hornets at the regional last week and will be a big factor in helping Saline compete.
Still, longtime Saline assistant coach Tom Micallef knows nothing is a sure thing.
"There are a lot of really good teams in the state. This is the best team Saline has ever had, but there are no guarantees that we will be on the (awards) podium," Saline assistant coach Tom Micallef said.
That's high praise considering the 2009 team had all-state runners Alex Leptich and Kate Carter, who now run for Michigan and Miami (OH), respectively.
Cross Country State Finals
Here's who to watch for from Washtenaw County at this weekend's boys and girls state championships
BOYS
Division 1
Teams:
Pioneer
Saline
Dexter

Individuals qualifiers:
Jordan Steiff, Huron
Division 2

Teams:
Chelsea
Milan
Division 3

Teams:
Father Gabriel Richard
Greenhills School

Individuals qualifiers:
Ashwin Fujii, Greenhills School
Alex Reeves, Greenhills School
Ben Heuser, Manchester Matt Kemner, Manchester
GIRLS
Division 1

Teams:
Saline

Individuals qualifiers:
Alexandria Cell, Huron
Jessica Johnson, Huron
Audie Tzalel, Pioneer
Lauren Halpern, Skyline
Marina Geider, Lincoln
Adela Myles, Lincoln

Division 2

Teams:
Chelsea
Individuals qualifiers:
Lucia Alfaro, Milan

Division 3
Teams:
Father Gabriel Richard

Individuals qualifiers:
Alia Benedict, Manchester
Christy Wedmayer, Manchester
Charlotte Henry, Whitmore Lake

Matt Durr.