wresting State Finals:

Dakota Cooley pays homage with pre-match gear

Posted on Fri, Mar 5, 2010 : 11:30 p.m.
When Chelsea's Dakota Cooley was hanging out with his long-time friend from Big Rapids, Garrett Schaner, last weekend, he expected to see him again soon, and for it to be on good terms.
Why wouldn't it be? Schaner, with a 56-1 record, was heading into this weekend's individual state wrestling championships as one of the favorites to win the Division 3 145 pound title. Cooley, 56-0, was a favorite to win the 140 pound crown in Division 2.
Then tragedy struck.
Garrett's father, Craig was killed in a car crash on Monday, just a day after the long-time friends had been hanging out. Suddenly, seeing his friend again would be tougher than he thought.
To pay homage to his friend's loss, Cooley had a t-shirt made, which he wears during his pre-match warm up.
"It says 'Doin' it for Papa Schaner' that's what everyone referred to him as. It has 'rest in peace' on it," said Cooley. "Every time he talked to someone he said see you in the finals, so we got that on there."
Though "Papa" Schaner isn't there to see it, Cooley advanced to his first-ever state finals Friday night. Garrett fell short, losing in the quarterfinals, but he did earn all-state honors by advancing through the consolation bracket.
"I give him props for just wrestling, I mean, it'd be tough," Cooley said.
Though winning a state title was obviously his goal before the tragedy, Cooley admitted the loss has inspired him.
"I wanted to do it for myself, but now a little more for Papa Schaner. It's nice to…he would want nothing more." LEAVING IT ON THE MAT It's not too often that a senior leaves the mat after losing the final match of his high school career with a big smile on his face. Especially when that match is to make it into the medal rounds.
Such wasn't the case with Saline Nick Pataro on Friday. Pataro won his first match of the day after hitting his third gramby attempt in the last ten seconds of the third period,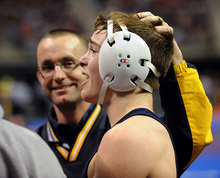 and had an even tighter match in the blood round of the consolation bracket.
Regulation wasn't enough, and after nearly scoring, but coming up short, twice on deep takedown attempts, double overtime was needed, after which Pataro eventually lost.
Pataro's face wasn't full of tears. After two matches of absolute exhaustion, he had a smile on his face, as did coach Scott Marvin. It was as if to say, "Really after all that I still didn't win? Seriously?"
SQUEAZIN' BY Washtenaw County wrestlers seemed to have little to no regard for their coaches' heart conditions on Friday, winning by the narrowest of margins.
Saline's Nick Pataro (see above) won a match in literally the last second, and lost a match in double overtime. While trailing 1-0 Milan's RJ Gaskill hit a takedown to six seconds remaining in third period of his consolation blood round match to pull off a 2-1 win. Ypsilanti's Alex Lillie scored a takedown in the last second of overtime to earn all-state honors, and Manchester's Jimmy Hamilton, trailing 5-3 late in the third period of his quarterfinal match, scored a reversal to force overtime before winning by pin.
Chelsea's Dakota Cooley won his two matches on the day by a combined two points.
Even Chelsea's Travis Ostrowski, who on paper may have looked to have dominated his opponent in the consolation blood round, was trailing 3-0, before registering the fall.
TEAMMATE TURMOIL In back-to-back weight classes in Division 2, coaching staffs were spread a little thin as teammates participated in both semifinals. At 125, Allegan's Taylor Simaz and Taylan Knobloch both won in overtime and will face each other in the finals, just as they do every day in practice.
Tecumseh's Jeff Jenkins and Ronnie Bechtol still may face each other later in the tournament, but it won't be for the 130 pound state title. Both lost opposite semifinals to two time state champions. Jenkins to Greenville's Tyler Keselring and Bechtol to Avondale's Victor Vettesse.
BOYS CLUB There won't be any medals awarded to female wrestlers at this year's state tournament. Goodrich's Kristi Garr lost her consolation blood round match to teammate Isaac Jewell, 9-5 at 103 in Division 3.
EXSTATIC HOUR There's only one place during the wrestling state championships that, where fans from Hudson and Addison rub shoulders. Where a dad from Allegan will high five a one from St. Johns, and share a table with Detroit Catholic Central.
The Embassy Suites hotel.
Why? Drinks during happy hour are…FREE!!!!...or so I've heard.
Located off I-75 near Crooks Rd, exit 72…or so I've heard.
--Bob Gross contributed to this article
AnnArbor.com's Pete Cunningham and Bob Gross will be at The Palace of Auburn Hills during all of Saturday's action. Be sure to check back for more results, stories, pictures, videos and live chats.