Posted on
Sat, Jan 12, 2013 : 10:24 p.m.
Deep Huron girls team puts 11 players on scoresheet in 42-21 win over Saline
By Kyle Austin
The Huron girls basketball team rarely had a chance to put all of its key players into the same game during an up-and-down first half of the season.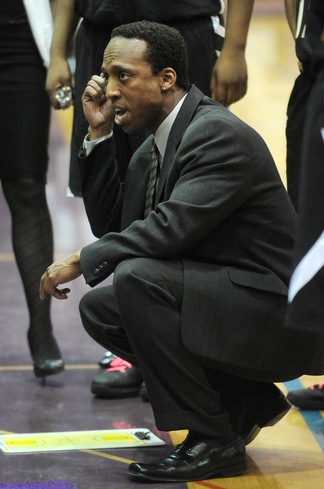 Saturday, Saline found out what the River Rats look like with nearly its entire team together.
The River Rats used strong defense and a second quarter surge to top the Hornets, 42-21 on the road Saturday night.
After taking just a three-point lead into the first intermission, Huron started the second quarter on a 10-0 run. It finished with a 15-2 advantage in the second quarter.
"I thought it was just good defense," Huron coach Steve Vinson said of the second quarter. "Playing defense, getting stops, transition, getting up and down."
More coverage: Boxscore
Saline struggled all game with the Huron press, finishing with 20 turnovers compared to eight field goals. Melanie Moeller led the team with six points.
The River Rats had five players miss a total of nine games during its first half, all of whom played Saturday. That included Micah Robinson and Auzhane King missing the last two games.
King finished with six points Saturday, tied for a team high with Bianca Williams. Nine other players scored points for the River Rats.
"We had a lot of balance today," Vinson said. "We have a lot of depth, we plan on playing a lot of people and using that to our advantage. That's one of our strengths."
With various players missing for various reasons throughout the first half of the season, the River Rats, who went to the state semifinals last year, struggled for consistency. They beat state power Detroit Country Day, but also fell to Chelsea and a pair of Ohio teams, New Brunswick and Solon.
"We're able to play shorthanded, and we're never going to use missing players as an excuse," Vinson said. "We missed players all through the playoffs last year. I don't think there was even one game where we had all of our players, so we would never use that as an excuse. We have to be a good defensive team, we have to take care of the ball, we have to be a good rebounding team regardless of who's out there."
Saturday's win snapped a three-game losing streak for Huron, a team that hopes having its full team together will mean a second-half run.
"We've got six seniors, these kids have played together a long time," Vinson said. "We've got to figure out a way to put it all together in the same game at the same time, and we haven't quite done that yet, but we're working hard at it."
Kyle Austin covers sports for AnnArbor.com. He can be reached at kyleaustin@annarbor.com or 734-623-2535. Follow him on Twitter @KAustin_AA.