Posted on
Thu, Dec 6, 2012 : 10:24 p.m.
Desiree Cougill's double-double leads Pioneer girls basketball past Father Gabriel Richard, 55-48
By Kyle Austin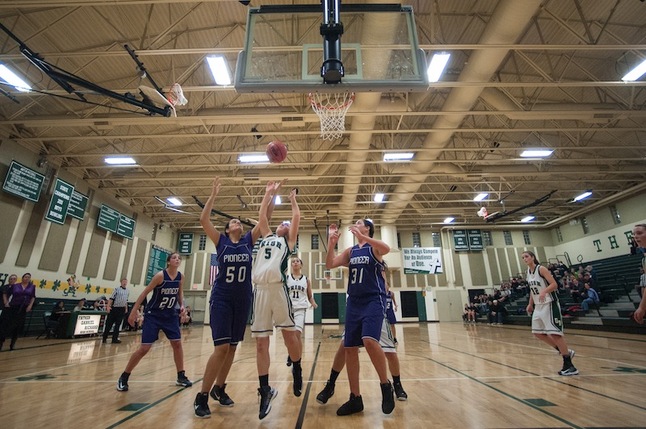 Courtney Sacco | AnnArbor.com
When Pioneer forward Jennifer Fichera describes Pioneer's go-to play Thursday night, it sounds so simple.
"Des is so tall, it's so easy to just dump it down into her," Fichera said. "She gets it up above her head and puts it in."
Fichera's many feeds to Desiree Cougill for easy buckets may not have been fancy, but they worked just fine as Pioneer topped Father Gabriel Richard, 55-48, in our AnnArbor.com Game of the Week.
Cougill finished with 25 points and 10 rebounds, while Fichera notched 13 points, plus eight rebounds and five assists.
Related Content: Boxscore | Photo Gallery | Pioneer opens season with two big wins
With the win, Pioneer is off to an a 2-0 start to the season, after starting 0-4 last year.
"We're ready to go, we're ready to win, and we're motivated because of last year what happened," Cougill said.
The Pioneers jumped out to a seven-point lead by the end of the first quarter and never trailed.
FGR made it a four-point game with 3:34 left and again in the last minute, but couldn't get any closer.
"You've got to make shots when you're trying to come back, and we just weren't able to make shots," FGR coach Matt Carroll said.
Lindsay Rhodes led FGR with 10 points, while Emily Hogan and Rachel DeMarco each had nine.
But none could overcome Cougill, who had 16 of her points in the the second half and took advantage of a size mismatch.
Carroll said his team's 1-3-1 defense can allow for an opposing post player to do well.
"If the post player's doing her job for the offense and there's a lot of offensive rebounds that happen to land kind of in the key area, it's going to be a tough night," Carroll said.
Cougill was both sick and on vacation last week before she returned to practice Monday. She managed just an eight-point outing Tuesday night in Pioneer's season-opener against South Lyon.
"I had a rough start last game, but this game I was a lot more motivated to get going and score points," Cougill said.
Thursday started out more of the same, after she couldn't score through most of the first quarter.
"I think that she started to get frustrated and knew she was coming out when she missed a few," Pioneer coach Crystal Westfield said. "That made her work even harder to stay in, and she started making her baskets."
Pioneer moves on to face Belleville Tuesday, while Father Gabriel Richard will take on Skyline next Friday.
Kyle Austin covers sports for AnnArbor.com. He can be reached at kyleaustin@annarbor.com or 734-623-2535. Follow him on Twitter @KAustin_AA.