with gallery:

Despite casts on both arms, Gabriel Richard QB Joe Kendzicky throws 3 TDs in playoff win

Posted on Sat, Oct 27, 2012 : 8:41 p.m.
There was nothing but good news at Ann Arbor Father Gabriel Richard High School on Saturday afternoon.
Not only did the Fighting Irish cruise to a 49-0 Division 5 football playoff victory against Dundee, they did so with the help of senior Joe Kendzicky, who split time at quarterback with a cast on his left hand and a heavy wrap on his right throwing hand.
Despite the extra material, Kendzicky completed 7 of 8 passes for 115 yards and three touchdowns in the pre-district win.
The Irish will host Lake Fenton in a district final at 1 p.m. Saturday. The Blue Devils (8-2) upset No. 4-ranked Jackson Lumen Christi, 41-20, on Friday night. Gabriel Richard opened this season with a 42-39 win at Lake Fenton.
More coverage: Boxscore | Bracket | Friday football roundup
The two teams have played in Week 1 each of the past three seasons, with Gabriel Richard winning all three by a combined 11 points.
"I'm expecting a similar game, it'll be close," Gabriel Richard coach Brian Lemons said. "It'll still be physical and it'll still be fast (like Week 1)."
Kendzicky passed for 240 yards and three touchdowns before breaking his left wrist in that win at Lake Fenton and was sidelined until Week 4 - when he promptly broke his right thumb.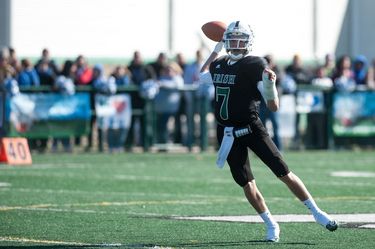 Courtney Sacco | AnnArbor.com
Saturday's pre-district win was his first time back on the field.
"It was nice to get out there and not break any bones," Kendzicky joked. "At the beginning I was a little bit nervous, but I really settled in after that."
Mason Sarosi led the Fighting Irish (9-1) on their first two scoring drives in the first quarter.
"Mason has done such a good job over the last seven or eight weeks that we debated whether or not we were going to bring Joe back this season," said Lemons. "To Joe's credit, he stayed sharp and he stayed ready. We were lucky to get (ahead) and get him some balls in.
"He looked good, just like when he left. Maybe a little heavier and with some casts."
Ultimately, it didn't matter much who was under center. The Fighting Irish scored touchdowns on each of their first seven possessions and rolled up 290 yards of offense in the time-shortened game.
They took a 36-0 lead in the closing seconds of the second quarter, enacting the mercy-rule running clock throughout the second half.
The Gabriel Richard defense (37-yard interception return for a touchdown by DJ Newlin) and special teams (49-yard punt return to the 1-yard line by Stevie Tracy) contributed to the scoring spree.
Tracy also caught a pair of touchdown passes - a 40-yarder from Sarosi and a 12-yarder from Kendzicky - and finished with four catches for 72 yards. Ashton Hundley, the game's leading rusher with 61 yards on 13 carries, scored on first-half runs of 20 and 1 yards.
The rout continued in the second half.
Kendzicky connected with Blaise Stearns for a 38-yard touchdown on the Fighting Irish's first possession and hit Steven Timm with a screen pass that the junior tight end turned into a 25-yard touchdown.
Dundee, which won the first playoff game in school history last season, never had a chance at its second.
The Vikings (6-4) had just one sustained drive, taking the opening possession of the game to the Gabriel Richard 17-yard-line before turning the ball over on downs. They picked up one more first down through the remainder of the first half.
Dundee, led by former Gabriel Richard athletic director and football coach Ed Maloney, finished with 93 yards of total offense.