Posted on
Tue, Dec 11, 2012 : 11:44 p.m.
Detroit Country Day cruises past Ann Arbor Pioneer, 85-56
By MLive Media Group
by Andrew Hillebrand | MLive.com
Detroit Country Day used an aggressive defense and a high-powered offense to get past Ann Arbor Pioneer, 85-56, Tuesday in MLive.com's Metro Detroit Game of the Week.
Country Day (3-0) started off slow, but scored 32 points in the second quarter to build a 47-28 halftime lead. Pioneer (0-1) could never quite get back into the game.
"Our game plan is always to push the ball," Country Day guard Austin Price said. "Even if a team is trying to stall every single time, even if they've got a two-minute possession, our goal is to score as quick as possible."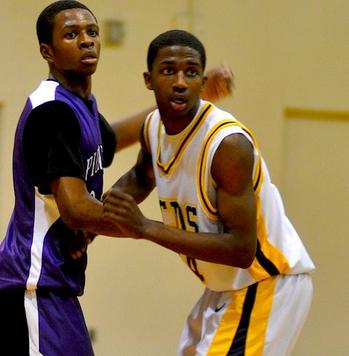 Jared Purcell | AnnArbor.com
Score quickly is exactly what Country Day did in the second quarter.
Ahead just 15-12 after the first quarter, they scored seven points in the first minute of the second quarter, and then went on a 12-2 run later in the quarter, led by Edmond Sumner.
More coverage at MLive.com: Boxscore | Video interview with Detroit Country Day coach Kurt Keener
Sumner, Mory Diane and Deshawn Lewis were the players who really got things going for Country Day in the second quarter. Sumner scored nine of his 16 points in that quarter.
"This year we have more of a fast-paced tempo," Sumner said. "Most of us play AAU together, so we have good chemistry with each other."
Country Day used a balanced scoring attack, with 11 different players scoring. Along with Sumner's 16 points, Lewis scored 15, and Austin Price scored 14, including four 3-pointers.
"What we know is we're going to get a lot of possessions," Country Day coach Kurt Keener said. "So if we don't score two or three or four times, any moment we can pop one open or we can get two, three steals on our press.
"The kids love playing that way. It's fun for me to try to come up with new types of presses and new types of offensive schemes to keep the pace going like a track meet."
Country Day's full-court press on defense caused a lot of problems for Pioneer, and led to a lot of layups or fouls at the other end for the Yellowjackets.
"It's tough; we're breaking in two new point guards, playing against relentless pressure the whole game," Pioneer coach Rex Stanczak said. "First quarter, I thought we were okay; second quarter, they just blitzed us.
"(The press) was exactly what we expected and we practiced, but we don't have the quickness and the length with our second unit to be able to really replicate what Country Day does."
Pioneer was led by William Kirchen and Jibreel Hussein, who scored 11 points each. Tevis Robinson added 10.
Pioneer will look to pick up its first win on Saturday, when it will take on Holt at home at 7 p.m.
Country Day will be back in action on Thursday, when it will take on Ann Arbor Gabriel Richard at home at 7 p.m.