Posted on
Thu, Aug 15, 2013 : 10:07 p.m.
Dexter and Chelsea football players excited to finally start hitting
By Pete Cunningham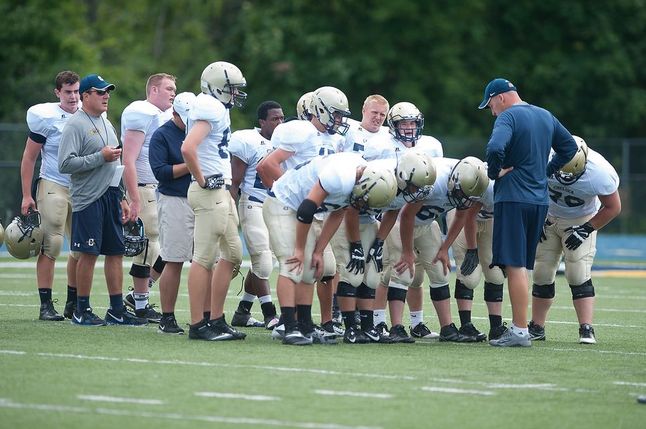 Courtney Sacco | AnnArbor.com
First-year
Dexter High School
head coach
Ken Koenig
had his players look at the back of their helmets before taking the field on the first day of hitting on Thursday. Once Koenig had everyone's full attention, he read the warning label on the back.
Koenig told them if they had to go head first dangerously for a ball carrier, then that hit's not worth it.
"You miss the tackle, we'll get over it. It's not worth it," Koenig said.
Make no mistake about it, though, the Dreadnaughts were excited to hit. After the warning, the players practiced tackling technique -- with even more emphasis on technique still, -- then went full on into hitting drills.
"It's fun. We've been working hard for a long time in the weight room, getting bigger faster, stronger trying to prepare for the season this year," said senior Matt Mitchell. "Getting out there ready to hit is fun for the team and everybody."
Mitchell hopes he doesn't have to do too much hitting himself as he is battling for the starting quarterback spot, but he and one of the player's he's competing with for the job, Kyle Koenig (Ken's son), didn't shy from the hitting portion of practice.
"If I don't get the quarterback job, I play corner, so I hit people, too," Kyle Koenig said. "It's intense, you can see it in the other guys eyes that they want to hit you, but you want to hit them and you don't want to lose."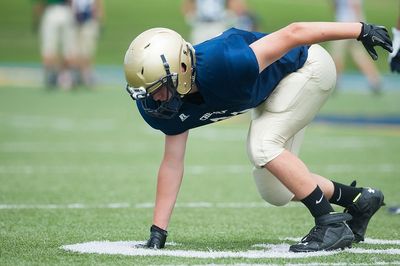 Courtney Sacco | AnnArbor.com
Down the road at
Chelsea High School
, the team with the 14-yearplayoff streak only went to "thud" level - that is hitting, but not tackling players to the ground - and worked more on technique and scheme.
"It's a work in progress…We'll get after it a little more tomorrow," assured Chelsea coach Brad Bush.
But even the slightest resemblance of hitting had Chelsea's imposing senior linebacker Shon Kuhn grinning from ear to ear.
"(The first three days) it's fun just because we're out here, but it's not the same as being padded up," Kuhn said. "This is about as happy as I've been all summer. Finally getting (pads) on and getting to be able to hit everybody."
Pete Cunningham covers sports for AnnArbor.com. He can be reached at petercunningham@annarbor.com. Follow him on Twitter @petcunningham.