Posted on
Wed, Oct 31, 2012 : 9:58 p.m.
Dexter boys soccer falls to Hudsonville Unity Christian, 1-0, in state semifinals
By AnnArbor.com Staff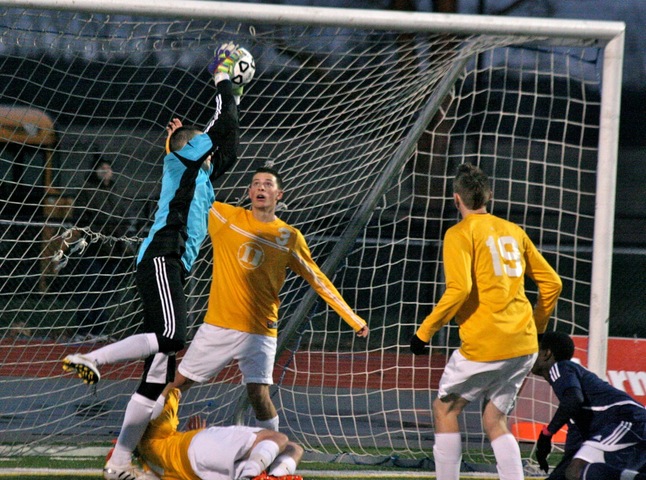 Courtesy of Christopher Burke | Burke Visuals
PLAINWELL -- After losing 2-1 to Detroit Country Day in last year's Division 3 state final, Hudsonville Unity Christian boys soccer coach Randy Heethuis already had his top goal set for the 2012 season: Get back to the state final.
After a 1-0 victory Wednesday against Dexter at Streidl Field, Heethuis and the Crusaders (24-2) can check that off their to-do list as they clinched their second straight state final berth, this time in Division 2.
"It was something we talked about at the beginning of the year," Heethuis said of making the state final. "This is a goal for these kids. ... We're just extremely pleased to be able to extend season for three more days and get to play on the final day."
In the 17th minute of the second half, Unity Christian's Tom Leegwater ran down the left side and took a through pass from teammate Stephan Hooker. Leegwater shot to the right side of the net and got it past Dexter (19-6-3) goalkeeper Rhys Moller, who got a piece of the ball.
"I just ran down the outside, coaches taught us to do that a lot," Leegwater said. "Stephan Hooker finally saw me and he passed a great ball."
Added Heethuis: "It was a beautiful goal that Tommy Leegwater finished off."
The teams played to a scoreless first half, but Unity Christian put the pressure on Dexter outshooting the Dreadnaughts 7-0.
"We had the wind," Heethuis said. "We had a couple of really good looks and did not capitalize on them. So, it always makes you a little bit nervous when you're giving up the wind and it's still 0-0."
Unity Christian outshot Dexter 14-3 for the game.
Heethuis credited Dexter with limiting the Crusaders' chances in the first half.
"A lot of credit to Scott and his kids, Dexter, they defended very well," he said. "And they made it very difficult for us to get good looks."
Unity Christian's Nick Woldyk made three saves en route to the shutout and Moller made 13 saves.
"... With his wingspan, he makes the goal smaller," Dexter coach Scott Forrester said of his sophomore goalkeeper. "But also, he adds to that with his athleticism and his ability to read the ball off the foot and cover where it's going on most occasions."
Dexter came out with some energy in the second half as it controlled the play to begin. Senior Bobby Toth collected the ball on the right side and took a shot that was saved by Woldyk. The rebound sat in front of the net for a couple of seconds before the Crusaders finally cleared it.
"I thought at the start of the second half Dexter did a nice job," Heethuis said. "Had us on our heels for probably the first 10-15 minutes or so."
Forrester said Unity Christian's defense led to their offensive chances, something Forrester likes to implement into his team's strategy.
"Every time they had the ball they knew where to go with it," Forrester said. "They put you on your heels with (forward Jake Love), quality player, running at us with speed and his teammates working off of that.
"I think they did the things that we like to do. They did it a little bit better tonight."
Despite falling short of a state final berth, Forrester said he likes to see his team improve throughout the season.
"Within every game, within every season, there's peaks and valleys," he said. "I like to think we weathered those valleys and we learned from those situations.
"I'm proud of the guys."
Unity Christian will face Petoskey in the Division 2 state final Saturday. Petoskey beat Bloomfield Hills Cranbrook-Kingswood 3-1 on Wednesday. Time has yet to be determined and the location will be East Kentwood or Troy Athens.
For the senior Leegwater, he has a second shot to grab that state title that eluded him last year.
"It's been a goal of mine to win a state final," Leegwater said. "Last year, that was pretty disappointing. So, it's good to come back and get to state again."
Heethuis hopes to avoid last year's fate as well.
"That's ultimately your goal," he said of getting to the final. "Now that we are here, we want to go win it."