Posted on
Wed, Aug 28, 2013 : 10:24 p.m.
Dexter boys soccer beats Father Gabriel Richard 7-2 but loses key player
By Kyle Austin
Six different players scored goals for the Dexter boys soccer team in its 7-2 Wednesday night win over Father Gabriel Richard.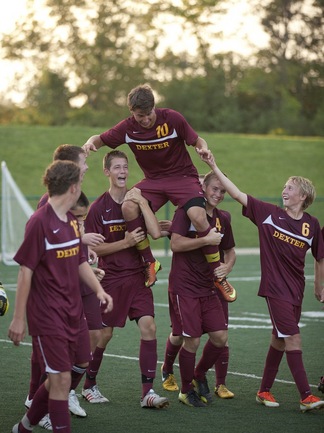 Patrick Record | AnnArbor.com
The player the Dreadnaughts carried off the field afterward wasn't one of them.
More Coverage: Boxscore | Photo Gallery
Max Amman, a senior starting midfielder, played in his final game for Dexter Wednesday. In a week, he will return to his native Germany after a one-year stay in the area while his family was here on business.
"It was a great team last year and it would be a great season this year," Amman said. "We have a great team."
Coming into Wednesday's game, Amman had scored three of the Dreadnaughts' five goals, and helped them get out to a 1-0-1 start to the year.
That included a game-tying goal with five seconds left Monday against Holt.
Dexter coach Scott Forrester said he tried to find Amman a spot on a college roster for next season and have him stay for his senior year, but wasn't able to do so in time. That means the Dreadnaughts will be losing a player he said is one of the smartest he's coached.
"Tactically, he reads the game so well," Forrester said.
Amman will now return to Europe, where players are affiliated with clubs instead of schools. He said he's gained an appreciation for the American school-based sports system during his year here.
"It makes the practice a lot different, you get close," Amman said. "You have your soccer teammates in school too, you practice right after school, which is nice. You get close, and that's why it will be so sad."
But if Wednesday's result is any indication, Dexter (2-0-1) figures to be a strong club even without him. The defending Division 2 state semifinalist flexed its muscle against one of the area's better teams in Gabriel Richard, with four goals from four different players in the first half alone.
After the Dreadnaughts' Cory Poirier opened the scoring seven minutes into the game with a goal off the rebound, Gabriel Richard answered two minutes later with an Eric Bauters goal off a rebound.
Dexter took control from there, scoring the next six goals of the game. It marked the second time in three games Dexter has scored three goals or more in the first half.
"It's sort of how I like teams to play, high tempo, both pressuring with the ball offensively and pressuring defensively," Forrester said.
Thomas Canfield was the lone multi-goal scorer for Dexter -- his first came midway through the second half, when a long crossing pass deflected off a Father Gabriel Richard defenseman's head and into the net.
Slava Yuhasz, Jake Rayer, Andrew Foghel and Luke Bazick also scored for Dexter. Joe Stolarski scored the other Gabriel Richard goal.
For the Fighting Irish, the loss continued what's been up an up-and-down opening week. On Saturday, Gabriel Richard went 3-0 at the Kalamazoo Hackett tournament, and won the title with a shootout win over defending Division 3 state runner-up Williamston.
But the Irish opened their Catholic League slate Tuesday with a 1-0 loss to Pontiac Notre Dame Prep, and now stand at 3-2 on the season.
Kyle Austin covers sports for AnnArbor.com. He can be reached at kyleaustin@annarbor.com or 734-623-2535. Follow him on Twitter @KAustin_AA.