Posted on
Thu, Oct 25, 2012 : 10:16 p.m.
Dexter boys soccer advances to state semifinals with 2-0 win over Mason
By Kyle Austin
VICKSBURG -- Max Amann didn't know much about Michigan high school soccer when he moved from Germany to Dexter this year, so he took his new teammates' word that getting to the state championship game was a tough proposition.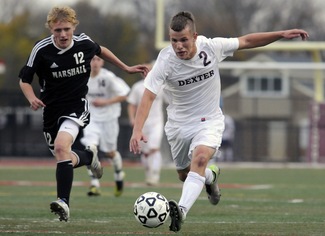 Matt Gade | MLive.com
Thursday, he made it look easy.
Amann put the Dreadnaughts on the board late in the first half against Mason, and Dexter hung on for a 2-0 regional title-clinching win Thursday at Vicksburg High School.
More coverage at Mlive.com: Boxscore | Division 2 tournament bracket
After a back and forth first 37 minutes, Dexter sent the ball into the Mason box on a long free kick. The Mason goalie came out to play the ball, but couldn't come up with it. When it squirted Amann's way, he knew what to do.
"I saw that he came out, I thought I'd wait outside the box and kick it in," Amann said. "That was the plan. It worked."
The goal was only the second Mason had given up in the last nine games. The Bulldogs spent the second half attacking the net -- including a direct kick that went just high with 21 minutes left, and a high shot to the corner 10 minutes later that Dexter goalkeeper Rhys Moller nabbed.
"At halftime, I said our best defense is going to be our offense," Dexter coach Scott Forrester said. "We've got to keep putting pressure on them so they can't mount anything of quality coming at us. And I think we did that."
With Mason pressing late for a tying goal, Dexter sophomore Jake Rayer was able to slip past the defense and score the insurance goal in the final minute.
The Dreadnaughts move on to play in the state semifinals at 6 p.m. Wednesday in Plainwell. They will play the winner of the Unity Christian-Spring Lake regional final, which was postponed from Thursday to Friday.
This marks the first regional title since the Dreadnaughts won three straight from 2006-08. Dexter advanced to the title game in each of those years, winning in 2006.
Thursday's performance came against a No.5 ranked Mason team, two days after what Forrester called a "soft" performance in the regional semifinals against Marshall.
"We came out on top," Forrester said. "Out of the four quality teams here, we proved ourselves on the night. Any other night, it could have been different."
The Dreadnaughts' regional final draw provided some redemption from last year. Dexter and Mason met in a 2011 district final, when Mason came out with a 2-0 win that snapped Dexter's streak of five straight district titles.
"They've been beating us like every year. It made me want to play even harder to beat them this year," defenseman Tony Pisto said.
But the Dreadnaughts got the job done this year without allowing a goal in the regional tournament.
"We worked together really hard, and just shut every team down," Pisto said.
Kyle Austin covers sports for AnnArbor.com. He can be reached at kyleaustin@annarbor.com or 734-623-2535. Follow him on Twitter @KAustin_AA.