Posted on
Tue, Mar 5, 2013 : 9:03 p.m.
Dexter holds Canton without a field goal for entire first half in 26-17 regional semifinal win
By Kyle Austin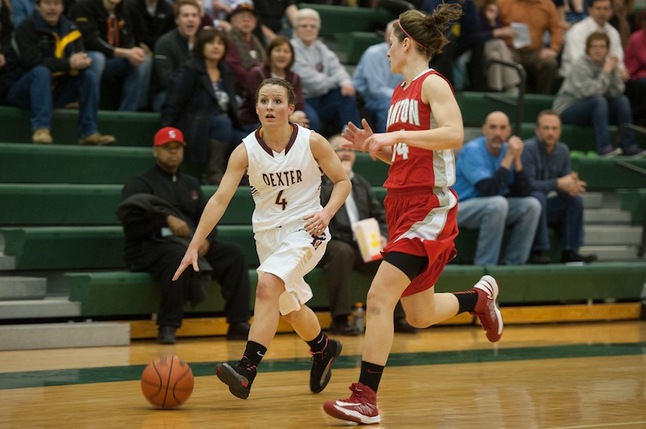 Courtney Sacco | AnnArbor.com
It's hard to lose a game if you don't give up a field goal.
And for more than half the game, Dexter was able to do just that.
The Dreadnaughts went the first 18 minutes without giving up a field goal to Canton, and stifled the Chiefs throughout in a 26-17 regional semifinal win Tuesday at Novi High School.
Dexter (21-3) advances to play either Farmington Hills Harrison, which beat Hartland, 44-27 in the other semifinal, Thursday night for a Class A regional title.
More Coverage: Boxscore | Photo Gallery | Bracket
As they have been all year, the Dreadnaughts were led by their all-senior starting five, which scored every point Tuesday night.
"We all have so much experience," senior Kathryn Pisano said. "We've been playing with each other for so long, we know how each other play, and we just work so well together. It's definitely really, really nice."
In the first two quarters, Dexter gave up only two first quarter free throws and took a 9-2 lead into the break.
The Dreadnaughts packed in their defense focused on slowing down 6-foot-1 Canton center Taylor Hundley and forward Paige Aresco, who both get their points around the rim underneath.
The Chiefs spent the first half in extended possessions looking for an opening underneath, and often not finding one.
"We felt like after scouting them that they would have a difficult time scoring from the perimeter," Dexter coach Mike Bavineau said. "We knew that they had a good inside game, so we really tried hard to clog up the lane and make their dribble-drives as difficult as possible and force them into some perimeter shots."
Defense has been the Dreadnaughts calling card in its last three playoff games. After giving up 47 points in their playoff opener to Skyline, the Dreadnaughts have allowed only 64 total points in the three games since.
"It's an experienced group, they defend really well, and they took us out of everything that we've done good all year," Canton coach Brian Samulski said of Dexter.
But Dexter also struggled to score in a slow-paced game, putting up just three points in the first quarter before taking a seven-point lead into halftime.
And despite its strong defensive effort early, Bavineau told his players at halftime to be ready for a second half Canton run.
"We went into the locker room and we were all so pumped," Pisano said. "We were really confident, but we knew we had to come out in the second half and play just as hard, because we knew they were mad, scoring only two points."
The Chiefs' run started with their first bucket of the game at the 5:57 mark of the third quarter. Canton scored on three straight possessions, culminating with a 3, and cut the deficit to five.
Dexter went on a 5-0 run to lengthen its lead, but found itself up by five once again late in the fourth.
But thanks to a bucket from Pisano at 1:34, and two free throws apiece from Teia McGahey and Riley McDonald, Dexter was able to hang on for the win.
Pisano led Dexter with eight points and five rebounds, and McGahey added six.
"All year we've had somebody different step up at different times to make key plays," Bavineau said. "Kathryn made some great baskets tonight, Emma (Kill) made some awesome baskets out of there, Makenzie controlled the tempo, Teia hit shots when she was open. That's the way we've played all year, somebody different has stepped up when we needed it."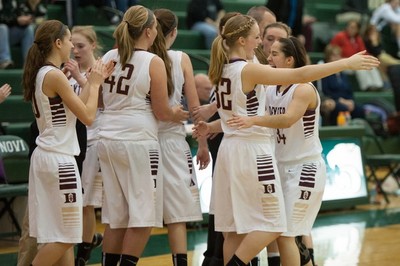 Courtney Sacco | AnnArbor.com
The win came four days after the Dreadnaughts' district final win over
Huron
. That win gave Dexter its first Class A district title, against a Huron team it lost to twice during the regular season that went to the state semifinals last year.
Dexter celebrated accordingly afterward. But soon after that, the focus moved forward.
"Beating Huron definitely gave us a lot of confidence," Pisano said. "But once we were done we were focused on the next game."
The hangover was minimal Tuesday. Dexter played a sloppy first few minutes, but so did Canton.
And looking ahead, Bavineau hopes his team knows what to expect from regional play.
"Hopefully on Thursday we'll be a little bit better prepared," Bavineau said. "We'll be a little bit calmer about the situation and really be ready to let loose for it."
Kyle Austin covers sports for AnnArbor.com. He can be reached at kyleaustin@annarbor.com or 734-623-2535. Follow him on Twitter @KAustin_AA.