Posted on
Fri, Feb 15, 2013 : 10:10 p.m.
Dexter, Huron avoid upset bids and more Friday night results
By Kyle Austin
AnnArbor.com Washtenaw County Scoreboard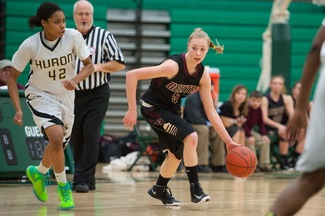 Dexter 48, Ypsilanti 43
Boxscore
Jasmine Jones scored 20 points to lead Ypsilanti (12-6, 6-5 SEC White) in the near upset of SEC White leading Dexter (16-2, 10-1 SEC White).
Ypsilanti led 23-19 at half and 35-33 heading into the fourth quarter but the Dreadnaughts outscored the Phoenix 15-8 in the final frame.
With the win, Dexter clinched the SEC White title outright. Dexter was co-champions along with Chelsea last year.
Huron 41, Saline 35
Story | Boxscore
The night after beating the defending Class B state champions, Huron (13-5, 10-1 SEC Red) clinched the SEC Red with a win over Saline (10-8, 6-5 SEC Red)
Sophomore Payton Sims led Ann Arbor Huron with 19 points, knocking down five 3-pointers in the game. Sims also added five rebounds, and three steals. Saline was led by Melissa Needham who scored 18 points, and Caitlin Ellis who finished with 13.
Temperance Bedford 50, Skyline 35
Story | Boxscore
Mia Morris and Janae Sims led Skyline (7-11, 2-9 SEC Red) with 11 points each in a losing effort.
Temperance Bedford's Nicole Rightnowar had 19 points and four assists.
Pioneer 52, Monroe 43
Story | Boxscore
Pioneer's Desiree Cougill led with 17 points and 11 rebounds. Emily Turner returned for her first game since being injured on December 18 to add 14 points, and was 6-for-6 from the free-throw line for Pioneer (9-9, 4-7 SEC Red).
Chelsea 43, Tecumseh 25
Story | Boxscore
Chelsea's Bailey Darwin totaled a game-high 16 points, five rebounds, and five steals to help the Bulldogs improve to 12-6 overall, and 8-3 in the Southeastern Conference White Division -- good for second place behind Dexter. Melissa Robards added 12 points.
Lincoln 36, Adrian 26
Story | Boxscore
Arie Cargor scored a game-high 16 points with four 3-pointers as Ypsilanti Lincoln (12-6, 6-5 SEC White) honored its seniors with a victory.
Dominique Foley finished with 10 points, while Nadia Reed pulled down a game-high nine rebounds.
Greenhills 46, Lutheran Westland 29
Story | Boxscore
Jackie Oestreich scored a game-high 32 points, surpassing 1,000 points in her high school career, as Ann Arbor Greenhills clinched a share of the Michigan Independent Athletic Conference Blue title, at 8-2 in the league, 11-7 overall.
Trailing 13-11 at the end of the first quarter, Greenhills went on a 14-6 run in the second to go into halftime up 25-19. The second half was all Greenhills as the Gryphons outscored Lutheran Westland 21-10 to cap the win in its regular season finale.
"We switched to a man-to-man defense in the second quarter," first-year Greenhills coach Rachel Cortis said. "Our goal is to hold the other team to ten points or less and they held them the rest of the game. Our defense won us the game."
Detroit Community 38, Willow Run 30
Story | Boxscore
Despite a second-half rally, Ypsilanti Willow Run could not overcome a first quarter hole, trailing 21-5 after the first frame and 29-9 at halftime.
Briana Wright led Detroit Community with 12 points, and Micah McCullough added 10 points.
Samaria Gibbs led Willow Run (8-9, 4-3 MMAC) with 12 points.
Sand Creek 61, Whitmore Lake 38
Story | Boxscore
Alyssa Milliman scored 12 points, and Abby Salata added 11 for Whitmore Lake (2-16, 2-12 Tri-Count Conference) in a losing effort.
Washtenaw Christian 38, Monclova Christian Academy 20
Story | Boxscore
Eighth grader Jurnee Tipton had 17 rebounds, nine points, three steals, two assists and a block as Washtenaw Christian (9-6) avenged an early season loss.
Powered by Michaela Donat had 17 points to lead the Wildcats.
"We were looking forward to this game," Saline Washtenaw Christian coach Bob Trevino said. "We really wanted to put a solid game together."
Rudolf Steiner 52, Marshall Academy 32
Story | Boxscore
Anika Sproull paced Rudolf Steiner with 17 points, one of four Storm players to score 10 or more as they completed a sweep of the Mid-South Conference.
Rudolf Steiner (12-3, 6-0 Mid-South) jumped to a 14-2 lead after one quarter and put Marshall Academy away with a 25-point third.
Abby Andrews netted 12 points and filled the stat sheet with five steals and three blocks. Georgie Andrews and Tessa Belanger added 12 and 10 points, respectively, with Belanger pulling down 13 rebounds as well.