Posted on
Tue, Feb 5, 2013 : 5:30 a.m.
Tuesday's Dexter vs. Huron girls matchup could be first of three in next 25 days
By Kyle Austin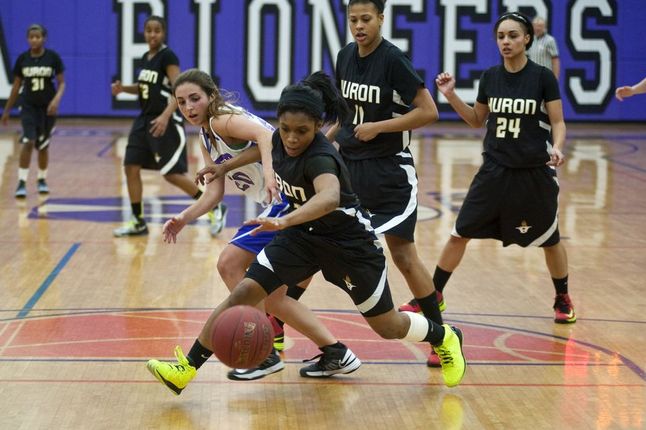 Joseph Tobianski | AnnArbor.com
As big as Tuesday's Dexter-Huron girls basketball game is -- pitting the two Southeastern Conference leaders and two of the hottest teams in Washtenaw County -- it's in some ways just a warmup act.
The Dreadnaughts and River Rats could end up facing each other three times in a span of 25 days if both continue to win at the pace they have been over the last month.
The first will be 7 p.m. Tuesday at Huron in a scheduled regular season matchup. Two weeks later, the SEC will play its crossover games, and with both Dexter and Huron holding two-game leads in their respective divisions, seeing them face off at Huron Feb. 22 is a good bet.
And if both can avoid upset losses early in the district tournament, they will find each other facing off for a district title March 1, again at Huron, after both have gotten to know one another well.
"It could be difficult, playing them three times in less than a month," Huron coach Steve Vinson said.
But as to whether the frequent meetings produce closer outcomes, that's less sure.
"I think it depends on a lot of different variables, in terms of the history and how the games have gone in previous years," Vinson said. "If one team is winning a majority of those games, I think it tends to be a letdown."
For Dexter and Huron, meetings have been infrequent recently. Last year, the two teams both had strong regular seasons, but didn't see each other until a district semifinal game that Huron won, 52-31, before advancing to the state semifinals.
That game could serve as motivation for some Dexter players.
"I'm sure in the back of their mind, they want to play well against them because we didn't play very well against them," Dexter coach Mike Bavineau said. "But I don't know if you can put a lot of stock in what happened last year. They're completely different teams, different players."
Dexter has won seven straight and Huron has won six coming into Tuesday's game. Both have largely cruised through the SEC in January and early February.
Both teams also feature deep offenses that don't rely on any one or two players. Huron's Ariel Bethea, at 10.4 points per game, is the only player from either team that averages double figure scoring. The River Rats haven't had a double-figure scorer in any of their last three wins, and had all of its 12 players score against Skyline Jan. 25.
And both have found success in large part due to their defense. Dexter has allowed just one opponent to crack the 30-point barrier during its current win streak, and Huron has only allowed two.
Bavineau said Dexter has found success by not allowing penetration off the dribble.
"We keep the ball in front of us, we don't give up opportunities where people have to help," Bavineau said.
But Tuesday, it will also be facing the always tough full-court Huron defense -- and one Vinson said has improved as of late.
"It's definitely better the last month, we're more focused on the defensive end," Vinson said. "That's one of the things I've been happiest about the last several games."
Kyle Austin covers sports for AnnArbor.com. He can be reached at kyleaustin@annarbor.com or 734-623-2535. Follow him on Twitter @KAustin_AA.