Posted on
Mon, Oct 8, 2012 : 5:58 a.m.
Dexter soccer team surprises team manager, who has Down syndrome, with start on senior night
By Kyle Austin
The loudest cheers at Dexter's soccer game Thursday night weren't for the players who scored the four goals. Or for the defenders who kept the ball out of their own end. Or for the goalie who finished with a shutout.
They were for No. 17, Greg Zenas, who played about half the game, had a few touches, and needed some help from coaches and teammates to know where to stand and where to run.
But some learning curve was expected. This was, after all, his first time playing varsity soccer.
A Dexter senior with Down syndrome, Zenas has spent the last six years as the soccer team's manager -- filling up water bottles, picking up equipment and cheering on his teammates.
Nobody had told Zenas that Thursday night would be any different from the hundred other soccer games he's been to. But after the senior night ceremony, his coach, Scott Forrester, approached him with a brown paper bag containing cleats and shin guards.
"Get ready, you're going to be playing," Forrester told him.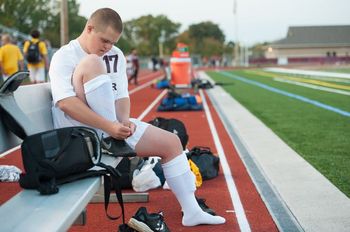 Courtney Sacco | AnnArbor.com
So Zenas, with an ear-to-ear smile, suited up, and found his spot with the rest of the starters for introductions. When No. 17, Greg Zenas, was announced over the public address, he raised his right hand to the cheering crowd.
When Zenas trotted out onto the field, he initially walked toward the defenders before finding his spot at forward. In his first few minutes, Zenas was the subject of hearty cheers from the stands and a steady stream of directions from Forrester.
But as the game went on, Zenas looked less and less out of place. He had several touches, including a few near the Adrian goal. After going up big early, the team tried its hardest to give him a feed for a goal. Scoring is his favorite part of soccer, after all.
"He feels like he's one of them," his mom, Julie Zenas, said from the bleachers. "He has for the last six years, but I think it's the sense of accomplishment, of being out there."
This was more than a ceremonial start. Zenas played the first 15 minutes of the game, then came back for the final 13 minutes of the first half. He re-entered with 20 minutes left in the game that Dexter won, 4-0, and exited with two minutes left to a final hearty applause and hugs from his teammates.
This was about more than making the day of a student with special needs. It was about creating a senior night no one in attendance would forget.
"That's what it's all about, the memories that these guys carry on," Forrester said. "It's not just what he's going to get out of it, it's what his teammates are going to get out of it."
Coach and manager
Zenas may have been the center of attention Thursday, but the hero of this story, say Greg's parents Jeff and Julie Zenas, is Forrester. He was the one who allowed Greg to become a student manager as a seventh-grader, and it was his idea two seasons ago to have him suit up on senior night.
Courtney Sacco | AnnArbor.com
"Coach Forrester deserves all the credit for this," Julie Zenas said. "He's allowed it from day one, he's encouraged it. A year ago he already started talking about this. He makes sure that Greg's a part of it, and he has been very supportive on and off the field as well, to make sure Greg thrives in this environment."
The arrangement took some getting used to. During Zenas's first tournament six years ago, Forrester gave him instructions to make sure all of the water bottles were filled. Partway through the game, he realized that Zenas had started throwing out the empty bottles.
Forrester was perturbed at first. Until he realized he hadn't told Zenas what to do with an empty water bottle.
"I didn't really go into enough detail as to what do you do when the water bottle's empty," Forrester said. "What do you do when you buy a (disposable) water bottle and you drink it and it's empty? You throw it away."
Forrester knew then that he would have to explain everything in detail. But six years later, he doesn't need to explain much anymore.
"He does things on his own now," Forrester said. "He's self-motivated in things that are routine for him."
Forrester spends his days working as a para-educator in the Dexter school district. This year, he was transferred to the high school, where Zenas is one of his two students.
During the day, Forrester acts as a liaison between Zenas and the local businesses he works for three days a week. He's been working for Hackney Hardware lately, and a store manager came out Thursday to watch him play. Monday, he starts at Tractor Supply, and has talked about doing landscaping work in the future.
The goal is to prepare Zenas for the transition from high school to the working world. And six years of manager responsibilities on the soccer team has helped with that goal.
Before every season, Forrester introduces the coaching staff to the players. He includes Zenas in that introduction, telling players that Zenas is the manager. They must follow his instructions.
"He really gives him a sense of responsibility and ownership to the team, and has for six years now," Julie Zenas said.
But Zenas isn't the only one getting something out of the arrangement.
"I see it as another way to touch young men's lives," Forrester said. "What better way to touch his life. He has the same interest as I do, the sport of soccer.
"It's something that I think can help the players invest a little bit more."
Teammates
Dexter soccer has won plenty of trophies in Forrester's nine years as coach, including six district titles, three regional titles and a state title.
After having them placed in his hands for years, Forrester decided a few years ago that the players should be awarded trophies.
The players, in turn, decided Zenas should be the team's trophy collector.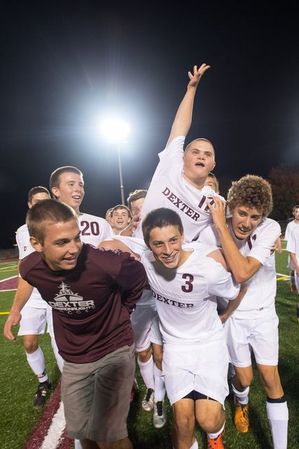 Courtney Sacco | AnnArbor.com
So now, when the Dexter soccer team wins a trophy, it's immediately given to Zenas. That's included one collected at a tournament in Oxford this year.
"He got the trophy, he held it up, his eyes were big, his heart was smiling, and then he ran back to the boys, and they surrounded him," Forrester said.
After a tournament win in Lake Orion, Zenas leaned up and kissed the trophy. A picture of the moment greeted fans in the entranceway to Al Ritt Stadium Thursday night along with pictures of the other Dexter seniors.
"That was typical, kissing the trophy," Julie Zenas said.
The original idea for Zenas to become Dexter's manager came from a player, Peter Jebson. He was a teammate of Zenas's older brother, Steve, an All-State player in 2008.
Ever since then Dexter's players have embraced Zenas's presence. For the two years Steve played while Greg managed, Steve drove him to and from every team event. After Steve's graduation, Forrester solicited volunteers for the duty. Now, players take it upon themselves.
Two weeks before school starts every year, Julie Zenas gets a call from a team member, informing her he will be Greg's driver for the season. That player picks Zenas up for practices and drops him off afterward. They take him to any games his mother and father, Jeff, can't make it to, as well as any team dinner or other function the players attend.
The camaraderie, and being a part of a group, is no small thing for Zenas.
"He feels like he's a part of it," Julie Zenas said. "Come November, you can see it's different. He does this every day for three months. He enjoys this, and when he doesn't have it, he misses it."
On the bench Thursday night, several players sat next to him and put their arm around him to talk. Zenas, like many with Down syndrom, is "fun, outgoing, has fun with everybody," Jeff Zenas said.
And during soccer season, the players help bring that out in him.
"Every player is a big brother to him, on and off the field," Julie Zenas said.
The best time of his life
After Zenas trotted off the field for the last time, Forrester pulled him aside.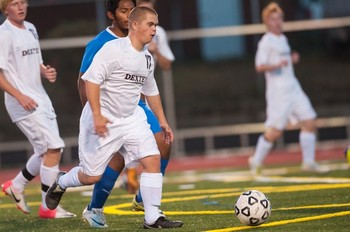 Courtney Sacco | AnnArbor.com
"Did you know you were going to play?" he asked.
"Yeah, all the time," Zenas responded.
"How'd you know?" Forrester asked.
Zenas pointed to his head.
Even after six years around him, Forrester can still be surprised by Zenas.
"Sometimes I don't know when he's putting the show on, the B.S., and other times where he's not sure of things," Forrester said.
Thursday, there was no doubt as to how Zenas felt about his chance to suit up. He played to the crowd when his name was called. He hugged his teammates. The last time he came off the field, he jumped and threw his arms in the air.
And the man that made it all happen was pretty happy too.
"I can easily get emotional, because I know how much it impacts a person," Forrester said, fighting through tears. "He didn't score, but he had the best time of his life out there. And I think more kids need to get involved with these special circumstances."
Kyle Austin covers sports for AnnArbor.com.