Posted on
Sat, Jun 1, 2013 : 9:10 p.m.
Dexter softball team wins first district championship in 26 years
By Pete Cunningham
Related:
It had been 26 years since the Dexter High School softball program had won a district title and the members of this year's team are well aware.
How could they not be, when their coach, Mark Whitley, reminded them of that fact every single day?
Whitely reminded his team for the final time on Saturday, with one big difference: he was holding a district championship trophy above his head.
Dexter beat Pioneer 7-4 in the Division 1 district final, putting an end to the drought and leaving Whitley in search of a new favorite motivational speech.
More coverage: Boxscore | Bracket
"He brings it up a lot because he really wants to win and we all did," said pitcher Natasha Drinkard.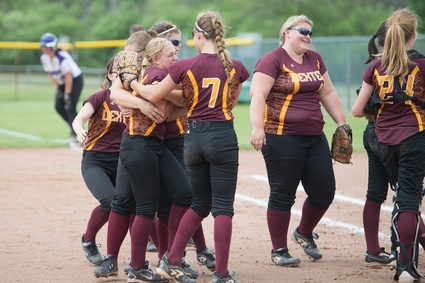 Courtney Sacco | AnnArbor.com
Drinkard had no trouble with Pioneer for the first six innings as Dexter entered the final frame ahead 7-1. But she gave up three runs in the seventh inning and had two runners on base when Whitley finally came out to the pitching circle to speak to his pitcher.
"I said 'I didn't come out here to hammer anybody, I just want to come out here to slow the game down and say we're one out away from a championship. The next girl that hits the ball, we're going to make it ours," Whitley said.
And that's exactly what happened.
"We were getting nervous, but I knew I had to pull it together and they did, too. And we did," Drinkard said.
"We just left too many people on and had too many errors that were costly," said Pioneer coach Darcy Thorpe-Knoll.
Pioneer (12-25) beat Pinckney 3-2 earlier in the day to advance to the final. Dexter beat Huron 16-1 to reach the final.
Once the district title drought had officially ended for Dexter (21-8), Whitley made sure every players' family members in attendance joined the team on the field for celebratory pictures.
"Twenty-six years is a along time," Whitley said. "We had a girl by the name of Jennie Ritter in our program. Jennie Ritter's one of the best pitchers that's ever been a part of the Dexter program and the University of Michigan program (she won a national championship in 2005 with Michigan) and she didn't even get a district trophy.
"It's been a long time coming and we really worked hard for it. We really worked hard for it."
The Dreadnaughts play next Saturday at the regional championship tournament at Grand Ledge High School. Dexter will play East Lansing with Jackson and Mattawan playing in the other semifinal.
It didn't take long for Whitley to find a new favorite motivational speech.
"We're not done," Whitley told his team on the win on Saturday. "This isn't the end. This is the beginning."
Pete Cunningham covers sports for AnnArbor.com. He can be reached at petercunningham@annarbor.com. Follow him on Twitter @petcunningham.