Posted on
Thu, Apr 18, 2013 : 6 a.m.
Dexter tops among area girls soccer teams and more spring sports rankings
By Kyle Austin
Those girls soccer teams are tough.
Angela J Cesere | AnnArbor.com file
While the cold spring weather has kept many spring sports from competing, it's hardly slowed things down on the pitch, with many area teams playing as many as four games so far.
That also means we've got more information for our weekly rankings, where this week we're taking a look at the area's top soccer teams.
Four games in, Dexter is a clear No. 1. The Dreadnaughts are ranked No. 8 in Division 2 in the most recent Michigan High School Soccer Coaches Association rankings coming off a regional final berth last year. They have have won three of their games by three goals or more.
Olivia Vollmers has nine goals already on the year, including two Monday against Jackson. Dreadnaughts coach Scott Forrester said the combination of Vollmers and Lindsey Lloyd has been potent.
"Vollmers gets a lot of the credit when she scores, but her fellow forward Lloyd really helps her out," Forrester said. "It's too bad with those two playing up top, because Lindsay doesn't seem to get enough credit when she doesn't score."
Saline comes in at No. 2 as it navigates its way through a difficult early season schedule. Skyline enters the rankings at No. 3 after a big win over No. 4 Father Gabriel Richard, and Pioneer rounds out the top five.
Girls Soccer
1. Dexter: The Dreadnaughts are now 4-0 on the year following a 4-1 Monday win over Jackson.
2. Saline: Saline is 2-2 to start to the year, but both losses have come to teams ranked in Division 1.
3. Skyline: The Eagles topped an area power in Father Gabriel Richard Saturday, 2-0, and beat Monroe St. Mary 7-0 Monday.
4. Father Gabriel Richard: The Irish are 2-2 on the year including the loss to Skyline.
5. Pioneer: The Pioneers have only played one game on the year, but it was a tie against 2012 Division 2 semifinalist Trenton.
Baseball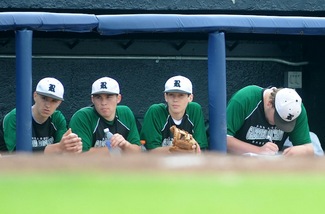 Angela J Cesere | AnnArbor.com file
1. Saline: The Hornets split with Tecumseh on Monday, and are now 4-1 on the year. Saline was ranked No. 8 in Division 1 in the preseason poll, and Tecumseh was No. 4 in Division 2.
2. Huron: A Monday sweep of former No. 2 Chelsea moves the River Rats to the No. 2 spot this week.
3. Chelsea: The Bulldogs are back in action Thursday with a tough trip to Temperance Bedford.
4. Milan: The Big Reds have moved to 6-0 on the year.
5. Father Gabriel Richard: The Irish may be 2-4, but have played a tough schedule -- Tuesday it lost a doubleheader to Madison Heights Bishop Foley, ranked No. 1 in Division 3.
Softball
1. Chelsea: The Bulldogs opened their season with a convincing two wins over Huron.
2. Saline: The Hornets swept Tecumseh to start their season Monday.
3. Milan: The Big Reds slip from the top spot after losing their opener to Riverview, 13-0.
4. Manchester: Manchester started its year with a 13-0 win over Whitmore Lake, after reaching a district final last year.
5. Lincoln: The Railsplitters are 2-0 after a Monday sweep over Pioneer.
Boys Track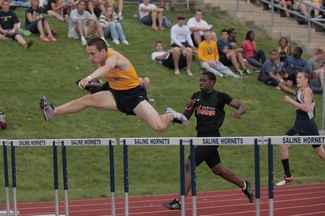 Chris Asadian | AnnArbor.com file
1. Saline: The Hornets are 2-0 in the SEC with convincing wins over Pioneer and Temperance Bedford.
2. Chelsea: The boys win streak is at 14 after a Tuesday win over Adrian.
3. Pioneer: The Pioneers topped rival Skyline Tuesday, 91-46.
4. Lincoln: The Railsplitter boys topped Dexter in a dual meet Tuesday to open their season.
5. Ypsilanti: The Phoenix have good top talent that should shine at the state meet, but lack the depth to win many SEC dual meets.
Girls Track
1. Saline: Wins over Pioneer have the Hornets off to an unsurprising 2-0 start in the SEC.
2. Chelsea: The Bulldogs took their dual meet win streak to 25 with a Tuesday night win over Ypsilanti.
3. Huron: The River Rat girls had a runner-up finish in the 14-team Saginaw Valley State invitational Saturday.
4. Pioneer: The Pioneers were eighth-place finishers at last year's state meet, and had a convincing win over Skyline Tuesday.
5. Ypsilanti: The Phoenix gave No. 2 Chelsea a close meet earlier this season and topped Tecumseh Tuesday.
Kyle Austin covers sports for AnnArbor.com. He can be reached at kyleaustin@annarbor.com or 734-623-2535. Follow him on Twitter @KAustin_AA.