Posted on
Fri, Jan 20, 2012 : 11:45 p.m.
Games down to the wire in Chelsea-Dexter basketball doubleheader
By Pete Cunningham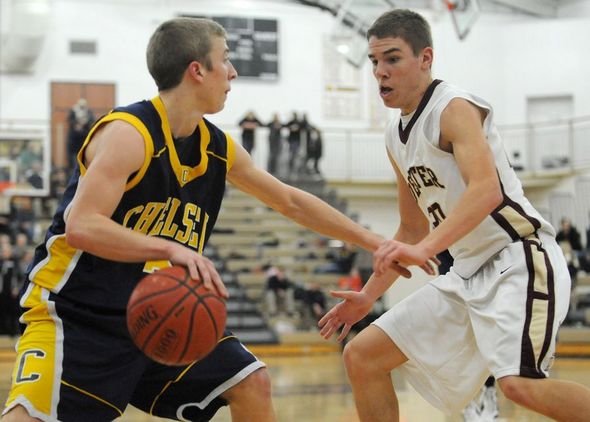 The neighboring communities of Dexter and Chelsea packed the
Dexter High School
gymnasium for a double-dose of the rivalry Friday night.
In both the girls and boys version of the drama, teams went in with identical overall and conference records, adding another incentive to games that would be trumped by bragging rights anyway.
As it should be when rivals clash, both games were separated by just one basket when the fourth quarter rolled around, but with opposite results.
In a clash of unbeaten girls teams, it was visiting Chelsea that remained perfect with 30-26 win. In the nightcap, the Dexter boys pulled out a 62-53 win, leading to an on-court celebration with the rowdiest student section in the Southeastern Conference.
Dexter senior Jay Lewis said the energy of the home crowd willed his team to the win. Lewis would lead all scorers in the boys game with 24 points on 9-of-13 shooting and 5-of-6 from the free-throw line.
"With a student section like that, that fills up the whole bleachers, it's crazy, so we had to pull out a win tonight," Lewis said. "That's probably the biggest game we played all year."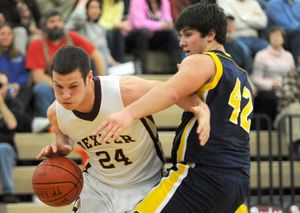 Angela J. Cesere | AnnArbor.com
Big was an appropriate way to describe Dexter's ability to keep Chelsea from ever gaining a lead after the first quarter.
It was the Dreadnaught's tandem in the post, Mike Mioduszewski and Steve Miller -- standing at 6-4 and 6-6, respectively -- that was able to complement Lewis by dominating the paint against the undersized Bulldogs.
Clinging to a 12-11 lead after the first quarter, Mioduszewski took advantage of Chelsea's only big man, Michael Steinhauer, being on the bench with foul trouble. Mioduszewski scored all nine of his points in the frame and Dexter took a 30-23 lead in the break.
"Me and Steve Miller, the other post, just kind of took it upon ourselves to dominate the boards," Mioduszewski said.
With Steinhauer back in the game in the third, Chelsea (3-6, 1-2 SEC White) had more of a presence down low, which allowed shooters to get open on the outside and get the Bulldogs back into the game.
Logan Brown hit a pair of back-to-back 3-pointers to make the score 32-29 at the 6:05 point of the third quarter and just after Dexter stretched its lead to double digits later in the quarter, Jacob Fischhaber bookended an 8-0 run to make the score 41-39.
Fischhaber finished with a team-high 16 points and Brown added 14 for Chelsea, which went into the fourth quarter trailing 41-40.
But Dexter (4-5, 2-1) would not be denied in the fourth, hitting all but two of its eight shots from the field.
"Jay has played well for us all year long. The question has been do we have anybody to help him and tonight we had our big guys step up and give him some support, especially in the first half," said Dexter coach Randy Swoverland.
While Dexter's hot shooting led to victory in the boys contest, it was anything but that in the girls game -- where both teams combined to make 17-of-84 (20.2 percent) shots from the field.
Offensively, it didn't look like a match of unbeaten teams.
Angela J. Cesere | AnnArbor.com
"Every play he calls, I know. Every play I call, he knows. That's what your cross-town rival's all about," said Dexter coach Mike Bavineau. "It really comes down to who can make a play at a certain time to win the game."
It appeared Dexter may have one of those momentum-changing plays when Makenzie Svihra had what will likely be the only blocked shot of the 5-foot-2 guard's career. She chased down Chelsea's Grace Sauers on a breakaway and denied her on a layup.
But before the anxious crowd -- which started pouring in halfway through the third quarter -- could get a cheer out, Grace Martin was able to snatch the ball before it went out of bounds and make a spinning layup with her back to the basket to put Chelsea up 25-21 with 4:00 remaining in the fourth.
Martin joked that the only reason she made the acrobatic play is because she can't shoot with her left hand.
"I'm not the most coordinated one, but sometime I pull those out of my bag," Martin said. "Left hand's not the best."
"That's the kind of play I'm talking about," Bavineau said. "We make a great hustle play and they just made one more."
Chelsea played with more energy the rest of the way, though going 5 of 14 from the free throw line in the fourth quarter (Chelsea made 14 of 28 on the night) helped keep Dexter (10-1, 4-1) in the game.
"That's something we need to address moving forward," said Chelsea coach Todd Blomquist. "I thought we struggled offensively a little bit, but we bring defense and rebounding every night and I think that's what won the game for us tonight."
Mackenzie Cole led Chelsea (11-0, 5-0) with eight points, while Riley McDonald led Dexter with seven.
Contact Pete Cunningham at petercunningham@annarbor.com or by phone at 734-623-2561. Follow him on Twitter @petcunningham.