Posted on
Fri, Jan 13, 2012 : 11:32 p.m.
Ypsilanti girls basketball team battles back to force OT, but falls to undefeated Dexter
By Pete Cunningham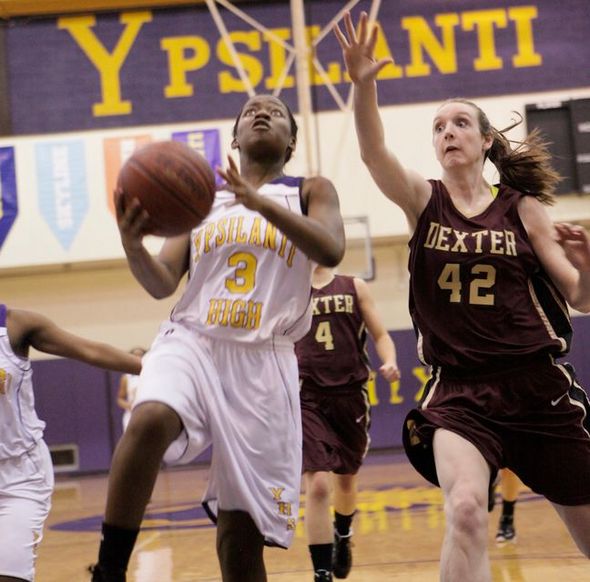 With just 2.3 seconds on the clock, Tori Amison stood at the free-throw line with the chance to do for the Ypsilanti High School girls basketball what had just minutes earlier seemed impossible.
Make two free throws, and she could send the game into overtime.
In overtime, it wouldn't matter that undefeated Dexter had led one-win Ypsilanti since the first quarter.
In overtime, it wouldn't matter that with 4:14 left in the game Dexter was up 37-25, having led by double digits since the third quarter.
In overtime, it wouldn't matter that just seconds before, Amison had missed a free throw.
The first shot fell, then the second. Amison had completed the 15-3 fourth quarter run to tie the game at 40-40 and send the Southeastern Conference White Division matchup into an extra session
Just as free-throw shooting would send the game in overtime, it would determine the result. Dexter center Olivia Cares didn't let the pressure of overtime get to her, going 5-of-6 from the line in the 49-44 Dexter win.
More coverage: Boxscore at MLive.com | Photo Gallery | Girls basketball roundup
"Usually (overtime) is way more pressure, but with leaving everything up to a last second shot in regulation, overtime felt like a relief, I thought," Cares said.
Cares led all scorers with 12 points, including a 10-of-12 performance from the line.
The win was the first game this season not decided by a double-digit margin for the 9-0 Dreadnaughts (3-0 SEC White).
"I think this was valuable for us to be able to get through. I'm glad that we could come out with the win," said Dexter coach Mike Bavineau. "Having a game where possessions matter, doing the right things matter, I think those are important."
Dexter didn't score for the first six minutes of the game, but by the end of the first quarter the Dreadnaughts were in control. Ypsilanti (1-7, 1-2) was up 4-0 when Dexter switched to a full court press, started creating turnovers and finished with an 11-0 run.
Dexter stretched its lead to as many as 14 points before halftime and led 30-18 at the break.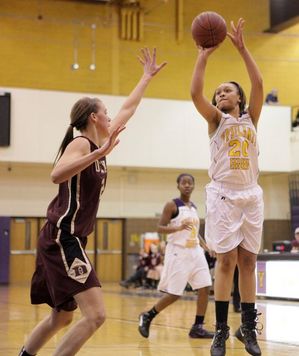 Chris Asadian | AnnArbor.com
It looked like the Dreadnaughts would coast to victory, but then Ypsilanti's halfcourt pressure on defense started translating into turnovers and points.
"On defense the intensity picked up," said Ypsilanti coach Chris Slater. "We backed it up and once we backed it up it seemed like our intensity rose up. I don't know if we were fatigued in full court and in half court felt more comfortable, but it worked out for us."
Amison was fouled after making a basket to bring Ypsilanti within two points with 5.5 seconds left. After missing her free throw, Cares and Nyree Watson wrestled for the rebound on the floor. A jump ball was called, Ypsilanti retained possession and Amison was fouled on the ensuing play.
Ypsilanti fouled Dexter on the inbound following Amison's game-tying free throws, but Dexter missed the potential game-winning shots.
"We were playing so aggressive to get back in the game, it's hard to dial that back," Slater said of the late inbounds play. "It's just instinct to go for the pass."
Dexter took its lead back right away in overtime on an Emma Kill jumper. It was Dexter's first field goal since the third quarter.
"We were kicking ourselves (at the end of regulation). We felt like we had the game and then we just kind of let them control the pace and get us off our guard and that's exactly what we can't do against teams like Ypsi," Cares said. "As soon as we were going into overtime, I knew we had it."
Watson finished with a team-high 10 points for Ypsilanti, six of which came in the fourth quarter and overtime. Amison finished with seven points.
Pete Cunningham covers sports for AnnArbor.com. he can be reached at petercunningham@annarbor.com or by phone at 734-623-2561. Follow him on Twitter @petcunningham.