Posted on
Thu, Feb 21, 2013 : 10:48 p.m.
Dexter wraps up runner-up finish in SEC White with 47-37 win over Lincoln
By Kyle Austin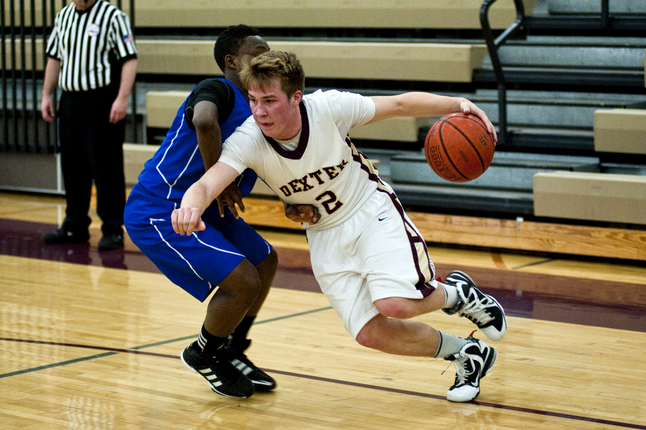 Joseph Tobianski | AnnArbor.com
A week ago, Dexter nearly pulled the upset of the season when it lead Ypsilanti at halftime and put a scare into the SEC White juggernaut before falling at home.
Despite the loss, Dexter left with confidence and set a goal for the last three games of the season: finish in second place in the division.
"The Ypsi game, we came close, that was one of our signature games," Dreadnaughts forward Brandon Bednarz said. "But coming off of that, we figured we're going to get what we can and finish off the regular season right."
The Dreadnaughts did just that Thursday night, topping Lincoln, 47-37 to guarantee themselves second place in the SEC White with a 6-5 league record and one-game left in league play.
More Coverage: Boxscore | Photo Gallery
And for teams playing in a division with the Phoenix, which has won all four SEC white titles since joining the league in 2009, second place is meaningful.
"We knew we weren't going to win the league, but this gives us second place," Dexter coach Randy Swoverland said. "...That was our goal going into these last three games, this being the second of those games, to get second place. I think we've got it accomplished now, so that's good."
With the score tied at 7-7 early, Dexter went on a 7-0 run and never trailed as it held the Railsplitters at bay the remaining three quarters.
Bednarz had seven of his team's 14 first-quarter points, and finished with a season-high 16 points.
"The momentum helped me, it really pumped us up," Bednarz said. "It really took our team and we really just fought through their pressure."
Bednarz was one of three Dreadnaughts in double figures. Brandon Bellottie scored 12, including five free throws in the final minute to ice the game, and Derek Seidl had 11. Together, the three accounted for 39 of Dexter's 47 points.
Lazon Hicks led Lincoln with 12 points and 10 rebounds. Seven other Lincoln players recorded points.
For Lincoln, going down seven in a game featuring two slow-pace half-court offenses proved a difficult deficit to overcome.
"It magnifies every mistake offensively," Lincoln coach Rich Marion said of the pace. "It magnifies every rebound that falls through your hands and the other team comes up with the loose ball. Every 50-50 loose ball gets magnified in a low-scoring game when possessions are that valuable."
Dexter, a team that typically relies on its guards for the bulk of its scoring, took advantage of defensive lapses early and found open forwards underneath the hoop.
It also scored seven second-chance points in the first quarter, gaining an edge on the boards against a bigger Lincoln team.
"We got a few putbacks tonight, and that helped us," Bednarz said. "We haven't been a great rebounding team, and I think those putbacks really gave us momentum.
Lincoln went into halftime down by seven, and got as close as three points in the second half.
But its midrange jumpers weren't falling, and for the second time in three games, the Railsplitters couldn't crack the 40-point barrier.
"We had some good looks and just couldn't get it over the hump," Marion said.
Kyle Austin covers sports for AnnArbor.com. He can be reached at kyleaustin@annarbor.com or 734-623-2535. Follow him on Twitter @KAustin_AA.