Winless Dexter and Ypsilanti will play for first victories in AnnArbor.com Game of the Week
Posted on Tue, Oct 2, 2012 : 7:48 p.m.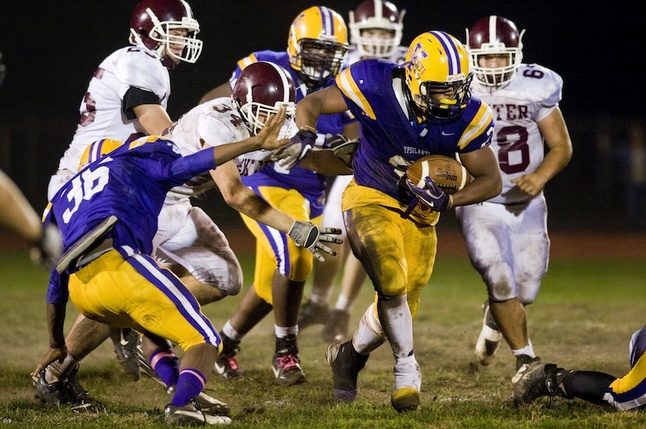 Joseph Tobianski | AnnArbor.com
Updated at 11 a.m. Wednesday to include quotes from Ypsilanti coach Ra-Mon Watkins
There've been plenty of reasons for the Dexter High School football team to check out on this season.
The lopsided losses.
The coaching change early in the season.
Losing a starting quarterback to injury.
But according to coach Ryan Fisher, the Dreadnaughts players are still focused on football.
"The kids have faced a lot of adversity this year, but they've handled it as well as we could ever hope," Fisher said. "Even in the turmoil we had after Week 3, they kept their heads in the game. I've been extremely happy."
Dexter's Friday homecoming game against Ypsilanti will be the AnnArbor.com Week 7 Game of the Week. Trailing at noon to the Father Gabriel Richard-Dearborn Divine Child game, Ypsilanti-Dexter made a late-day push to secure the win, garnering more than half of the 700 votes cast.
This week's poll focused on teams that haven't been featured in our Game of the Week coverage -- ones that have small fan bases or are going through tough seasons.
The Phoenix and Dreadnaughts both fall into the latter category. Ypsilanti is 0-6 (0-4 SEC White), having been outscored 250-65. Dexter is also 0-6 (0-4 SEC White), after being outscored 278-24.
Despite all of the struggles both teams have suffered so far this season, Friday night guarantees at least one thing: a victory for one of them.
Fisher said his team has shown improvement in practice, and hopes that will soon translate to the field.
"We've said every day since we took over in week four that we're looking to improve," Fisher said. "It hasn't translated yet on the field, but we're getting better."
Last week, Matt Mitchell subbed in at quarterback for Andy McWilliams, who suffered a hand injury against Lincoln in Week 5.
Mitchell, a junior, threw for 150 yards on 15-of-34 passing, but also threw four interceptions and couldn't find the end zone as Dexter was shut out, 49-0 against Tecumseh, the Dreadnaughts' third shutout loss of the season.
McWilliams, a senior, will be under center again this week, Fisher said, but said Mitchell provided a glimpse into next season.
"Matt did everything we asked of him, despite the interceptions, he ran the offense pretty well in a situation where we weren't expecting to throw the ball as much as we did," Fisher said.
Fisher took over earlier this season after the resignation of Brian Baird, which came days after Dexter's 69-0 Week 3 loss to Pioneer.
Fisher is the Dreadnaughts' interim coach for the season. Dexter's interim athletic director Mike Bavineau said the school will look to hire a permanent coach after the season ends. Fisher said he hasn't considered what he'd like his future with the program to be.
"I'm not even thinking about beyond this season," Fisher said. "We still have two and a half weeks left."
Ypsilanti is also playing this season with a new coach, Ra-Mon Watkins. A former assistant coach at Pioneer and Huron, Watkins has led a team that had almost no varsity football experience coming into this season. The team has put up points in every game, but has given up at least 34 in all six losses.
But Watkins said he's seen plenty of positives in his team this year, and hopes it can put together a complete game. One of the biggest parts of that is eliminating defensive breakdowns that lead to big plays.
"Every game we've given up two or three plays over 60 or 70 yards," Watkins said. "It ultimately comes down to a breakdown where one guy isn't in his position."
The Phoenix's coaching situation has been similar to Dexter's. For the Ypsilanti seniors, Watkins is their third head coach in four seasons. The group has also been through four offensive coordinators and five defensive coordinators.
The result of that has been a struggle to keep players year-to-year. The Phoenix started the year with more than 40 players, but only three had varsity experience. The coaching staff "pulled kids out of the hallways," Watkins said.
Ypsilanti's roster is now down to 26, but Watkins said he hopes to return 17 or 18 next season to start building for the future.
Game of the Week coverage:
AnnArbor.com will give the Game of the Week winner its Super Bowl treatment, which will include two reporters covering the game, a live chat that you can follow from your iPhone or Android device, and a photo gallery as well.