Posted on
Fri, Mar 15, 2013 : 5:15 a.m.
Dexter's all-senior starting lineup leads balanced attack all the way to the Breslin Center
By Kyle Austin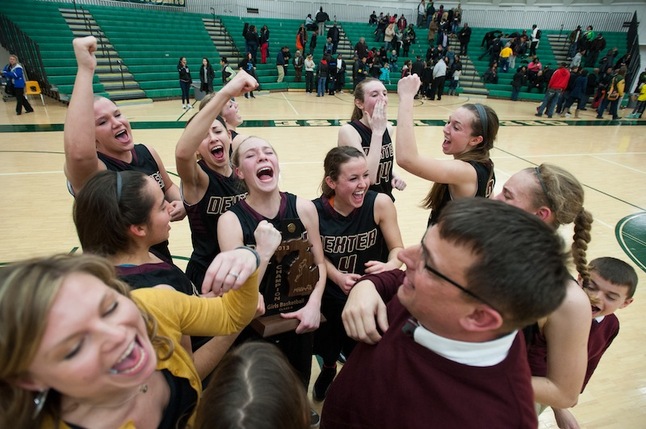 Courtney Sacco | AnnArbor.com
The topic of the Breslin Center has come up plenty over the years among Dexter High School girls basketball team's Class of 2013. The players have talked about it since playing together in youth basketball leagues, dreaming of playing on the state's biggest stage.
While plenty dream of playing in East Lansing, few have the opportunity to get there as this Dexter team has: with five longtime teammates in the starting five, making their first trip to the Breslin Center as seniors after a Cinderella run through the state tournament.
"That was always talked about, Breslin Center," senior Emma Kill said. "It's always one of those goals, it's the ultimate goal to get to the Breslin Center. It's always been there."
Dexter punched its ticket with a 34-33 state quarterfinal win Tuesday night over Saginaw Heritage in Davison. The program will make its Breslin Center debut Friday in a 2:50 p.m. semifinal game against Grosse Pointe South (24-1).
The winner advances to play in a noon Saturday final. Washtenaw County has only had one girls basketball state champion in the 40-year history of the state tournament: Father Gabriel Richard, who was Class D champions in 1993.
When the Dreadnaughts step onto the floor Friday, it will be the five seniors first: Kill, Riley McDonald, Teia McGahey, Kathryn Pisano and Makenzie Svirha. Outside of its five starters, the Dreadnaughts only use two other players in its regular rotation.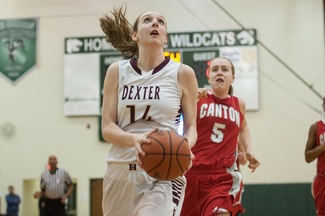 Courtney Sacco | AnnArbor.com
And with the exception of Kill, who moved to Dexter in seventh grade, the group has been together since any of them can remember.
"We have the utmost faith in each other, and we know how each other play," Svirha said.
Along the way to a 23-3 record, Dexter's seniors have displayed maturity coaches hope to get out of seniors. The group often knows which play should be called in certain situations, and have been known to wave off coach Mike Bavineau before he calls it out to them.
And when the game is on the line, the group has the steadiest hands in the building.
Tuesday, Svirha calmly hit two free throws that put Dexter ahead by one with 12 seconds left. In its regional final win on Thursday, McDonald hit a 3-pointer as time expired in overtime to send her team to the win.
"It's crazy because we get into timeouts, and they're just sitting there and they're like getting water," Bavineau said. "I'm like 'Here's what we've got to do for this, here's what we've got to try to do for that.' I just think that they have a composure about them."
With 26 games in the books, Dexter doesn't have a player averaging more than McGahey's 7.7 points per game -- partly a result of Dexter's methodical offense and partly a result of the team sharing the scoring load.
During this playoff run, the team has not only shared the scoring load but has taken turns having big moments. McGahey left Tuesday's game early with knee pain -- she missed her entire sophomore campaign after having surgery -- but returned to lead Dexter with 10 points Tuesday. Kill scored eight first-half points to give her team a halftime lead. Pisano led the team with eight points in its regional semifinal.
The team's other two regulars -- freshman Taylor Olson and sophomore Crystal Kedroske -- have had their moments too, with Olson making the steal that set up McDonald's 3 and Kedroske making a reverse layup in the first half Tuesday.
"At some point they all had crucial baskets or a crucial play," Bavineau said. "That just kind of speaks to our team.
While the Dreadnaughts have been strong the last few years, Bavineau said he knew this year could be the team's best shot at making the run with an all-senior starting lineup.
"We talked about it, and we put in place things early in the fall that if we wanted to go to the Breslin Center, what we were going to have to do to get there," Bavineau said. "So we talked about it. Now, talking about it and actually accomplishing it are two different things, but I think we put it in their mind that you can actually do this."
MHSAA Class A girls basketball state semifinals
Who: Dexter (23-3) vs. Grosse Pointe South (24-1)
What: MHSAA Class A girls basketball state semifinals
Where: Breslin Student Event Center, East Lansing, Mich.
When: Friday, March 15, 2:50 p.m.
Winner plays: Winner of Westland John Glenn (24-1) vs. Grand Haven (26-0)
Finals: Noon Saturday
Scouting Grosse Pointe South: The Blue Devils may be the most motivated team in this year's state tournament.
After eliminating Huron in last year's state semifinals, South's finals game was a heartbreaker: it gave up a go-ahead jumper to Grand Haven with nine seconds left, then had a shot blocked as time expired in a 54-53 loss.
And wouldn't you know, Grand Haven is one of the other semifinalists, playing in the 1 p.m. game immediately preceding the Dexter-Grosse Pointe South game.
Since losing to Whitney Young, a Chicago team, in its opener, the Blue Devils have been undefeated in the state of Michigan. Signature wins include over sweeps of Macomb Dakota and Utica Ford. Each team lost only one other time all season.
Senior Claire DeBoer is bound for Bucknell, and averages 12.6 points and 9.7 rebounds per game. Sophomore Cierra Rice averages 13.4 points per game.
Kyle Austin covers sports for AnnArbor.com. He can be reached at kyleaustin@annarbor.com or 734-623-2535. Follow him on Twitter @KAustin_AA.