Posted on
Fri, Mar 15, 2013 : 4:30 p.m.
Dexter's Cinderella run ends with state semifinal loss to Grosse Pointe South
By Kyle Austin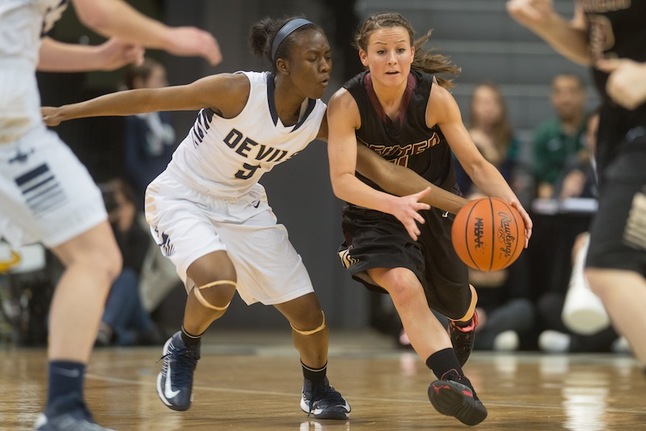 Courtney Sacco | AnnArbor.com
Updated at 6 p.m.
EAST LANSING -- By the time the coach and three of his players took to the interview room, the tears had been dried and the heads were held high.
Sure, the aftermath of seeing its season end was tough. But it didn't take this Dexter team long to put what it had done in perspective.
"It sucks being done and everything, but four teams made it here and we were one of them," senior Makenzie Svirha said. "I could not have asked for a better season and I wouldn't ask for a different team and I wouldn't change what happened at all."
The Dreadnaughts fell to Grosse Pointe South, 48-29, in a Class A state semifinal game Friday afternoon at the Breslin Center in East Lansing.
More Coverage: Boxscore | Bracket | Photo Gallery | Live Chat Recap | Dexter community rallies behind girls basketball team on one year anniversary of tornado
Dexter finishes the season at 23-4 following the deepest state tournament run in program history. That run included a win over Huron in the district final and an 18-point second-half comeback against Farmington Hills Harrison capped by a last second 3-pointer a week earlier in a regional final.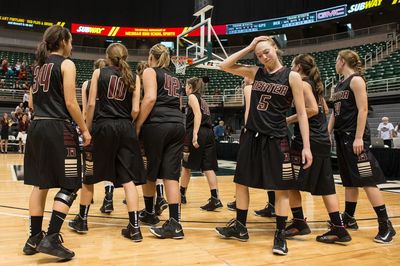 Courtney Sacco | AnnArbor.com
"Dexter basketball is something, you don't know what you're getting into, but it's awesome," senior
Riley McDonald
said. "Everything right now is just really surreal, no words for it."
Dexter came out and kept the game close through the first four minutes. It seemed like the Dreadnaughts might be able to do to Grosse Pointe South what it's done: force it into a slow, methodical pace that favors Dexter.
"We started out with our full-court pressure, and they do a great job running their sets, they're very patient," GPS coach Kevin Richards said. "They're a very good defensive team, but I think their offense definitely helps their defense play a low-possession game."
But it wasn't long before before Grosse Pointe South started to pull away. After taking an 11-4 lead following the first quarter, the Blue Devils started the second quarter on a 14-2 run, eventually going up 25-6.
A stingy GPS defense forced 12 Dexter turnovers in the first half, and GPS scored 18 points off those turnovers to lead 27-10 at halftime. The Dreadnaughts shot 4-for-20 from the field in the first 16 minutes.
"We just kind of cranked it up a notch as far as just following the ball, putting two people on it," Richards said. " We wanted to let our athleticism take over and that's one of the things we've talked about the last few days. I thought we were longer, I thought we had better team speed."
Dexter was able to get past Huron's press in winning the district final. But the Blue Devils' full-court defense forced Dexter into an uncharacteristic turnover-laden game, and Grosse Pointe South made the most of those turnovers.
"The one thing we really wanted to try to do was limit turnovers that led to scoring chances and baskets, and I thought we gave up a bunch of those early and that made it difficult for us to get back into the game," Dexter coach Mike Bavineau said.
After Dexter turned the ball over on its first possession after the break, Grosse Pointe South scored five points in less than a minute to go up by 20.
But Dexter recovered and doubled their first-half point total in the third quarter. The Dreadnaughts were outscored by only two in the second half and shot the ball at a 46.7 percent clip in the final 16 minutes.
Twenty points, though, proved too big of an obstacle to overcome.
"Once you get down it makes it tougher, because now you have to take chances, you have to risk a little bit more," Bavineau said. "And I think that helped them a little bit."
Forward Emma Kill led Dexter with 12 points, followed by Kathryn Pisano with six.
The Blue Devils were led by 21 points from sophomore guard Cierra Rice. Fifteen of those points came in the first half.
The loss not only concludes Dexter's playoff run, but also careers of the Dreadnaughts' entire starting five, which won back-to-back SEC White titles and went 40-8 in the last two years.
"I'm proud of my kids, I'm proud of the way they played," Bavineau said.
Kyle Austin covers sports for AnnArbor.com. He can be reached at kyleaustin@annarbor.com or 734-623-2535. Follow him on Twitter @KAustin_AA.