Posted on
Thu, Dec 22, 2011 : 10:08 a.m.
Dutch foreign exchange student finds a role with Milan High School girls basketball team
By Matt Durr
As Rose Otten stood on the free-throw line two weeks ago, her teammates on the Milan High School girls varsity basketball team watched anxiously.
The fans in the gymnasium were aware Otten had missed two free throws earlier. Her shot sailed toward the basket and fell gracefully through the basket, and Milan fans and players alike erupted. Otten, a foreign exchange student, had just scored her first point in an American basketball game.
"It was really cool," Otten said with a smile. "I was really nervous before the game, but once I walked out on the court, I was not nervous at all."
A native of Hoogeveen, Holland, Otten is the latest member of the Big Reds basketball team with an international background. Otten played basketball in Holland, but only practiced the game for an hour a week. She was surprised at how different sports were in the United States.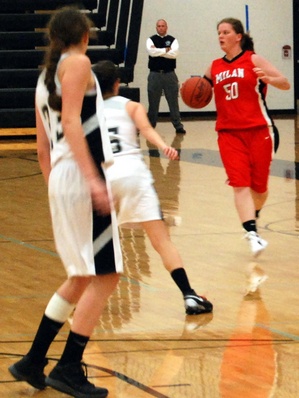 Photo courtesy of Jeff Scott
"Basketball is way more serious here," Otten said, adding that she was excited to see the fans at the games. "It's pretty cool, there was actually a crowd."
In Holland, players don't have high school teams and play for club teams that draw sparse crowds.
A former kickboxer, Otten took up basketball after seeing her brother play. Soon she was learning the fundamentals and how to play point guard, which fit her size (5-foot-7) and style of play.
"I'm short back home; here I'm tall, more of a shooting guard." Otten said. "I like doing tricks with the ball."
Otten said she wanted to play basketball when she came to the states and although she had experience playing back home, was nervous about tryouts. Little did she know that Milan coach Jeff Scott had already made up his mind.
"I never cut foreign exchange students," Scott said.
When Scott took over as coach at Milan, two foreign exchange students tried out for the team, even though they had never played basketball. Scott was impressed.
"I thought it was admirable that they would come out for a varsity sport," Scott recalls.
That's not to say the foreign exchange players don't have work to get on the court. Playing time is determined by how well they progress as players, and how they work in practice, just like everybody else.
Scott has had a foreign exchange student on the team in each of his four years as head coach. He said with Otten success has come sooner than expected.
"Rose is by far the best (exchange student) I've had." Scott said. "She has been busting her butt."
Team captain Corinna Schneider has played with three exchange students in her four years at Milan, and she agrees with Scott.
"(Otten) has a natural, beautiful shot. It just came natural to her," Schneider said.
Schnieder said that having Otten on the team has been great because the questions she has forces the team to talk about what they're doing and why. Even though Otten doesn't play much, Schneider said she is a great teammate and is always encouraging the other players.
"Coach teaches us more than just basketball, he makes you more mature," said Otten.
Otten said she will continue to play basketball when she returns home, along with telling the story of her first points. Even though the free throws came in a 71-54 loss to Lincoln, the excitement was all the same.
"That makes it all worth it," said Scott. "To see all that hard work pay off, It was a 'Rudy' moment."
Matt Durr covers sports for AnnArbor.com. He can be reached at mattdurr@annarbor.com. Follow him on Twitter @mdurr84.