Posted on
Tue, Dec 18, 2012 : 5:57 a.m.
Early season schedule has been trial by fire for Pioneer boys basketball
By Kyle Austin
AnnArbor.com file photo
Pioneer's new backcourt didn't have much of a chance to ease into the new season.
The Pioneer High School boys basketball team opened with a game at Detroit Country Day last week, where they faced a perennial state power that presses on defense, runs on offense, and is led by senior Division I recruit point guard, Austin Price.
The result: an 86-56 opening night loss.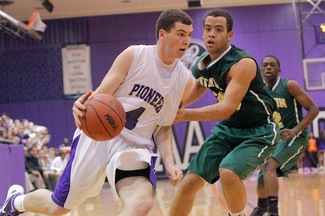 AnnArbor.com. file
"You're in the fire immediately," Pioneer coach
Rex Stanczak
said. "That was difficult."
It didn't get much easier in game two, as Pioneer rallied from 11 down to tie Holt in the second half of their game on Saturday, but faltered late and lost, 68-59.
But even though his team has an 0-2 record heading into a Tuesday crosstown matchup at Father Gabriel Richard High School, Stanczak (a Richard grad) knows the Pioneers have faced some of the best teams.
"I'm encouraged," Stanczak said. "I think we've dealt with some nerves so far."
For the first time in the four years the teams will be playing at Father Gabriel Richard High School, after playing the previous games at Richard's former downtown gym at St. Thomas the Apostle Church.
There, Pioneer will continue breaking in new point guards Duane Simpson-Redmond and Tre Wallace. Both have seen time as replacements for the departed Jimmy Holman.
Against the Fighting Irish, they'll see a similar style of pressing and fast-breaking Tuesday. With a guard-heavy squad this year, Richard coach Pete Schoch has turned up the tempo, pressing on defense and fast breaking on offense.
When Richard played Country Day Friday, it lost 110-77.
"They are at a breakneck pace," Stanczak said.
For Pioneer, replacing a point guard hasn't been the only early season challenge. Aedan York and Ethan Spencer are both still battling football injuries, and forward Jibreel Hussein has started in a 9-for-34 shooting slump.
But once the trials of a tough early schedule are past, Stanczak hopes his team is better for it.
"I think we're going to be a whole lot better team by late January than we are now," Stanczak said.
Washtenaw County Basketball Schedule
Boys Basketball
Huron at Belleville, 7 p.m.
Manchester at Whitmore Lake, 7 p.m.
Pioneer at FatherGabriel Richard, 7 p.m.
Willow Run at Dexter, 7 p.m.
Ypsilanti Calvary Christian Academy at Novi Franklin Road Christian, 7 p.m.

Girls Basketball
Adrian at Chelsea, 7 p.m.
Dexter at Ypsilanti Lincoln, 7 p.m.
Hanover-Horton at Manchester, 7 p.m.
Huron at Monroe, 7 p.m.
Milan at New Boston Huron, 7 p.m.
Pioneer at Ann Arbor Skyline, 7 p.m.
Temperance Bedford at Saline, 7 p.m.
Willow Run at Detroit Edison Public School Academy, 6:30 p.m.
Ypsilanti at Tecumseh, 7 p.m.
Ypsilanti Calvary Christian Academy at Novi Franklin Road Christian, 5:30 p.m.

Game of the Week
Vote now for our Jan. 8-11 basketball Game of the Week.