Posted on
Thu, Dec 13, 2012 : 11 p.m.
Early third-quarter run sends Saline boys basketball past Chelsea, 54-35
By Kyle Austin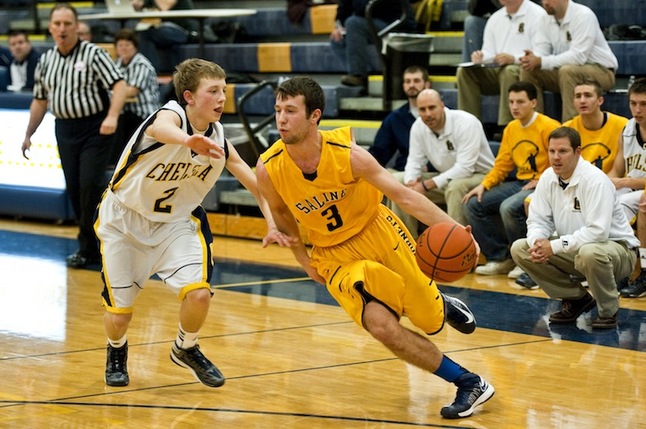 Joseph Tobianski | AnnArbor.com
First-year Saline High School boys basketball coach Eric Williams likes to break games into eight segments, and exhorts his team to win the "four-minute wars."
Thursday, Saline dominated two of them, and that was plenty.
Saline scored the first 15 points of the second half, as it pulled away from Chelsea to earn a 54-35 road victory Thursday night.
The Hornets used a tough man-to-man defense to force difficult shots, and turned misses into easy buckets on the other end.
More coverage: Boxscore | Photo Gallery
"It's our defense, 100 percent, it's our defense," Williams said. "We pressured them into taking some tough shots, and then because of the tough shots we can get those rebounds and go."
The third quarter was one of two extended Saline runs that put the Hornets in control. Saline started the game on an 8-0 run, scoring buckets on four of its first five possessions.
Chelsea (1-2) battled back in the second quarter and got as close as one point, as 16-15, and went into halftime down by five, 23-18.
But a few minutes into the second half, Saline (3-1) was out to a healthy lead.
"They came out of the locker room and picked up the intensity and we didn't match it," Chelsea coach Rourke Skelton said.
Senior guard Reece Dils led Saline with 16 points, while forward Max Recknagel had 14.
Luke Hollandsworth had 14 and five rebounds for Chelsea, and Logan Brown had 11.
Saline, a guard-heavy squad, was able to spread out the Chelsea defense, and then find lanes to drive through.
"We did a great job tonight of spacing," Williams said. "And with the shooters that we have, defenders kind of have to stay wide, if they don't we'll kick it."
For Dils, focusing on four-minute increments in the game, and focusing on defense within those increments, is critical.
"We don't really have to worry about playing into the future, we just worry about those four minutes, and it just makes it four-minute games," Dils said. "I think it helps us get out and play better defense and score better."
Chelsea's best stretch came early in the second quarter, when they nearly took the lead. It was keyed by a pair of buckets and a pair of rebounds by Hollandsworth.
"Luke's got a lot of skill, he's a heady player," Skelton said. "He's a tough matchup for some people, and when he gets aggressive offensively, when he can put the ball on the floor, he can do some things."
For Saline, Thursday brought a welcome non-nail biting finish. After recording an 18-point comeback to beat Canton Saturday and falling in double overtime to Southgate Anderson Tuesday, the Hornets were able to breathe a sigh of relief down the stretch Thursday.
"It's nice to have those, it's nice to experience," Williams said. "It stinks to lose like we did on Tuesday, but you have to. In order to us to get to where we want to get to, we have to play in those close games. Come the top teams in the league, they're going to be close games."
Kyle Austin covers sports for AnnArbor.com. He can be reached at kyleaustin@annarbor.com or 734-623-2535. Follow him on Twitter @KAustin_AA.