Posted on
Fri, Nov 23, 2012 : 5:45 a.m.
Eastern Michigan closes out season by hosting Northern Illinois on Friday
By Matt Durr
Twenty seniors will make their final appearance for the Eastern Michigan football team Friday when the Eagles host Mid-American Conference foe and No. 23 ranked Northern Illinois at Rynearson Stadium.
The Eagles (2-9, 1-6 MAC) are coming off a 29-23 victory over Western Michigan, their first conference win of the season. Head coach Ron English thought it was a complete effort from his team, but like any coach, he saw some room for improvement.
"All three facets contributed. It was good that we played four quarters. We're not always doing it how we want to do it, and not as detailed as we want to be, but the guys are learning how to be competitive for an entire football game," English said during his weekly teleconference.
Being competitive may be a challenge with the Huskies visiting Ypsilanti on Friday. Last week the Huskies (10-1, 7-0 in MAC play) clinched their third consecutive MAC West division championship with a win over Toledo and head coach Dave Doeren has made it clear his team is focused on winning 12 games for the first time in program history.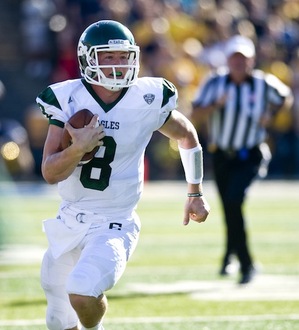 Annarbor.com file photo
English knows how tough the challenge will be on Friday.
"You're talking about a top-25 program. They have tremendous speed, their quarterback is playing very well," English said. "They have a veteran defensive front, a couple of all conference guys up there. And then the secondary is the best in the league.
"It's a tremendous program and we have to play our very best game to have a chance to be competitive with those guys."
The Huskies boast one of the top offenses in the country averaging 489 yards of offense (No. 15 in the country) and 40 points a game (No. 12 in the country).
Dual-threat quarterback Jordan Lynch leads the attack having thrown for 2,582 yards, 22 touchdowns and just four interceptions. Lynch also leads his team with 1,504 yards rushing and 16 touchdowns on 215 carries. Lynch's 371.5 yards of total offense average is third best in the country.
When Lynch drops back to throw, Martel Moore has been his favorite target, having pulled in 58 receptions for 899 yards and ten touchdowns.
Even though the Huskies have already clinched their spot in the MAC championship game, Doeren will make no changes to team for Friday's game.
"It's the next game on the schedule, so we're not a team that's going into it with the mindset of resting players," Doeren said. "We're going to do what we have to do to win the game. Our goal is to win every game in the MAC, that's something we wanted do and I don't believe in sitting back and waiting for the next one. We'll go after it like the other ones on the schedule."
EMU sports its own multi-position player in quarterback Alex Gillett. Last week Gillett totaled 142 all-purpose yards while playing quarterback, running back and wide receiver during the game.
Sophomore Bronson Hill needs 124 yards to reach 1,000 yards rushing on the season, despite not receiving many carries early in the season. Hill is averaging 6.8 yards per carry and 97 yards per game.
Doeren said his team is prepared to face a motivated EMU squad that is looking to go out with a bang.
"We know it's Senior Day for them and it's their last game so it's like a bowl game for them and we'll get their best shot," Doeren said. "It's gonna be a game where our guys are going to have to show up for sure and play our best football, or we'll get embarrassed."
Regardless of the outcome Friday, it will be a special day for English and his team as the seniors in the program play at Rynearson for the final time. A large part of the senior class were part of English's first recruiting class as EMU coach.
"The guys like the Gilletts of the world were our first recruiting class. And there were some guys that we inherited," English said. "So it's always a time where you need to manage your emotions and what I try to do is let them know that I care about them and if there is anything I can do for them after they finish playing, don't hesitate to contact me.
"We try to make it as special as we can and try to prepare them as best we can."
Kickoff is scheduled for 1 p.m. Friday at Rynearson Stadium.
Matt Durr.