Posted on
Tue, May 21, 2013 : 5:45 a.m.
Eastern Michigan football inspires coaches, fans to jump from plane and more briefs
By Pete Cunningham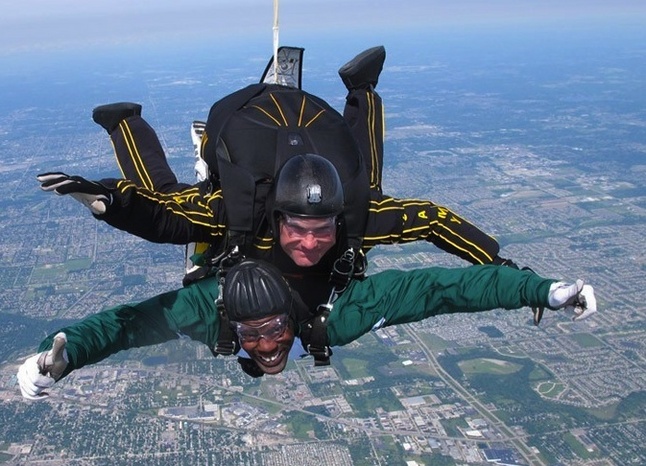 Photo courtesy of Army Golden Knights
There are 120 Division I head football coaches in the NCAA, but only one of them is offering to jump out of a plane to the highest bidder.
As part of the buildup to the Eastern Michigan football team's 10th Annual Golf Outing fundraiser on June 8, coach Ron English is offering to jump out of a plane with the highest bidders. The program has set a goal of raising $60,000 for upgrades to the football facilities upgrades and English will skydive with any donor who pledges $5,000 or more. Anyone who pledges $2,500 or more has the choice of skydiving with one of four assistant coaches, including former Michigan football running back Mike Hart.
Other incentives for high-end donors include individual and foursome spots in the golf outing at Eagle Crest Resort in Ypsilanti and dinner or golf with English. There are also incentives for donors who pledge as little as $5.
Let's get physical
The 2012-13 school sports season year is almost over, so it's time to start preparing for next year and that means physicals for athletes. Student athletes in need of physicals for the 2013-14 school year can have them done for $30 at Saline High School on Wednesday, May 29 from 6-8 p.m. No appointment is necessary and all proceeds will go toward medical supplies for Saline Athletics. For information, call 734-429-8000, extension 2336.
Pioneer alumnus powers GVSU to Division II softball College World Series
Former Pioneer High School softball standout Katie Martin and the Grand Valley State softball team are heading to the Super-Regional round of the NCAA Division II Softball Tournament. Martin was 2-for-4 with a home run in the Laker's 3-2 win over top-ranked Indianapolis on Saturday in the winner-take-all third game of the Midwest Super Regional in Indianapolis.
Martin, the GLIAC Player of the Year, hit a game-tying solo home run in the bottom of the fifth inning to tie the score 2-2. The Lakers scored the winning run in the bottom of the sixth and advanced to the College World Series round for just the second time in program history.
Saline and Pioneer crew teams compete at state regatta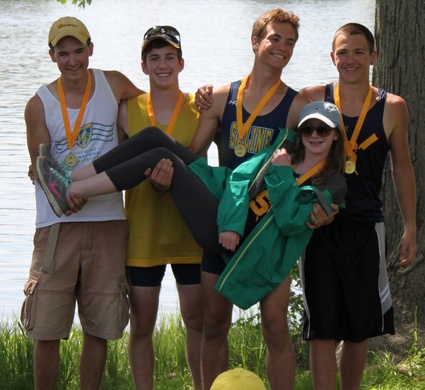 Photo courtesy of Pete Pfeiffer
The Saline and Pioneer crew teams competed in the
Scholastic Rowing Association of Michigan Championship Regatta
over the weekend in Grand Rapids and brought home some event state championships.
Saline's Liz Walsh and Alexis Wolff won the women's varsity double and while Sean Hutfles, Travis Krause, Ben Friman, Graham Fox and coxswain Victoria Wellings won the men's lightweight four race. Pioneer won state titles in the women's lightweight four and men's junior eight races.
Pioneer finished runner-up in the overall competition, third in the male competition and second in the female. Saline was fifth in all three competitions.
Pioneer girls track hosting "Dash 4 Cash" fundraiser
The Pioneer High School girls track and field team is hosting a run/walk fundraiser on Saturday, May 25 at 10 a.m. at the Pioneer Westfield/Sleeman track. Participants can pay $5 to participate in a run/walk with members of the Pioneer girls track team with all proceeds going toward the team. There will be music and free hot dogs during the event and there will be T-shirts for sale.
Have a local sports brief to tell us about? Contact us at sports@annarbor.com.
Pete Cunningham covers sports for AnnArbor.com. He can be reached at petercunningham@annarbor.com. Follow him on Twitter @petcunningham.