Quarterback Alex Gillett shines at Eastern Michigan spring game
Posted on Sun, Apr 15, 2012 : 6:22 p.m.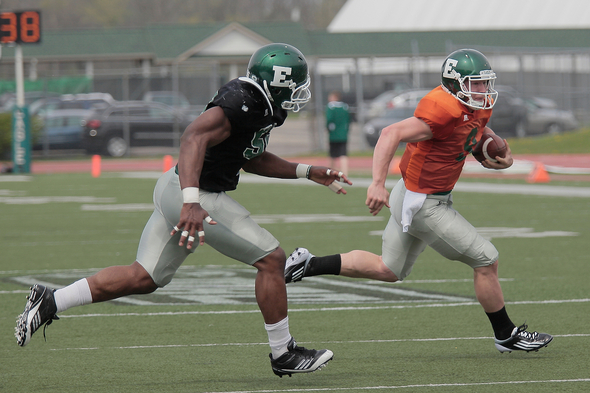 Chris Asadian | AnnArbor.com
When spring practice opened up for the Eastern Michigan football team last month, head coach Ron English made a point to open up the competition for the starting quarterback job.
Questions arose about whether three-year starter Alex Gillett would be unseated by Tyler Benz. With his performance in Sunday's spring game, Gillett answered his doubters.
Gillett was 13-of-16 for 207 yards and two touchdowns through the air, while adding a rushing touchdown in the scrimmage held at Rynearson Stadium.
"You need to stay motivated, it's a competition every year, but it definitely lights a fire under you," Gillett said. "You never want to give up your job obviously. It was a good competition and we'll see what happens.
"It was a practice, but it was a game for us. So if I only throw three incompletions now, hopefully I only throw three in a game."
After the game, English said he was happy with the way Gillett played during spring practices.
"Alex has really matured as a senior. He's had a terrific spring," English said. "He just has to carry it over to fall."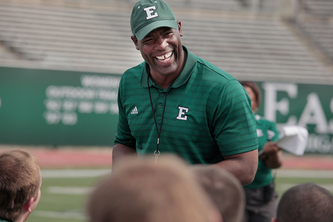 Chris Asadian | AnnArbor.com

Benz, on the other hand, struggled at times and completed only three of his 10 pass attempts.

Related: Spring game photo gallery

Both quarterbacks were given plenty of chances to throw that ball during the scrimmage, a sign that the offense hopes to be more balanced than it was last year, when the running game carried the offensive load.

"This spring we really put an emphasis on throwing the ball and I really had to focus on that," said Gillett. "We want to be a more balanced attack. Last year we ran the ball quite a bit. If we can be more fifty-fifty, that just helps us."

Gillett attributed his success to having more time to work with the receivers during the spring to develop chemistry on the field. That's something he hopes to continue to improve upon over the summer, when players meet for their own workouts. Those efforts didn't go unnoticed by English.

"I think not only has Alex has done a nice job, but I think the receivers have , I think the coaches have," English said. "I think those guys have gotten a lot better."

Besides the passing game, English was pleased with the running attack, specifically the performance of the offensive line.

"I love the offensive line. I think we have depth there and I think we're going to be pretty good up front," he said.

The line helped the Eagles rushing game score five touchdowns on the ground, including a pair from both Ryan Brumfield and Bronson Hill.

The biggest reaction of the day, however, belonged to sophomore Tyler Allen. He electrified the crowd with a kickoff return for a touchdown that brought the Eagle faithful to their feet.

After receiving the kick, Allen made a move to the left, found a hole and exploded down the sideline past the coverage team.

"What I like about him is, he fields that ball well and then he's got great speed. He is a downhill, north and south runner. He's not going to run around a lot, he's going to hit it and that's what you need from a kick returner," said English, adding that Allen is the scheduled kick returner for next fall.

While he was happy with his offense, English was not thrilled with the effort of his defense.

"The worst thing that I saw today was our eyes on defense. The standup players were horrible," he said. "The defensive front is coming along, the linebackers are decent, the safety position ... we have a long way to go."

With the next set of practices not schedule until August, English and his staff have plenty of time to evaluate the spring practices while preparing for the incoming crop of freshmen. With that in mind, English feels his team is ready to compete for a Mid-American Conference West Championship.

"We're further along in our development overall," he said. "I think we have a chance. I think we have to get a lot better like everybody I think at this time of the year feels. I believe that if we play well, we'll have a chance."