Posted on
Mon, May 6, 2013 : 9:24 p.m.
Emily Eickhoff's no-hitter helps Lincoln softball in sweep of Skyline
By Kyle Austin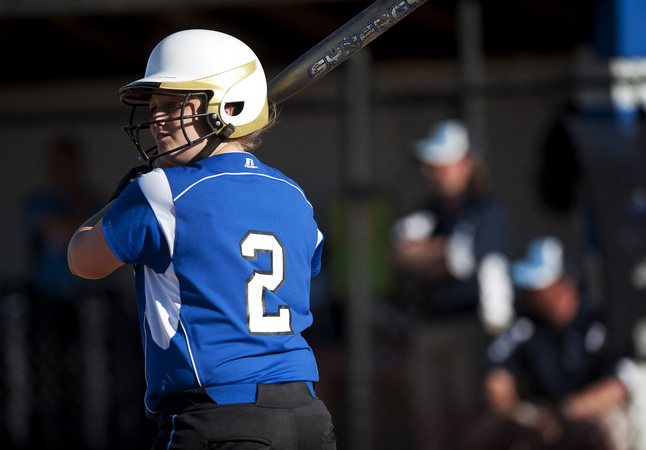 Daniel Brenner | AnnArbor.com
With three outs to go and her team up big over Skyline, Lincoln pitcher Emily Eickhoff was given a choice by her coach, Wes Strickland:
Pitch the fifth inning, or start the second game of the doubleheader.
Eickhoff went with the former, and her reasoning was simple.
"I'd rather get a no-hitter," Eickhoff said.
The junior pitcher went out and struck out the side to cap off her first no-hitter of the season in a 13-0 win for the Railsplitters, the AnnArbor.com Team of the Week.
Lincoln went on to a 12-0 win in the nightcap to snap a three-game losing streak with a convincing sweep and 25-run offensive output in two games.
More Coverage: Game 1 Boxscore | Game 2 Boxscore
"I'm very proud of my team, we've come a long way with our bats," senior third baseman Arielle Matthews said.
Lincoln is now 9-6 overall and 4-2 in the Southeastern Conference, with doubleheaders against Dexter and Saline on Wednesday and Thursday. The Dreadnaughts and Hornets are a combined 27-3 on the year.
Eickhoff was dominant in the first game, striking out eight while giving up only two walks, both in the first two innings. She has now given up just three earned runs in her last six starts and is doing some of her best pitching as the Railsplitters close in on the playoffs.
"She was just hitting her spots," Strickland said. "She's pitching very well right now. She's hitting her stride right on time is what she's doing."
And she did it all throwing a few miles per hour slower than she has this season.
"She's doing very very well with movement and location," Strickland said.
Matthews, the Railsplitters' leadoff hitter, finished 4-for-6 from the plate with five RBIs and was a double short of a cycle in the two games combined.
Three of those RBIs came on a home run in the second-game that just cleared the left-field fence, to Matthews' surprise.
"I didn't know, I thought it was going to be short, and then I was like 'Oh!" Matthews said.
Eickhoff had four hits on the day, as did Kaylor Fosdick. Jessica Sanchez hit a home run in the first game.
For Skyline, Biz Dokas had two of her team's three hits in the second game.
In the second game, Lincoln freshman Brooke Snyder also threw a five-inning shutout, giving up just three hits with four strikeouts.
Snyder is far from the only young player on this year's team. The team starts only two seniors and two juniors. The remainder of the roster is comprised of sophomores and freshmen.
But that group has managed to improve on a down year last season has Lincoln competing in the SEC White.
"We're fielding a young team right now and being successful," Strickland said.
Kyle Austin covers sports for AnnArbor.com. He can be reached at kyleaustin@annarbor.com or 734-623-2535. Follow him on Twitter @KAustin_AA.