Posted on
Tue, Oct 9, 2012 : 12:30 p.m.
After on-field fight, arrest ex-Michigan wide receiver Ron Bellamy suspends player, fires assistant from football team
By Pete Cunningham
Friday night lights led to some Friday night fights this weekend which led to former Michigan wide receiver Ron Bellamy suspending a player and firing an assistant coach as a result.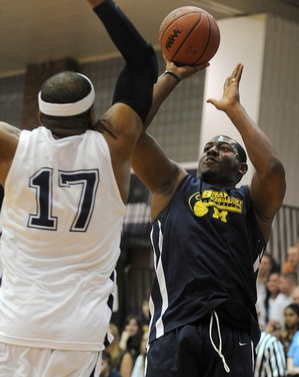 AnnArbor.com file photo
Bellamy, the head football coach at
West Bloomfield High School
, kicked a player off the team after the player allegedly
punched and knocked out a 67-year-old man
at the conclusion of the team's 50-28 loss to
Stoney Creek High School
. Bellamy played wide receiver for Michigan from 1999-2002.
Harold Zube, father of Stoney Creek head coach Brad Zube, according to reports was trying to separate two opposing assistant coaches following the game when a player punched him and knocked him unconscious. The player was arrested and taken from the field in handcuffs and later released to the custody of his parents police officials told MLive.com.
The player, who is 16, is expected to face assault and battery charges as a minor for the incident. Bellamy reportedly suspended the player from the program and the school district issued the following statement on Tuesday.
"This incident involved the actions of one player, not the team. The rest of the West Bloomfield team behaved appropriately. We are saddened by the actions of this individual student, and would like to express our apologies to the coach as well as to any others who may have been negatively impacted by these actions. The student will face disciplinary action in accordance with our district code of conduct. The student was not in school on Monday and is under suspension pending further investigation. As a building and district, we set high standards for our student athletes. Actions such as these are not and will not be tolerated under any circumstances."
West Bloomfield assistant coach Phil Sacha told MLive.com that after watching game film of the incident, he sent an email that was critical of Bellamy and his staff and called for firings. Sacha himself was later fired.
According to reports, West Bloomfield players and coaches were up in arms about the way the end of the game was being handled by the Stoney Creek players and coaches. The game was called with six seconds left on the clock by the referee after an unsportsmanlike altercation on a kickoff. West Bloomfield was said to have taken exception to the fact that Stoney Creek players were being ordered to the locker room without participating in a post-game handshake.