Posted on
Fri, Oct 26, 2012 : 3:44 p.m.
Familiar foes Huron and Pioneer to play for field hockey state championship Saturday for fifth straight year
By Matt Durr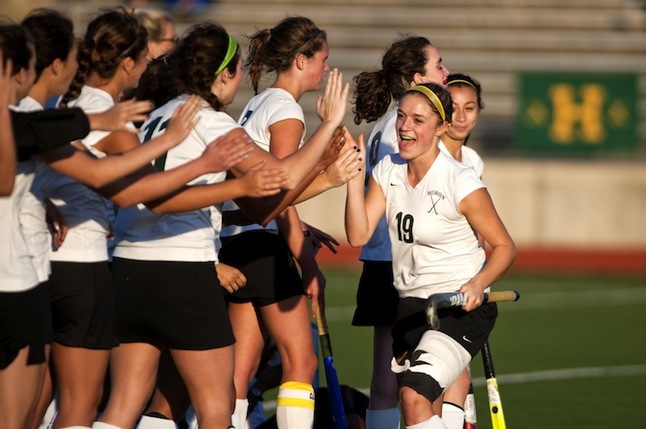 Joseph Tobianski | Annarbor.com
Surprise, surprise, for the fifth consecutive season, the
Huron
and
Pioneer High School
field hockey teams will play for the state championship Saturday in a matchup that has become a formality over the last half decade.
Still, both teams are looking forward to the game Saturday at Saline High School at 2 p.m.
"It's just really exciting, they're such a great team and we're just looking forward to a really good game," said Pioneer head coach Jane Nixon. "We don't make it bigger than it is, or smaller than it is, we're excited to be in the finals."
Last season the River Rats pulled out a thrilling overtime victory over Pioneer behind Katie Yeatts' goal just 24 seconds into the extra session, giving Huron back-to-back state championships.
The two teams met twice this season playing to a 0-0 draw on Sept. 24, before the Pioneers knocked off Huron 2-0 on Oct. 15.
"We always know that they are going to come out hard. Obviously both teams are very skilled, but this game always comes down to fight more than skill," said Huron head coach Tia Sutton.
Pioneer is unbeaten this season thus far standing at 15-0-2 on the year.
The Pioneers' biggest strength is in the midfield where seniors Shelby Supica, Molly Thompson and University of Michigan commit Eliza Stein are essential in controlling play in both the offensive and defensive zones. In goal for Pioneer is senior Cameron Evans.
"We've got great, great senior leadership and we just have a true team," Nixon said. "Our team, our whole effort is to work as a team. It's everybody doing their part."
Having not surrendered a goal in the state tournament, Pioneer has outscored opponents 9-0 en route to the finals. Including a 1-0 win over Marian in the semifinals.
For Thompson last year's tough loss will provide some extra motivation for the Pioneers on Saturday,
"Definitely going into a game where it hasn't come out the way we wanted it to the last couple years, it does give you motivation," Thompson said. "But we also just want to live in the moment and appreciate that we've made it this far."
The River Rats are 13-1-2 on the season with their lone loss coming at the hands of Pioneer. The two-time defending state champions boast a roster that is led by eight seniors including captains Casie Ammerman and Keeley Erhardt.
Along with senior Carly Brown, sophomore Tulin Babbitt split time in net for the Rats. Both have played performed tremendously in the net for Huron all season giving Sutton options in goal come Saturday.
After surviving a scare from Novi in the semifinal matchup, Sutton said her team isn't going to change much heading into Saturday's final.
"We're just going to work on the things we need to work on and play our game," Sutton said.
Matt Durr covers sports for Annarbor.com