Posted on
Sat, Nov 17, 2012 : 3:17 p.m.
Father Gabriel Richard gives up second-half comeback, falls to Portland in state semifinals
By Kyle Austin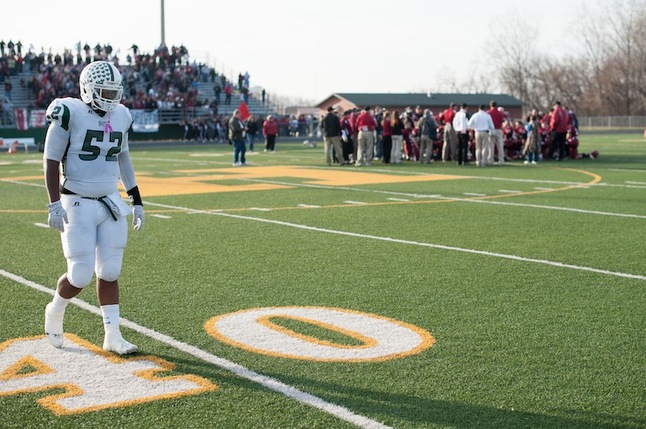 Courtney Sacco | AnnArbor.com
Updated at 5:10 p.m.
HOWELL -- Two-and-a-half hours after Father Gabriel Richard walked onto the football field at Howell High School Saturday afternoon, the players walked off the same way: two-by-two, in a long, slow procession.
But the nervous excitement that dotted their faces on the way in had since been replaced by tears, after the Irish fell in a back-and-forth state semifinal game, 28-23 to Portland.
Yet to coach Brian Lemons, it was important that his players walk off the field with pride after a hard-fought, close game to cap the best season school history and the best season by a Washtenaw County team since 1997.
More coverage: Boxscore | More stories at MLive.com | Tournament bracket | Photo Gallery
"We came here together, gave it everything we've got," Lemons said. "I wanted to make sure we walked off the field with everybody. We use a lot of military background stuff, I wanted to make sure we leave the field the way we came in.
"It's a big deal, to show that togetherness."
The Irish jumped out to a 10-point lead early in the first quarter, but succumbed to 22-point run in the second half by Portland, and couldn't complete a late comeback of their own.
The loss ends the Irish's season one win shy of the state finals, at 11-2 overall. The state semifinals mark the farthest the program has ever advanced. The Irish was the first Washtenaw County team in 15 years to make it that far in the state football playoffs.
"This season is special," running back Ashton Hundley said. "This team, we're all brothers, and we all had one goal, and we all tried to make that one goal, we tried to prove people wrong. I'm proud to say I'm part of one of the best teams in our school's history."
After Richard went into halftime with a three-point lead, the Raiders took their first lead of the game on a 35-yard touchdown pass from Tanner Allison to Auston Brandt with 2:19 left in the third quarter.
The Irish fumbled on their own 41-yard line on the next drive, and Portland scored on a seven-play drive. The score made it 22 straight points for the Raiders, with 8:42 left in the game.
The fumble was one of three straight turnovers that ended Richard drives in the second half.
"There's nothing you can do to defend that," Lemons said. "You make good decisions with the ball and you'll usually come out on top."
But Richard nearly had a comeback of its own. On their first play from scrimmage on the next drive, quarterback Joe Kendzicky found receiver Blaise Sterns open over the middle for a 69-yard touchdown pass. After the two-point try failed, Richard trailed by five with 8:26 remaining.
The Irish recovered an onside kick on the ensuing kickoff, when Carsten Dembeck fell on the ball at the Raiders 24-yard line. The Irish advanced as far as the Portland nine-yard line, but Kendzicky threw an interception at the goal line with five minutes left trying to make a long throw across his body.
"You can do that against a lot of teams but not teams that have athletes in the secondary," Lemons said.
Kendzicky finished 10-for-19 for 150 yards passing, with one touchdown, two interceptions and fumble.
From there, Portland was able to run the clock down to just under a minute left with an extended drive. The Irish took over at their own 18-yard line, but threw another interception with 35 seconds left to seal the game.
After giving up just one touchdown in its first three playoff games combined, Richard gave up four touchdowns Saturday and more than 300 rushing yards.
And while Portland moved the ball in both halves, it was able to turn that production into points after halftime.
"Our defense started playing faster and more physical," Portland coach John Novara said. "I think we stood around and watched for a little bit in the first half, and then our defense started playing a little bit faster and got our offense on the field a little bit longer."
For Portland, the game marked its second straight second-half comeback win, after it topped defending state champion Flint Powers last week to win a regional title.
Father Gabriel Richard jumped out to a 10-point lead less than nine minutes into the first quarter, behind a 44-yard field goal from Michael Wolf and a 55-yard Ashton Hundley run, set up by a Sterns interception.
The two teams traded touchdowns -- with FGR blocking a Portland extra point -- to give the Irish an 11-point lead. Hundley scored both of the FGR first-half touchdowns, and finished with 154 yards on 19 carries.
But with less than two minutes left in the first half, the Raiders drove 66 yards in less than a minute -- including a 31-yard counter reverse to Brandt -- to cut the deficit to three points at halftime.
That touchdown proved the beginning of the comeback for Portland.
"It probably gave them a huge boost, considering prior to their touchdown, we left seven points out there," Lemons said. "It's a big swing."
Yet after Portland's comeback was complete and Father Gabriel Richard's fell short, Lemons was able to see the loss, and the season, in perspective.
"No one thought we'd be this far, right?" Lemons said. "I think when it's over and said and done, we'll all be able to enjoy this season and how successful it was. Losing close, that's probably the worst way to go out. It'll take a couple of days for the season to end for us."
Kyle Austin covers sports for AnnArbor.com. He can be reached at kyleaustin@annarbor.com or 734-623-2535. Follow him on Twitter @KAustin_AA.