Posted on
Tue, Jan 8, 2013 : 5:29 a.m.
Gabriel Richard looks to shore up defense that's given up 86 points per game as league play opens
By Kyle Austin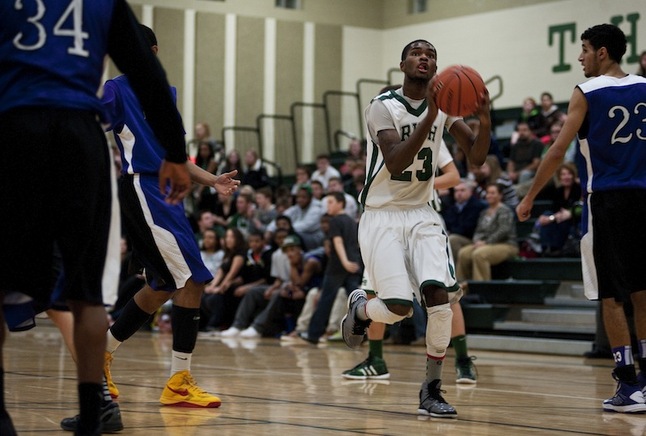 Daniel Brenner | AnnArbor.com
Going against a spate of Class A and large Class B schools as a small Class B school is hard enough.
But doing it while trying to implement a brand new system? Some bumps along the road are to be expected.
Hence the four-game losing streak for the Father Gabriel Richard High School's boys basketball team ended the non-conference portion of its season with.
"It's been a bit difficult to go against the big schools when everything's still new," Richard coach Pete Schoch said. "It's been a bigger challenge this year than most."
The Irish head into its Catholic League AA opener against Pontiac Notre Dame Prep Tuesday, AnnArbor.com's Game of the Week, with a 2-4 record. All four losses came to larger schools: Pioneer, state power Country Day, Dearborn and a Windsor Catholic Central team that's 13-4 on the year.
In every one of Richard's games this season, at least one team has scored 80 points or more. That's a result of the Irish transitioning to a full-court press, transition form of basketball.
Schoch said he hoped his team would be farther along in that transition by this point. But he's also encouraged by talking to Traverse City St. Francis coach Keith Haskie, who helped the team implement the system over the summer.
According to Haskie, Richard's most common letdowns -- not getting back after an opponent breaks a full-court defense, and not having good shot selection in the halfcourt offense -- are common for teams in the transition.
But Schoch is more concerned with the number of points against than the number of points his team is putting up. he Irish are giving up an average of 86 points per game.
"We put up a lot of points but we give up a lot of points," Schoch said. "We have to tone down the points we're giving up here."
The high-scoring Richard offense has been led by junior forward Jason Houle, who is averaging a Washtenaw County-high 24.5 points per game.
More than half of those points have come from 3-pointers, as Houle has been able to find open shots in transition and get open layups from steals.
"He's a really good shooter, and he's really basketball savvy," Schoch said. "He sets himself up in good spots."
Houle has already topped 30 points twice in six games, and Schoch said he expects him to reach 40 points in a game by the end of the season.
"He's put up a lot of points and he's going to keep putting up a lot of points," Schoch said.
Tuesday's high school basketball schedule
Boys Basketball
Arbor Preparatory at Hamtramck, 7 p.m.
Belleville at Lincoln, 7 p.m.
Carleton Airport at Milan, 7 p.m.
Chelsea at Haslett, 7:30 p.m.
Ecorse at Skyline, 5:30 p.m.
Inkster at Willow Run, 7 p.m.
Livingston Christian at Rudolf Steiner, 7 p.m.
Morenci at Whitmore Lake, 7 p.m.
Pontiac Notre Dame Prep at Father Gabriel Richard, 7 p.m.
Taylor Baptist Park at Greenhills, 7 p.m.

Girls Basketball
Dearborn Heights Robichaud at Skyline, 7 p.m.
Grass Lake at Manchester , 7 p.m.
Greenhills at Taylor Baptist Park, 7 p.m.
Lincoln at Belleville, 7 p.m.
Pioneer at Holt, 7 p.m.
Rudolf Steiner at Livingston Christian, 6 p.m.
Reford Union at Arbor Prep, 7 p.m.
Whitmore Lake at Morenci, 7 p.m.

Game of the Week
There will be a AnnArbor.com Game of the Week live chat from Father Gabriel Richard's game against Pontiac Notre Dame as well as photos and stories from AnnArbor.com reporters Kyle Austin and Pete Cunningham.
Voting for next week's Game of the Week has already begun and Huron's Jan. 18 visit to Pioneer has taken the early lead. Voting is open until Saturday.
Kyle Austin covers sports for AnnArbor.com. He can be reached at kyleaustin@annarbor.com or 734-623-2535. Follow him on Twitter @KAustin_AA.