Posted on
Sat, Sep 7, 2013 : 7:33 p.m.
Father Gabriel Richard improves to 2-0 with 25-14 win over Whitmore Lake
By Matt Durr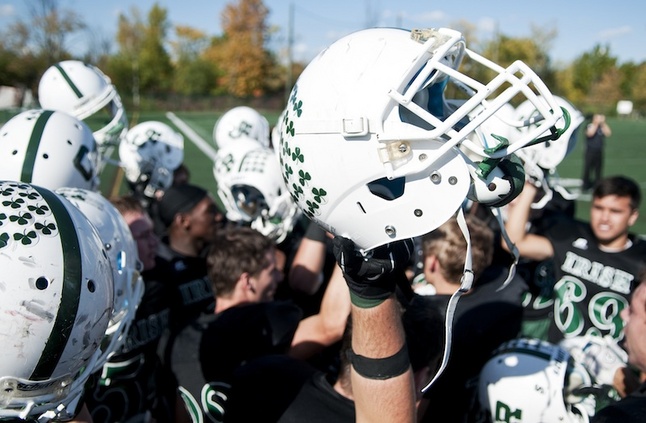 Daniel Brenner | AnnArbor.com
No coach will turn down a win, but Ann Arbor Gabriel Richard coach Brian Lemons admitted his team made too many mistakes to win Saturday's matchup against Whitmore Lake. The Irish overcame those struggles and defeated Whitmore Lake 25-14, to improve to 2-0 on the season, but for Lemons, there is plenty of work to be done.
"We can't make mistakes, I don't think our team is mature enough to overcome mistakes like fumbles and jumping offsides and holding," Lemons said. "We got out of here with a 'W', but quite frankly, Whitmore Lake played well enough to win."
The Irish turned the ball over four times on the day and were called for 14 penalties, good for 120 yards. The mistakes prevented the Irish from capitalizing on the five turnovers their defense forced on the day according to Lemons.
More coverage: Boxscore | Friday football roundup
Gabriel Richard couldn't have asked for a better start to the game after recovering a fumble on Whitmore Lake's first play from scrimmage. On the next play, quarterback Kevin Masini hit Evan Fosha for a 13-yard touchdown pass and the Irish led 7-0 just 12 seconds into the game.
Luck favored the Irish again on the next Trojan possession as Nate Winnie recovered another Whitmore Lake fumble, the second in the first three minutes of the game. Winnie recovered both fumbles for the Irish and would later recover an offensive fumble for Gabriel Richard.
The offense stalled however and Gabriel Richard settled for a Masini 33-yard field goal, giving the Irish a 10-0 lead just six minutes and 30 seconds into the game. It would be the last points the Irish scored in the first half.
"Penalties and turnovers killed drive after drive after drive," Lemons said. "We left probably 21 points on the field because of that."
Whitmore Lake head coach Todd Pennycuff said he was proud of the way his team played, especially on defense after falling behind so quickly.
"I thought our team played with a lot of effort and with a lot of heart," Pennycuff said. "I'm real proud of our effort. I have to give Gabriel Richard a lot of credit; they're a good football team. If you put us on a scale with them, they're a lot bigger than us and a very good club."
Pennycuff said he didn't think his team would see another line this season as big as Gabriel Richard's and because of the size difference, he was proud with how his team performed despite being physically overmatched.
The Trojans responded late in the first quarter after quarterback Sam Panicacci scrambled for a 43-yard gain giving the Trojans first-and-goal. Three plays later Panicacci punched it in from four yards out making it 10-7. The score would remain that way until halftime.
A strong third quarter propelled the Irish to victory, highlighted by a 66-yard touchdown run by D.J. Newlin on the Irish's first drive of the second half. Along with Newlin's game-breaking run, the Irish blocked a punt setting them up for a 17-yard touchdown pass from Masini to Steve Timm giving the Irish a 25-7 lead.
"Our defense has been tough. I thought going into the season it would be the strongest part of the team," Lemons said. "If they continue to play as well as they are, we should be in a lot of games."
Pennycuff said mistakes hurt his team just as much as Gabriel Richard.
"I just don't think we're good enough to make mistakes against a team like that," Pennycuff said. "That being said, when we get into the league, I think we can overcome some of that."
Whitmore Lake did not go quietly, as Panicacci hit Jacob Zagor for an 80-yard touchdown pass late in the fourth quarter to make the score 25-14. After forcing the Irish to punt, the Trojans got the ball back with nearly two minutes to go in the game, but were unable to get the score any closer, dropping their record to 1-1.
And while the Irish didn't play their best brand of football Saturday, Lemons said he was pleased with how the season has started so far.
"As young as we are to be 2-0 going into week three again at home, I think we couldn't ask for a better position than we are in right now," Lemons said.
Matt Durr is a freelance reporter for AnnArbor.com.