Posted on
Thu, Nov 15, 2012 : 5:54 a.m.
Twins Ashton, Austin Hundley play different roles in Father Gabriel Richard's road to state semifinals
By Kyle Austin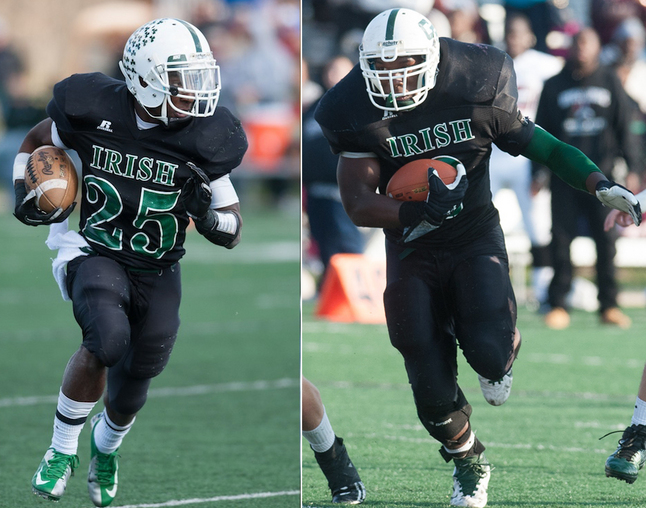 Courtney Sacco | AnnArbor.com
Ashton and Austin Hundley are listed on the Father Gabriel Richard roster with the same last name, grade and hometown. On paper, they look like the twins they are.
But in person, they don't look the part. Once the Fighting Irish take the field, the difference in height (two inches), weight (40 pounds) and style of play between the twins is evident.
DIVISION 5 STATE SEMIFINAL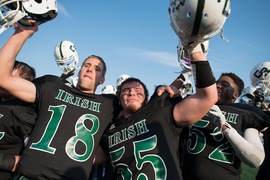 Matchup: Gabriel Richard (11-1) vs. Portland (11-1)

Kickoff: 1 p.m., Saturday.

Location: Howell High School.

Notes: Both teams won regional titles for the first time in school history last week, and one will be extending their unprecedented playoff run to Ford Field.
Portland boasts 10 senior starters on defense. Before Saturday's regional final, the group had given up just 27 points in four straight wins. But the Red Raiders can also put up big points: against top-ranked Flint Powers last week, Portland scored 31 unanswered points to end the game.
Richard comes in on an eight-game win streak. The Fighting Irish defense has given up only one touchdown in three playoff games, and the return of quarterback Joe Kendzicky has helped boost the Irish offense.

Live Chat: Join AnnArbor.com's Kyle Austin and MLive Lansing's Brandon Howell for a Live Chat on Saturday, which will be accessible through the AnnArbor.com high school homepage, and the MLive.com Ann Arbor region page.
"There's a lot of people that are surprised that we're twins," Austin Hundley said. "We don't look alike, so of course. We're two different people, two different styles."
The Hundley twins have both played large -- and different -- roles in getting the Fighting Irish to the doorstep of their first state title berth. Richard will take on Portland at 1 p.m. Saturday at Howell High School, with the winner advancing to the Division 5 state finals next weekend at Ford Field in Detroit. Portland upset top-ranked Flint Powers Catholic 45-28 last weekend.
Gabriel Richard is trying to become the first Washtenaw County team to advance to the state finals since Huron in 1997. No county team has won a state title since Pioneer in 1987.
Ashton is listed at 5-8, 165 pounds. Austin is listed as two inches taller and 40 pounds heavier, and looks even bigger suited up with oversized shoulder pads and a large neck roll. Both players play both ways, Austin as a defensive lineman and fullback, Ashton as a running back and defensive back.
But they stand out on different sides of the ball. Ashton was one of the area's top rushers this season -- he has 1,178 yards and 16 touchdowns through 12 games. Austin is the best defensive player on dominant defense that has given up just six points combined through three playoff games. Ashton leads the defense with 80 tackles and eight sacks.
Running the ball, though, they say they're not all that different. Austin may have more size, but has enough agility to juke defenders. Ashton may excel at using speed on the outside, but he doesn't shy away from contact, either.
"We're not that different when it comes to running," Austin Hundley said. "We both have that same intensity when we run."
And both have been effective when called on to run the ball this year, as evidenced by the fourth quarter of Saturday's regional title game against River Rouge.
When Ashton injured his wrist on the first play of the quarter, Austin took over the running workload for the remainder of the drive. Austin finished with 22 yards on four carries on a drive the produced the Irish's second touchdown. Ashton finished the game with 61 yards on 19 carries.
The differing styles extends off the field, too. Both say Ashton has a more outgoing personality, and Austin is more shy. But being seniors has changed that.
"He's sometimes the shy one," Ashton Hundley said. "And I'm the outgoing one. But I think that's changed nowadays."
Their separate identities as football players were formed entirely at Father Gabriel Richard. The two had played basketball and ran track together growing up, but never organized football.
Once they took up the sport as freshmen, it didn't take them long to find their different positions and styles of play.
"We were never really that good when we first got here," Austin Hundley said. "We were steadily just getting it, and as time went on we got better. And as of now I think we're hitting it really good."
Both twins hope they're hitting their stride at the end of the season, one they hope includes a chance to play at Ford Field, alongside one another.
"It'd be one heck of an experience," Ashton Hundley said. "Just knowing that our parents know that they had twins that did something together as big as winning a state championship. It'd be pretty special to us."
Kyle Austin covers sports for AnnArbor.com. He can be reached at kyleaustin@annarbor.com or 734-623-2535. Follow him on Twitter @KAustin_AA.