Posted on
Tue, Jan 8, 2013 : 10:52 p.m.
Gabriel Richard searching for answers after 5th straight loss, 77-66 to Pontiac Notre Dame
By Kyle Austin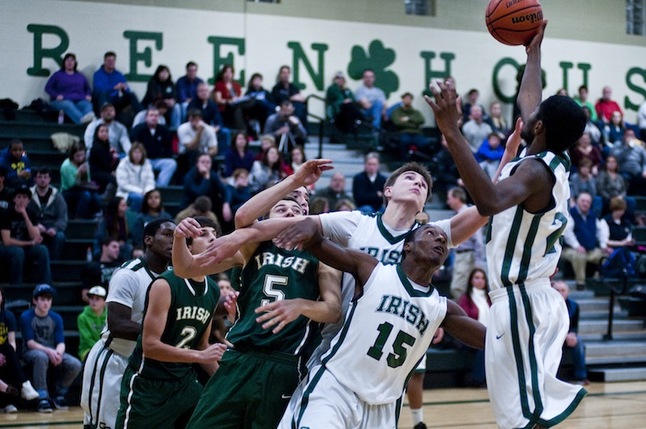 Joseph Tobianski | AnnArbor.com
Losing in a similar fashion five straight times can drive a coach insane.
Or at least make him think about insanity.
"The definition of insanity is doing the same thing over and over again and expecting different results," Father Gabriel Richard coach Pete Schoch said on Tuesday. "And we're not making the necessary changes, as coaches or as players, to get better right now."
The Irish gave up a 12-3 run to start the second half and never recovered in a 77-66 loss to Pontiac Notre Dame Prep Tuesday at home.
More coverage: Boxscore | Photo Gallery | Houle's foul trouble hurts Irish
After winning a district title last year, the Irish now stand at 2-5 after dropping their Catholic League opener.
The slow start to the second half -- which came after a first half that featured six lead changes and three ties -- is something Schoch said has been a recurring theme for his team throughout its losing streak.
"I don't know what it is to make kids come out and play with a greater level of intensity or play with a greater passion, but we just for whatever reason come out flat," Schoch said. "The kids in the locker room seem like they're in a good place, they seem like they're listening, and we're talking about a few things, they're ready to make adjustments, but it just doesn't occur."
Jason Houle had 26 points to lead Father Gabriel Richard, hitting five 3-pointers, while Austin Hundley had 15 and Kamari Davis had 14.
But none of it was enough to overcome a 39-point effort by Notre Dame guard Mitchell Olis, who hit eight 3-pointers and was 9-of-11 at the free throw line.
After Olis made a pair of 3's in the opening minutes, Notre Dame made an effort to create open opportunities for him, and was able to do so through the rest of the game.
"Once he kind of gets his rhythm, he kind of made one, then two then three in a row, then he can shoot it from anywhere," Notre Dame coach Whitney Robinson said.
After Notre Dame's run to start the third quarter, Gabriel Richard trailed by seven. It was able to cut the deficit to three with 2:47 left, but couldn't come any closer. Notre Dame scored on three of its next four possessions, including an Olis 3-pointer, and Gabriel Richard managed just four points the rest of the game.
After an extended meeting with players and coaches after the game, Gabriel Richard came out with a greater sense of urgency to find a way to break out of its funk.
"I would say it's starting to get contentious," Schoch said. "I would say the kids are extremely frustrated, the coaches are very frustrated."
Kyle Austin covers sports for AnnArbor.com. He can be reached at kyleaustin@annarbor.com or 734-623-2535. Follow him on Twitter @KAustin_AA.