Posted on
Tue, Aug 28, 2012 : 5:59 a.m.
Female kicker Tori Norris leads Skyline football team, Week 1 leaderboard and more notes
By Pete Cunningham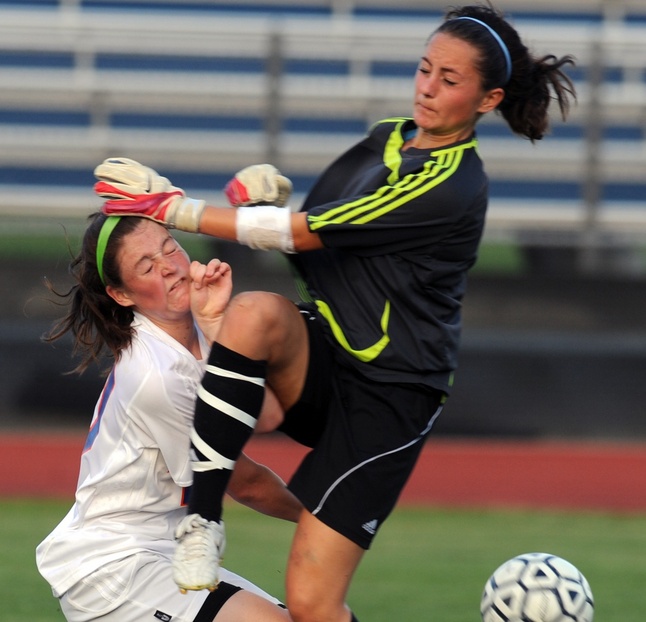 AnnArbor.com file photo
The
Skyline High School
football team had a new look when it kicked off the season on Friday night with basically a whole new starting lineup from a year ago. The Eagles graduated 32 seniors last season, including their kicker, and have looked to nontraditional methods to fill the void.
That includes suiting up a female kicker, Victoria "Tori" Norris.
FOOTBALL TOP PERFORMERS, AUG. 23, 24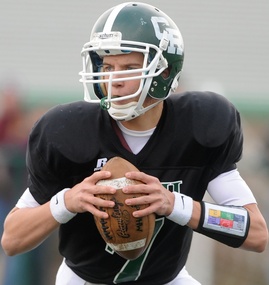 PASSING YARDS
241 - Askaree Crawford, Skyline (11 of 21, 3 TDs, 0 INTs)
240 - Joe Kendzicky, Gabriel Richard (12 of 20, 3 TDs, O INTs)
215 - Marquis Smith, Willow Run (7 of 12, 2 TDs, 0 INTs)
149 - Josh Jackson, Huron (12 of 17, 2 TDs, 0 INTs)
139 - Kyle Bower, Whitmore Lake (2 of 3, 1 TD, 0 INTs)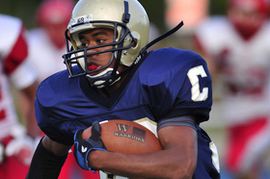 RUSHING YARDS
173 - Ashton Hundley, Gabriel Richard (20 carries, 1 TD)
156 - Arthur Duke, Milan (12 carries, 2 TDs)
127 - Tyler Palka, Saline (11 carries, 2 TDs)
125 - Berkley Edwards, Chelsea (24 carries, 2 TDs)
113 - Tyree Weatherspoon, Ypsilanti (12 carries, 0 TDs)
RECEIVING YARDS
134 - Jacob Zagor, Whitmore Lake (4 receptions, 1 TD)
121 - Devere Pipkins, Willow Run (5 receptions, 1 TD)
112 - Jack Clark, Skyline (7 receptions, 1 TD)
101 - Sam Panicacci, Whitmore Lake (2 receptions, 1 TD)
*Lincoln stats not available.
The starting goal keeper for the girls varsity soccer team since her freshman year -- and a Division 2 All-State honorable mention as a sophomore to boot -- Norris handled kickoff and placekicking duties against Hartland. She gave the Eagles their only lead of the game when she made her first-ever extra attempt following a
Marcus Wallace
touchdown in the first quarter to put Skyline ahead, 7-6.
Norris' only other attempt came late in the third quarter and was blocked. Skyline ended up losing, 42-19.
Big shoes er…jerseys to fill
Chelsea senior running back Berkley Edwards has worn the No. 32 jersey each of the past two years on the varsity team. The jersey is one of significance to the Chelsea faithful who watched current Michigan State backup running back Nick Hill rush for 6,810 yards and 96 touchdowns in his 47 varsity games played as a Bulldog.
For his senior year, Edwards is switching things up, but he's still wearing a jersey that will evoke memories of someone else when he wears it.
Edwards is wearing the No. 1, the same number his brother, Braylon Edwards, wore when he played at Michigan.
Edwards proved up to the challenge of following in either's footsteps on Friday, rushing for 125 yards and a pair of touchdowns on 24 carries in a 34-27 loss to Jackson Lumen Christi.
Welcome to Michigan
The Palka-era began for the Saline High School football team on Friday, but it's not head coach Joe Palka that wowed fans in Saline's 27-14 win over Walled Lake Western.
It was the performance of his son, senior dual threat quarterback Tyler Palka.
Tyler rushed for 127 yards and two touchdowns on 11 carries and threw for 131 yards and two scores while going 8-of-19 in his first game in a Saline uniform.
Pipkins family
Willow Run senior Devere Pipkins put on a show for his extended family on Friday in a 50-0 win over Saginaw Buena Vista. Pipkins, whose extended family is from Saginaw, led Willow Run in rushing (106 yards), receiving (121 yards, 1 TD on 5 catches) and tackles (14).
Washtnaw County Power Rankings:
Nothing quite says let's start football season like arbitrarily ranking all of the teams in the area despite only personally having seen two actually play games. And nothing quite says arbitrary like placing a team with a new quarterback and coaching staff that you've never seen before atop said rankings.
Rank, School (Record), Latest result
Saline (1-0), def. Walled Lake Western, 27-14
Chelsea (0-1), lost to Jackon Lumen Christi, 34-27
Pioneer (0-1), lost to Warren De La Salle, 35-7
Lincoln (1-0), def. Belleville, 34-21
Gabriel Richard (1-0), def. Lake Fenton, 42-39
Milan (1-0), def. Ypsilanti, 42-8
Skyline (0-1), lost to Hartland, 42-19
Dexter (0-1), lost to Fowlerville, 29-0
Huron (0-1), lost to Salem, 41-17
Manchester (0-1), lost to Clinton, 32-14
Willow Run (1-0), def. Saginaw Buena Vista, 50-0
Ypsilanti (0-1), lost to Milan, 42-8
Whitmore Lake (0-1), lost to Stockbridge, 67-20
Game of the Week
With 12 hours left to vote, the Lincoln vs. Huron game at Huron High School on Friday night is still winning the Game of the Week poll by a landslide. You have until 6 p.m. to vote.
Pete Cunningham covers sports for AnnArbor.com. He can be reached at petercunningham@annarbor.com. Follow him on Twitter @petcunningham.