Posted on
Wed, Feb 27, 2013 : 10:11 p.m.
First-half defense leads Huron past Pioneer to set up district final rematch with Dexter
By Kyle Austin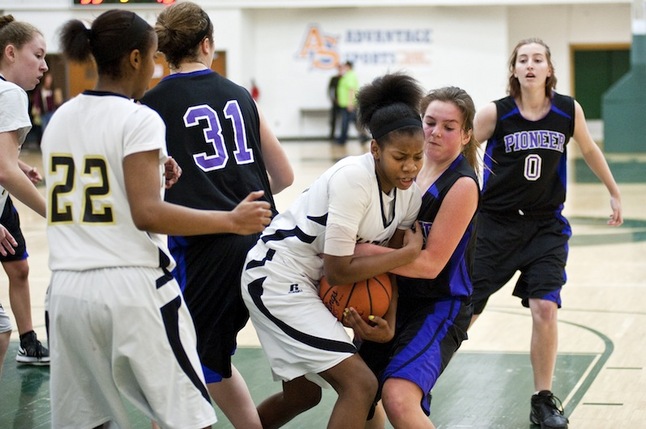 Joseph Tobianski | AnnArbor.com
Pioneer was able to withstand the first Huron rush.
The second one, though, was too much.
The Pioneers survived seven Huron points in the first minute, 8 seconds, battling back to make it a two-point game.
But the River Rats scored 12 straight points from there, jumping out to a 20-point halftime lead en route to a 51-33 Class A district semifinal win Wednesday night at home.
More Coverage: Boxscore | Photo Gallery | Bracket | District roundup
"We came out hard," Huron senior Alexis Garner said. "We have a way of coming out slow sometimes but we know that now that the playoffs are here it's do or die. So I think we just came out ready. We're not playing around."
Huron (17-5) advances to play Dexter Friday night in a district final matchup. The River Rats are looking for their second straight district title.
The River Rats scored on their three possessions of the game, and forced four straight Pioneer turnovers to start the game. The Pioneers (9-12) turned the ball over 17 times in the first half.
"We were really effective," Huron coach Steve Vinson said. "...I was really happy with our first half, defensively."
Three Huron players finished in double figures, led by 11 from Garner. Ariel Bethea and Micah Robinson finished with 10 apiece.
Senior Desiree Cougill led Pioneer with 10 points and eight rebounds.
Wednesday's game came two weeks after Pioneer hung with with Huron for 32 minutes and lost by seven, 36-29.
But in the playoffs, Pioneer coach Crystal Westfield said Huron amped up its press defense.
"The last time we were here I don't think they put as much pressure on the ball," Westfield said. "We watched the film and I don't think think they did what they did tonight.
"I just think they had a different personnel out there, and they had a different mindset."
By hitting early buckets, Huron was able to utilize its press more as Pioneer had to take the ball in from out of bounds.
And despite being urged by their coach to stay away from the sidelines, avoid double teams and communicate, Pioneer couldn't escape the press.
"It was the really little things that lost the game for us," Westfield said.
Yet after a tough first half, Pioneer outscored Huron, 14-8 in the fourth quarter and by two points overall in the second half.
"I think the one thing about us, even though our record didn't show it, is we didn't give up on any games," Westfield said. "And that's evident from the way they played tonight and the way they finished tonight."
Huron was able to cruise in its second straight district game -- it topped Ypsilanti, 65-43 Monday -- with two added players. Garner returned from a two-game absence, and Kamala Glenn returned after missing the district opener with an illness.
"It makes us feel comfortable, our margin of error now is a little bit bigger now that you have the troops you're expecting to have," Vinson said.
Dexter cruises past Pinckney
Joseph Tobianski | AnnArbor.com
After allowing an early bucket to
Pinckney
, Dexter scored 24 of the next 25 points as it cruised to a 62-13 win in the second semifinal Wednesday night at Huron.
More Coverage: Boxscore | Photo Gallery | Bracket
"We really wanted to make sure we got off to a good start, try to build some confidence, and get the game at the tempo that we wanted to play," Dexter coach Mike Bavineau said.
Taylor Olson led Dexter with 14 points, and Makenzie Svirha had 13.
The win sets up the third Dexter-Huron matchup in a span of 25 days. Huron beat the Dreadnaughts, 49-37, Feb. 5 and again, 34-19 Friday in an SEC crossover game.
After recording their lowest point total of the season Friday, the Dreadnaughts
"They're good, their defense is predicated on trying to take you out of what you feel comfortable doing," Bavineau said. "We just have to fight harder to try to stay comfortable, stay in the moment."
Kyle Austin covers sports for AnnArbor.com. He can be reached at kyleaustin@annarbor.com or 734-623-2535. Follow him on Twitter @KAustin_AA.