Posted on
Thu, Aug 22, 2013 : 5:30 a.m.
Football stars will shine brightest in Washtenaw County's trenches in 2013 and more players to watch
By Pete Cunningham
Courtney Sacco | AnnArbor.com file photo
Skill position players may get all the glory, but any running back, quarterback and wide receiver knows that without the big uglies, no one ends up looking pretty.
And in the trenches is where some of Washtenaw County's football stars will shine brightest in 2013.
2013 ANNARBOR.COM HIGH SCHOOL FOOTBALL PREVIEW
Ready for the high school football season? Be sure to check out AnnArbor.com's football preview section on newsstands Sunday. Elements of the package will be rolled out on the following schedule online:
Thursday:
Friday:
Five new coaches take over reins of Washtenaw County football teams
Sunday:
Team-by-team glance at SEC Red

Team-by-team glance at SEC White

Team-by-team glance at Washtenaw County's "other" squads
Saline lost its All-State quarterback,
Tyler Palka
, to graduation, but with its starting offensive tackles and guards averaging 6-3, 248 pounds
whoever is under center
should be safe. Saline coach said
Joe Palka
said the biggest strength of his team is in its line play.
Saline will be more of a running team this year with running backs Kevin Gross and Griffin Wooley -- who combined for 1,488 yards of total offense last year and 22 touchdowns -- returning. With no one under 6-2, 230 leading the way, the transition should be a smooth one.
Out in Chelsea, the line will be making the opposite transition with coach Brad Bush looking to have first-year starting senior quarterback Scott Crews shoulder more of the load in the passing game. Having 6-3, 245 pound senior left tackle Tyler Eckler protect Crews' blindside no doubt makes Bush more comfortable about that transition.
And out at Ypsilanti Lincoln where junior quarterback Eugene Smith - at 6-3, 215 - is as big as most linemen, the guy protecting his blindside, Devin McCallister (6-3, 265) is equally if not more imposing.
"I've been coaching 21 years, and Devin McCallister might be the best offensive lineman I've been around," said Lincoln coach Chris Westfall.
Here are some more players in Washtenaw County that should make a major impact in 2013:
Askaree Crawford, jr., Ann Arbor Skyline, QB -- Threw for 1,513 yards with 12 touchdowns while rushing for 285 yards and six more scores in 2012.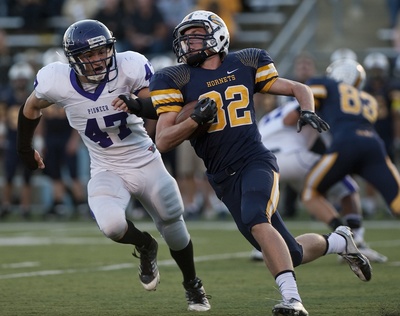 Courtney Sacco | AnnArbor.com file photo
Kevin Gross, jr., Saline, RB --
Rushed 135 times for 733 yards and 16 touchdowns and caught 26 passes for 327 yards and a score. Will be relied upon much more after the graduation of the majority of Saline's skill position players.
Robert Kanitz, sr., Milan, QB -- As a running back and part-time quarterback rushed for 816 yards and ten touchdowns, completed 3-of-6 passes for 40 yards and a touchdown and also caught a pass for 33 yards. Will pass more in 2013 with the graduation of Justin Aceves.
Brad Koenig, sr., Pioneer, LB -- Had 21 tackles, 36 assists, 14 tackles for loss, 3.5 sacks, two interceptions, four pass breakups, a forced fumble, two blocked kicks and a safety for a defense that gave up just 14.1 points per game and 7.3 against Southeastern Conference opponents.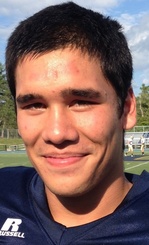 Shon Kuhn, sr., Chelsea, LB --
At 6-2, 215 Kuhn, in the words of Bush, "certainly looks the part." He also dabbles in playing the part, and will be the driving force of what could be a strong linebacker corps.
Jimmy Kurasz, sr. Manchester, RB -- Rushed for more than 1,300 yards as a junior while splitting time with Nick Cozart, who had 80 carries for 522 yards. His work load and productivity should increase in 2013.
Tyrone Miller, jr., Saline, DB -- The Pioneer transfer had 21 solo tackles, 28 assists, two interceptions, three pass breakups and a fumble recovery returned for a touchdown as a sophomore and has been getting the attention of Division I schools according to multiple recruiting websites.
Jason Strange, sr., Huron, DB -- Strange is transfer from Ohio powerhouse Pickerington Central. The 148-pound defensive back clocked a 4.48 40-yard dash time according to Scout.com and is receiving mild interest at the Division I level.
Pete Cunningham covers sports for AnnArbor.com. He can be reached at petercunningham@annarbor.com. Follow him on Twitter @petcunningham.