Posted on
Wed, Dec 7, 2011 : 12:57 p.m.
Former Michigan All-American Greg Wagner takes over Dexter wrestling program
By Matt Durr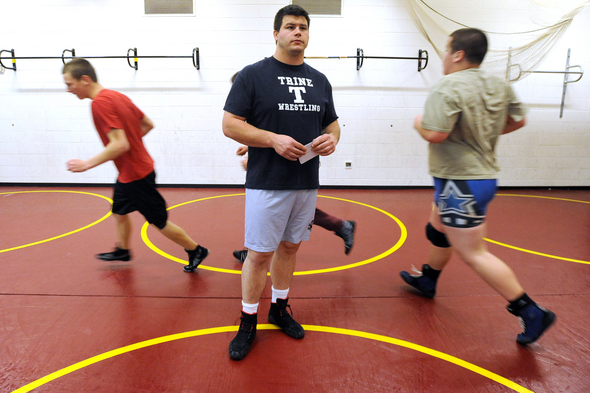 Angela J. Cesere | AnnArbor.com
When Dexter High School needed a new varsity wrestling coach, interim athletic director Greg Wagner felt a bit of pressure to find the right guy.
It wouldn't look good if a three-time All-America heavyweight at the University of Michigan couldn't fill the spot with a quality candidate.
"I'd feel really bad about hiring a bad wrestling coach," said Wagner.
It eventually became clear that the best fit to be Wagner's new coach was Wagner himself.
"I enjoy coaching, it's something that I try to keep in my life," Wagner said. "It's a way to give back to a sport I love."
Passing on his passion should work wonders for the Dexter team, according to Michigan wrestling coach Joe McFarland.
"He's going to provide the guidance and direction needed to get that school going in the right direction," McFarland said.
Wagner's love for the sport started when he was a freshman in high school. The wrestling coach at Snider High School in Fort Wayne, Ind. was recruiting football players interested in staying in shape.
"I basically fell for a sales pitch," Wagner joked.
That sales pitch changed his life. Wagner was a heavyweight state champion at Snider before making his way to Ann Arbor, where he wrestled from 2001-06. He finished sixth in the nation a sophomore, fourth as a junior and third as a senior.
Wagner is now making that same sales pitch in the halls of Dexter after replacing former coach Shane Rodriguez.
Helping along underclassmen was something former teammates and coaches said Wagner excelled in at Michigan.
"He pushed me and a lot of leaders don't always do that," said Tyrel Todd, another three-time All-America at Michigan. "When you start emulating what they're doing and learn from what they're doing, that's the kind of leader you want to have."
It isn't his first go at coaching. Since leaving Michigan, Wagner was a graduate assistant under McFarland, opened a wrestling club in Fort Wayne and coached at camps.
When the position opened at Dexter, Wagner had some reservations about taking the job because of his duties as athletic director, which he took over on an interim basis in February.
"I spent the summer looking for someone who could do this job better than me," Wagner said.
Turns out, no one could. When the district hired Brett Steele as athletic director in September, Wagner resumed his former position as athletics and facilities coordinator and accepted the coaching job.
"He's going to be a terrific coach for us and our wrestlers have a tremendous opportunity to be coached well," Steele said.
Wagner started running practices a few weeks ago and has been applying the lessons learned in college to his new team.
"Greg is going to be a great role model for the team," McFarland said. "Because of the way he conducts himself, these guys are going to be good citizens and good people."
"If you want to compete and compete well, you have to be in shape," Wagner said. "We've got a lot of young guys with a lot of potential. I try to set a good attitude and good intensity in the room."
Angela J. Cesere | AnnArbor.com
Wagner said his impressive resume, which includes
dominating former UFC heavyweight champion Cain Velasquez in his final collegiate match
will only get him so far when it comes to coaching.
"My history doesn't necessarily mean anything to those guys," he said.
No one stands to benefit more from Wagner's hire than senior Shawn Chamberlain, a Division 2 regional qualifier who won 44 matches at heavyweight last year. Chamberlain now has as good of a practice partner as he could hope for.
"He pushes me to the next level. He brings a lot more focus and intensity to the program," Chamberlain said.
Both Chamberlain and fellow captain Drew Barnes -- who was fourth in the state at 152 pounds last year -- said they considered transferring to another school, but once Wagner was announced as coach, they decided to stay.
"It's great to have someone with his knowledge because guys like myself and Shawn who want to wrestle in college, he can get us there," Barnes said.
Matt Durr covers sports for AnnArbor.com. He can be reached at mattdurr@annarbor.com.