Posted on
Thu, Aug 26, 2010 : 7:10 a.m.
Former Michigan player Barry Pierson back on local field 41 years after his big game
By Rich Rezler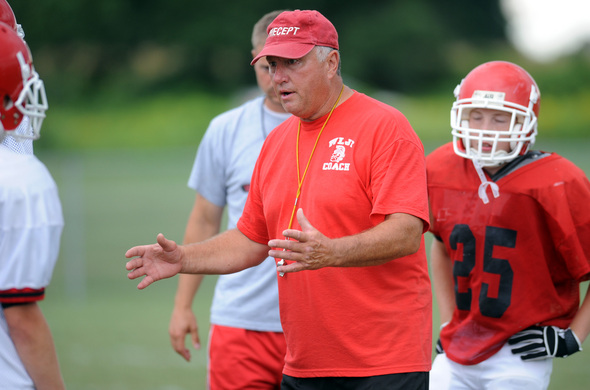 Barry Pierson has a secret.
The 62-year-old first-year football coach at Whitmore Lake High School knows some of his players have probably been nosing around the Internet, looking for some information on him. But he hasn't been forthcoming with details.
"I think they've Googled me a little bit," Pierson says. "But I don't talk about myself much. That's not my style."
What Trojan players had to find out on their own is that Pierson was a star player in what was undoubtedly the most famous football game ever played in Washtenaw County.
On Nov. 22, 1969, first-year University of Michigan football coach Bo Schembechler and his upstart Wolverines upset No. 1-ranked and defending national champion Ohio State 24-12 at Michigan Stadium.
It's the most famous game (from a Michigan perspective) in one of college football's greatest rivalries.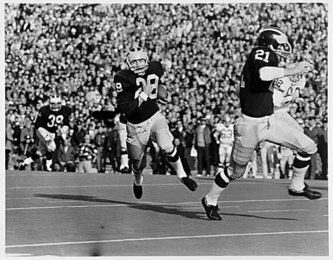 And on that cold Saturday afternoon in Ann Arbor, against what was considered the greatest football team of all time, Barry Pierson played the best game of his career.
The 6-foot, 175-pound defensive back from the Upper Peninsula intercepted three passes and returned a punt 61 yards to set up a Michigan touchdown.
Tell us about that game, Barry.
"I get tired of it, to be honest. It's way overplayed," he says. "I was just a player on a team that went on to win. I had a good day, but so did a lot of other guys."
After his playing days and four years on Schembechler's staff as a graduate assistant, Pierson still has many close ties to former members of the Michigan program, which was one of the selling points when the Whitmore Lake position became available when John Preistap resigned.
He knows Lloyd Carr will be at a Whitmore Lake game, saying with a laugh that the former Wolverine head coach will be "critiquing me after I critiqued him for so many years." He jokes about asking former Michigan head coach Gary Moeller and assistant coach Jerry Hanlon to join his Whitmore Lake staff.
"I'm enjoying myself. I have a lot of friends around here," says Pierson, who hasn't coached since 2001. But he's quick to note that he wasn't retired, he "just not doing anything."
Pierson's on-again, off-again coaching career - which includes a Class D state championship at St. Ignace in 1983 - now spans five decades.
He took time off to watch his own three boys play college football and also owned Mackinac Fish Company, a fish wholesale and retail business in St. Ignace, for 21 years until selling it recently.
His wife, Cindy, operates several stores on Mackinac Island that have been in her family for nearly 60 years. She'll remain on the island until the tourist season ends in early November while Pierson has rented his own apartment to stay in while he coaches the Trojans.
"When things go wrong down here, you don't have too many people to talk to if your wife isn't around," Pierson says. "That's what wives are for, right?."
Pierson may need an ear this season. The Trojans are young and inexperienced, with nearly half of its small varsity roster made up of sophomores.
But their new coach is certainly putting in the effort.
Pierson, who was a teacher for six years before opening his fish company, is not a member of the Whitmore Lake staff. But this winter he scoured the school for an open space to call his office.
"It's a pretty lonely job just moving in and not teaching in the school. Everybody probably wondered why I was hanging around all winter," he said. "I just hang around, meet the kids, do this and that."
Part of "this and that" included hopping on a mower and carving out his own practice field, so that players didn't need to commute across US-23 to the school's old football field.
"This is just kind of a good ol' pastime for me," Pierson says of coaching football. "The problem is, I try to do it right and that takes a lot of time. "
One thing Whitmore Lake football players didn't need to scour the Internet to find out was what type of sideline demeanor their new coach has.
Asked if he is as fiery as Schembechler, Pierson says "I'm probably worse than the old man."
"But it's just because I want to see them succeed," he continues. "There are guys that are successful that aren't screamers and yellers … but if the kids figure you out and know you're there for them, they don't care. I don't have to yell. It just comes out."